Rebuilding a House for Two Generations
An Oahu family designed a brand-new home specifically for grandmother and granddaughter to share.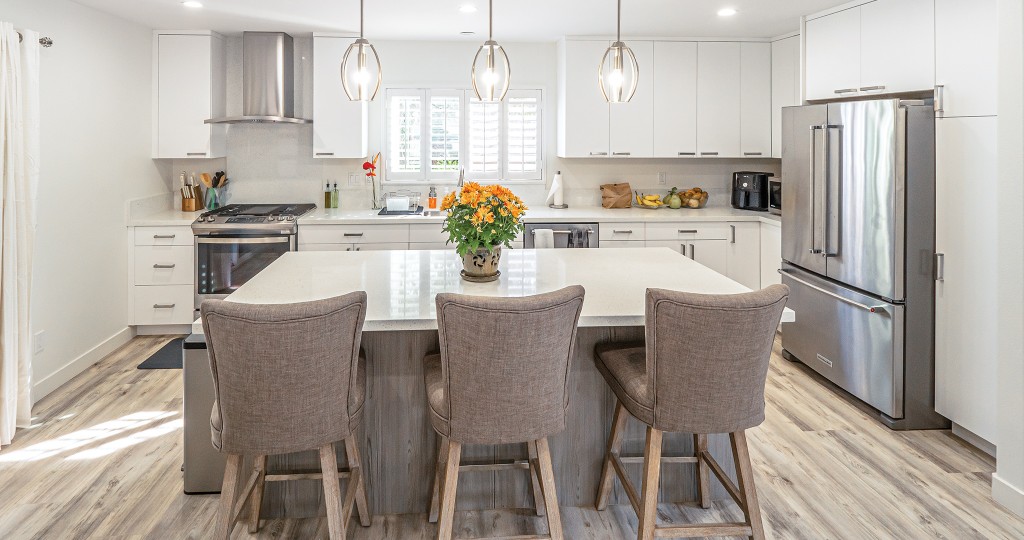 The owners of this classic Kaimuki property knew they wanted to make over the 1940s family home to include a welcoming ground-floor space for the matriarch of the family along with a second-floor living area designed for her college-student granddaughter.
For this job, the family chose S. Tanaka Construction as its contractor to tear down the old and build anew. Each multigenerational dwelling can have challenges, says Jennifer Liu of S. Tanaka Construction. "It's taking the space and trying to make it work for multiple people."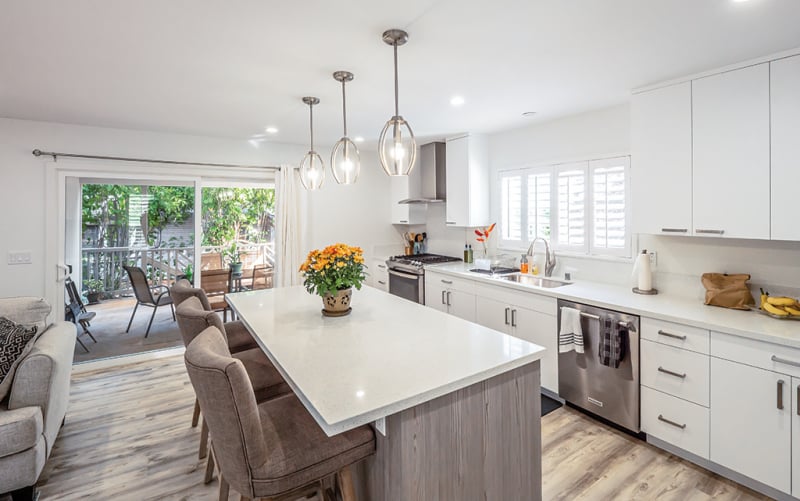 While traditionally family members want space to get away from one another, this project took a different twist. All agreed on a plan to demolish the one-story, three-bedroom, one-bath home and to build two stories with room for generations to come. However, the granddaughter requested one main kitchen rather than two because she prefers to cook and eat with her very independent 87-year-old grandmother. Who wasn't surprised? The mom in the middle: "She did not want that separation from her grandma," she says. "They've always been best friends."
Upstairs, the 22-year-old has a full-size fridge and a wet bar, a desk alcove for studying, her master bedroom/bath as well as another two bedrooms and bath. Downstairs, the grandmother has a spacious bedroom and bath. The open-concept kitchen with adjoining patio, serves as the hub of the home. "We do family dinners every Sunday," says the daughter-in-law.
The family selected S. Tanaka Construction after a consultation appointment and several contractor seminars, according to the daughter-in-law, who helped coordinate the project. She and her husband live in Kunia and were happy that the project finished on time — from demolition day in January 2020 to moving into the new place in September 2020 — and on budget, especially during a pandemic. They visit often, and the daughter-in-law sometimes sleeps over during the week as she works nearby.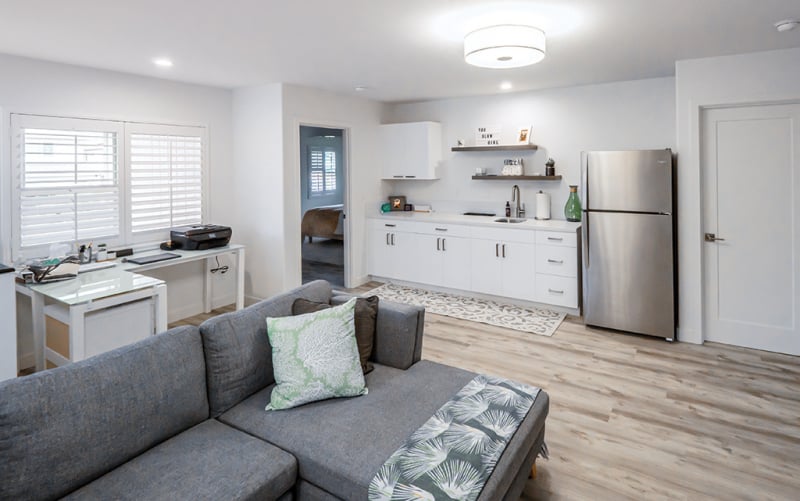 The family was happy with the quality of communication and materials recommended by the contractor, including luxury vinyl flooring throughout: "The only thing we personally wanted to upgrade on was when we did the shutters, the vinyl shutters on all the windows. We always went with who they referred and their quotes came in below anybody else we tried to contact."
Liu says this project was unusual for focusing on grandparent and grandchild. But she says multigenerational projects are quite common, with our high Hawaii cost of living prompting parents and children to build together.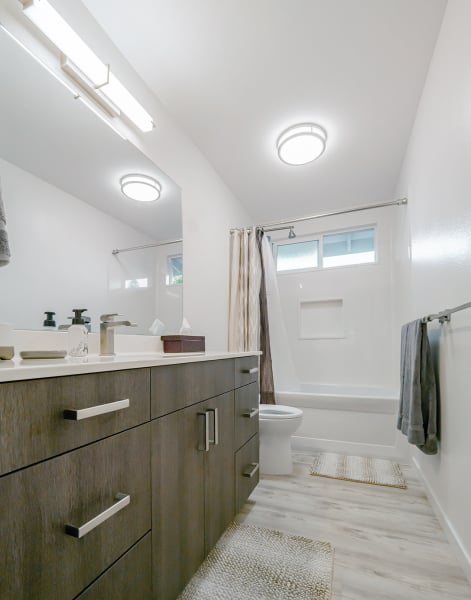 The family, like many of us, got ideas from watching HGTV, which helped them find ways to make their home unique. Liu explains: "We basically just kind of put it into realistic financial terms, because sometimes the things you see, and the prices you hear on TV shows don't always match up with what we can get here."
For the family, the transition from kitchen to patio to backyard proved a key factor in designing the home: "So out of the kitchen, you step down onto a large patio that has stairs that you can go down to the backyard. That's exactly what we envisioned."
Where To Get It
Cabinets: Bellmont Cabinet Co. in Porta, Bianco Matte and Firma, Weathered, from Pacific Source
Countertops: Prefabricated Quartz in white diamond, from Selective Stone
Flooring: Engage Genesis Waterproof Luxury Vinyl Plank Flooring by Metroflor
Lighting Fixtures: Selected from Dial Electric Supply Co.
Plumbing Fixtures: Selected from Ferguson Bath, Kitchen & Lighting Gallery