There's Reflections of Azure in this Kitchen
Redesigned kitchen now perfect for homeowners' lifestyle.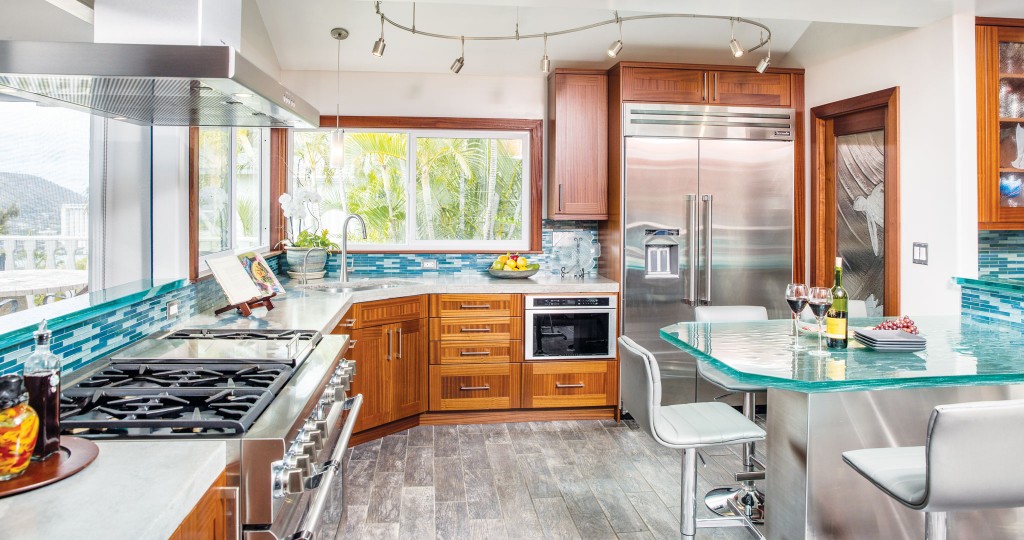 The owners of this 1973 Mariners Ridge home love the water and to entertain – two passions that inspired the color palette and layout of this remodel by John Cook Kitchens.
The previous kitchen's layout was lacking in several areas. "We liked the open floor plan but it had become dated and the appliances needed to be replaced," says homeowner Simone Perez. "Plus, with built-in appliances it was almost a must that we had to start from scratch."
On the positive side, the previous kitchen was centrally located in the home, providing easy access to the pool and entertaining space in the front of the home and adjacent dining/outdoor deck. "Plus, there was a lot of natural light coming in from the windows," says designer Shelley Tanner of John Cook Kitchens.
Tanner and her crew got to work. "My husband, Henry, wanted a state-of-the-art gas range and place to entertain," says Perez. "I wanted to brighten up the space and add more storage."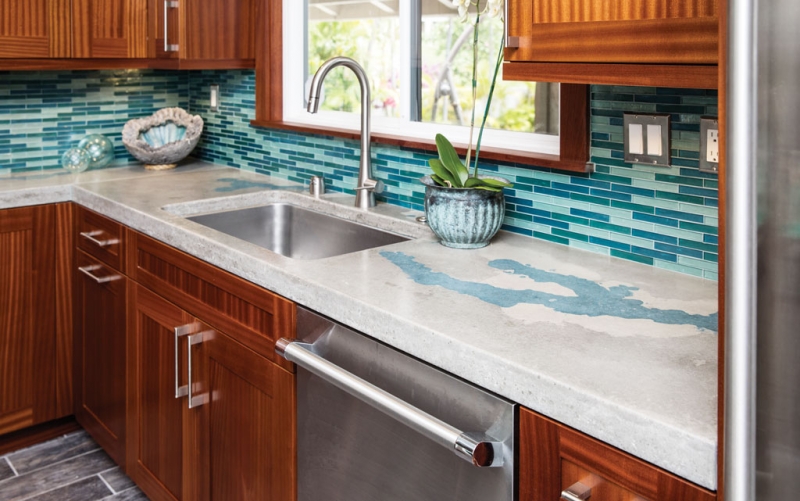 Wanting to incorporate unique ocean-inspired finishes into the kitchen, the homeowners selected a product called ThinkGlass in an aqua color with Vaga texture for the bar counter, eating table and pony-wall caps. "My husband and I both really love the look of it," says Perez.
Sea shells were strategically placed in the concrete to create a pattern that mimicked the flow of water. Three Muse blend blue- and green-colored tiles were selected for backsplashes in a Vibrato pattern to complement a Caribbean Sea-colored grout on the ocean side of the home. "To complement the ocean colors and themes in the others parts of the home, we were drawn to blue and green tones," says Perez.
Spectrum water glass was selected for the tall display cabinet door and the bar wall cabinet doors. Frosted etched designs featuring stingrays, seahorses and coral were added to enhance the ocean feel. Glass shelving was included in the display cabinet. The textured glass selected for the framed walk-in pantry pocket door features waves and turtles. "We absolutely love the glass design on the pocket door to the pantry," Perez says.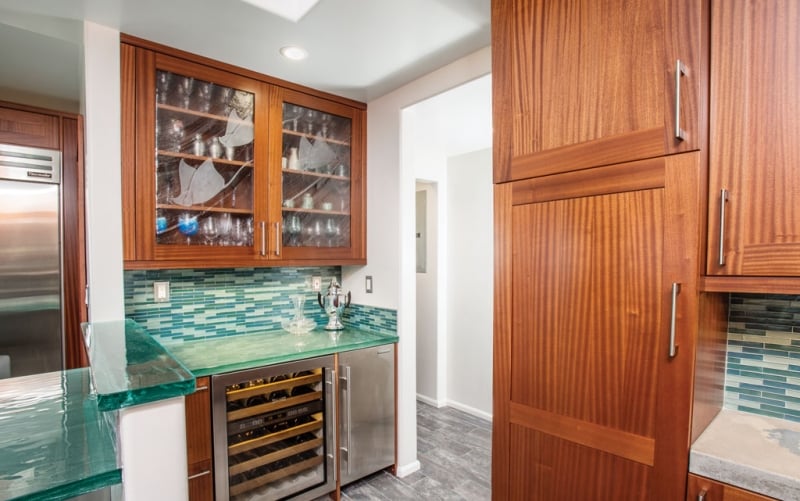 Outdated tile flooring and baseboards were replaced throughout the entry, kitchen, dining hall and bath. Motagna smoky-black-colored glazed porcelain tile was chosen for its distinctive, textured wood style. "The owners wanted something durable and easy to maintain, since they had both people and dogs coming in and out of the home frequently," Tanner notes.
Functional cabinet storage features include single- and dual-bin trash pullouts, rollouts, knife-block drawer insert, lots of drawers, spice and tray storage, an under-sink pullout basket for detergents and protective base sink cabinet liners.
The overall kitchen design was dramatically transformed, highlighting fabulous, quality materials, ocean-inspired finishes and unique features. "It looks amazing," Tanner says. "It's filled with so many unique design elements. It's not your cookie-cutter kitchen."
WHAT TO LOOK FOR IN A KITCHEN DESIGNER
From Shelley Tanner, John Cook Kitchens
1. Trustworthy
2. Good listener
3. Easy to work with
4. Creative and detailed
KITCHEN TRENDS TO WATCH 
From Shelley Tanner, John Cook Kitchens
1. Layout: Euro-cabinet heights, wide drawers, lift-up, tilt-up or bi-fold wall cabinets, floating shelving with heavy duty mounting brackets, etc. Less is more.
2. Flooring: Waterproof vinyl. Some come with a cork underlayment for sound absorption.
3. Lighting: LED
4. Color: Grays, painted blues and white. Combining cabinet colors for two-tone look. Painted white cabinets are still popular.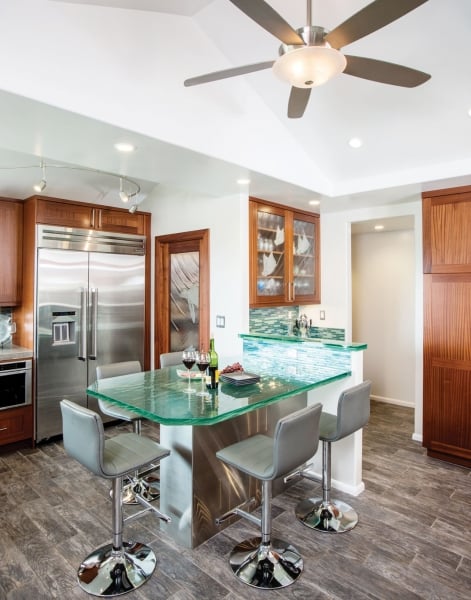 WHERE TO GET IT
Backsplash: Tile Warehouse – Oceanside Vibrato pattern / Muse custom blend – Bondi iridescent No. 032, Tide Iridescent No. 035 and Tropical Reef Iridescent No. 042
Cabinetry: Bellmont Cabinet Co. – 1900 series – Palo Alto door in Sapele Natural
Countertops: Kaala Concrete designs – Concrete counters (gray and blue) / Think Glass (Canada) – Aqua color with Vaga texture
Dishwasher: Thermador Sapphire dishwasher
Faucet: Franke
Flooring: Home Depot – Montagna Smoky-Black Glazed, 6 in.-by-24-in. porcelain tile
Microwave: Thermador 24-in. microwave drawer
Range Hood: Thermador 48-in.
Refrigerator: Thermador 48-in. built-in SXS – stainless
Sink: Franke Orca and Grande
Wine Storage: Thermador 18-in. wine column – stainless