Rejuvenation Room
Bathroom designs now welcome in natural light — and sights.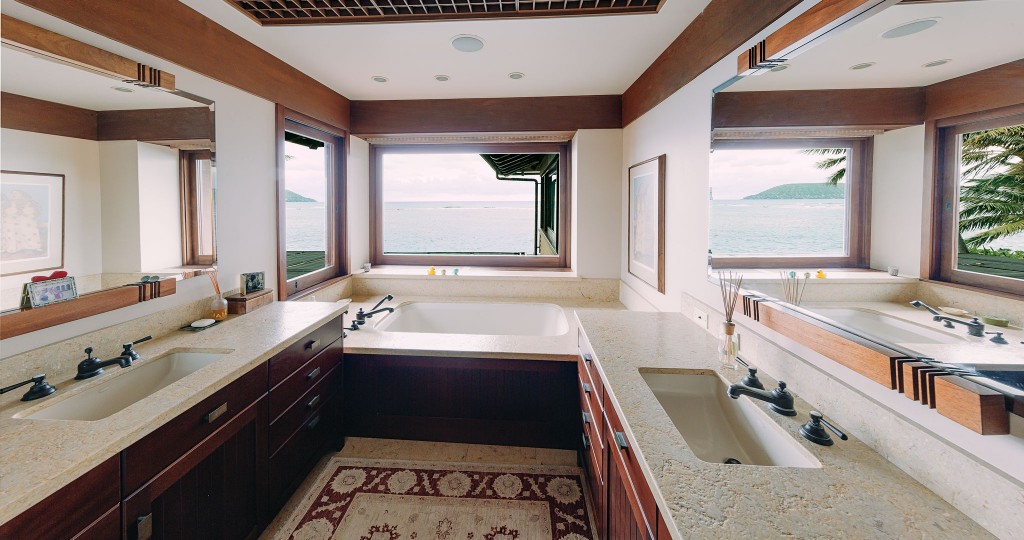 Bathrooms with a view. It's a design feature that used to be only seen in grand homes, but it's now popping up in smaller living spaces, such as condos or simple additions.
"People often think you need a grand home in order to have that, but a window is not an expensive investment," says Glenda Anderson of Details International. "Anybody can have the luxury of getting in a bath or shower and looking out and seeing the wonders."
Sitting along the water, this Hawaii Kai home already has a gorgeous view of the ocean from the kitchen and living room. Now, it's extended to the bathroom. "It's a commanding view, the ocean, because you not only have the water and, of course, the beautiful sky, but also Koko Head," says Anderson.
This bathroom features mahogany cabinets and natural stone with a shower, water closet and bathtub with windows looking out to the sea and mountains. Open ventilation by the bathtub brings in the sound and smell of the ocean. "Everything is based on nature and no frills," says Anderson.
When it came to designing this bathroom, Anderson focused on the synergy of senses — bringing in the ocean through sound, smell and sight, with the touch of the water all around. "So it's all your senses, and I always embrace that. It's a part of being a real holistic designer," she says.
Details International's design approach blends lifestyle, nature and senses to create balance and harmony in the home. Anderson worked with a team of other designers and architects to create and design the whole home, but the kitchen and bathroom hold special meaning.
"There are two places in the house that are critical to your wellness — one is the kitchen, which is the heart, and then there's the bathroom, which is the soul," says Anderson. "It's where you recapture your soul … it's tranquil, it's where you uncomplicate your life."
Budget Breakdown of An Average Bathroom Remodel
Labor: 20%
Cabinets: 16%
Fixtures: 15%
Faucets & Plumbing: 14%
Flooring: 9%
Countertops: 7%
Walls & Ceiling: 5%
Lighting:  5%
Doors & Windows: 4%
Design Fees: 4%
Other: 1%
Source: National Kitchen & Bath Association