Rising Design of a Penthouse Kitchen
An architect's vision for a simple, elegant penthouse kitchen is made possible by Details International's custom design.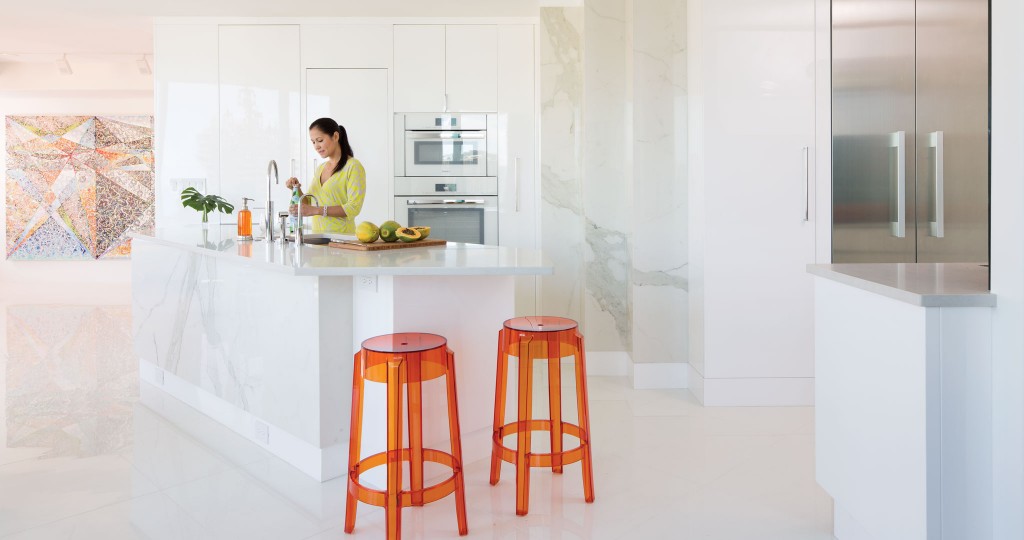 When architect John Setiadi Tan purchased a penthouse at the Waikiki Landmark, he knew exactly what he wanted to do to turn the dated kitchen into a clean, modern design for his family. The designer and principal architect of Setiadi Architects worked with his design team to help put his vision to initial conceptual plans.
"Our concept is simple — elegant interior design incorporating contemporary art," Setiadi says. "And the interior design itself should be artistic on its own."
But an important component of turning Setiadi's plans into a fully functioning kitchen was the talented design team at Details International, which turned his vision into a custom, achievable design.
Details International is Hawaii's exclusive distributor of Downsview Kitchens, which manufactures high-end custom cabinetry. A typical project includes about 40-percent custom design work. Details International worked closely with Downsview Kitchens to ensure Setiadi's vision could be accommodated, resulting in 90-percent customized design plans.
"They say nothing is impossible. It's our test to really do that, but within reason," says Details International designer Heejin Uchimura.
Details International's design supports Setiadi's vision for an artistic, elegant kitchen.
The sleek, contemporary kitchen is now loaded with smart features and plenty of storage, all hidden behind the high-gloss white-lacquered Downsview Kitchens cabinetry. Setiadi wanted the insides of the cabinet drawers and doors to have the same lacquered finish as the outside. Typically, the inside would have a melamine or plywood finish. All hardware and hinges are hidden, and where glides are necessary, they are cleanly finished in chrome to match the kitchen.
Other hidden mechanisms, including soft-close doors that open sideways, vertically and into hidden pockets, all reveal intentional storage solutions. One door slides open to access an extension of the kitchen itself, which can be closed off as needed, while another door on the opposite side of the extension leads to a pantry closet, allowing items to be neatly stored out of sight.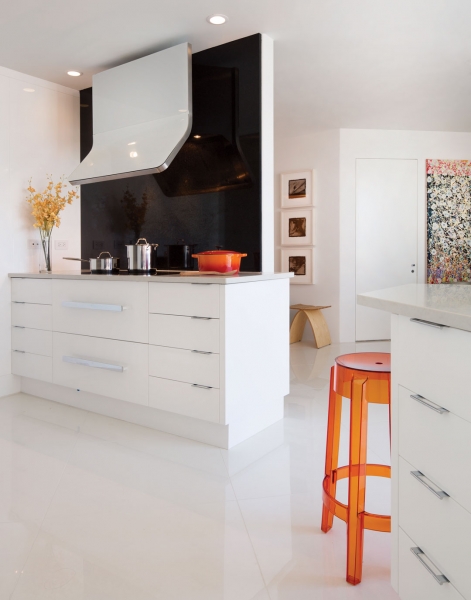 Setiadi had a detailed vision for the kitchen, even providing Details International with measurements of his family's dinnerware. In turn, they provided a place for everything to fit, neatly stored and organized, in the most convenient and sensible locations throughout the kitchen.
"Storage and organization are super important," Uchimura says. "This kitchen is quite practical with a lot of storage."
WHERE TO GET IT
Appliances: Miele M-Touch induction cooktop, convection oven, steam oven, speed oven, dishwasher and warming drawer, from Details International.
Cabinetry: Downsview Kitchens, Tania High-Gloss Lacquer in White, exclusively from Details International.
Counterstools: Kartell Charles Ghost in Orange, from INspiration Interiors.
Countertops: Caesarstone in London Fog, from Details International.
Faucet: Watermark, from Details International.
Flooring: FMG Fabbrica Marmi E Graniti, MaxFine Porcelain Tile in Marmi Thassos, from Evergreen by Debra.
Sink: The Galley Sink, from Details International.
Wall Panels: Graniti Fiandre, Maximum Porcelain in Calacatta Maximum, from Evergreen by Debra.