A Restored Historic Home is All About Saving Spaces
Koolau Builders recognizes the historical significance of a Makiki house, restoring it to its original charm.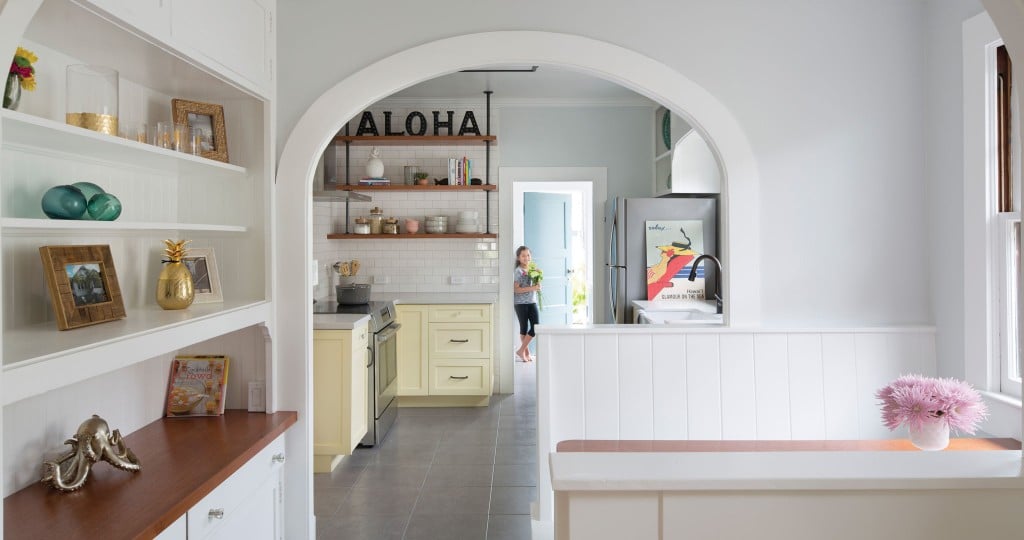 In the heart of Makiki, crowded with high-rise and walk-up condo buildings, a whimsical one-story house built in 1930 survives from the neighborhood's quieter past.
The well-designed house retained nearly all of its original features throughout its 86 years and six owners, including high ceilings with crown molding, oak floors and sash windows. But it needed repairs.
The homeowner reached out to the professionals at Koolau Builders for advice on whether to rebuild or save the beloved family home.
"In a situation like this, it is almost always the easier route to tear down and build new," says Nick Tang, president of Koolau Builders. "However, upon inspection of the property and home itself, I could not bring myself to let that happen. The house had so much character, and I could see back through the years what it once must have been."
Existing characteristics and premium finishes would be more expensive to replace with new construction than to retain and restore through renovation, Tang says, noting the house's floor plan, wrought-iron handrails, wood panel and bead-board finishes, and built-in dining nook and buffet table.
"I knew that it would be the most responsible approach to bring the house back to life," Tang says.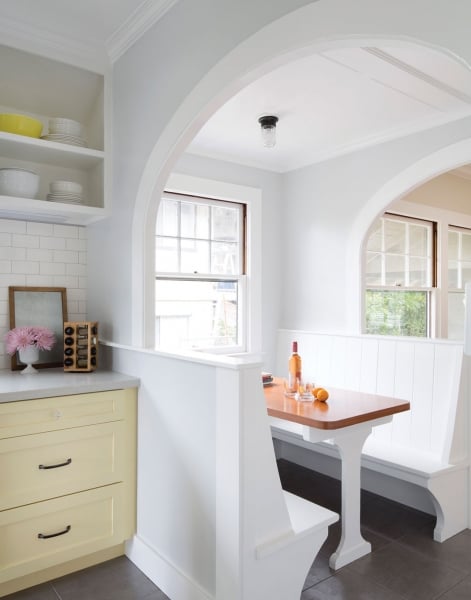 With a budget in place, the homeowner gave Koolau Builders' design team free rein of the kitchen and bath design, including appliances, finishes and colors. They talked with the homeowner to learn her likes and dislikes to personalize the project.
The design team worked the homeowner's favorite color — yellow — into the kitchen, balancing it with gray and white, and complementing the look with a hazy blue door. Wherever possible, Koolau Buidlers retained original features of the house, including its built-in cabinetry, glass knobs and crown molding, to ensure the house's deep connection to the past remains. New appliances and a custom open-shelf system give the kitchen a modern functionality.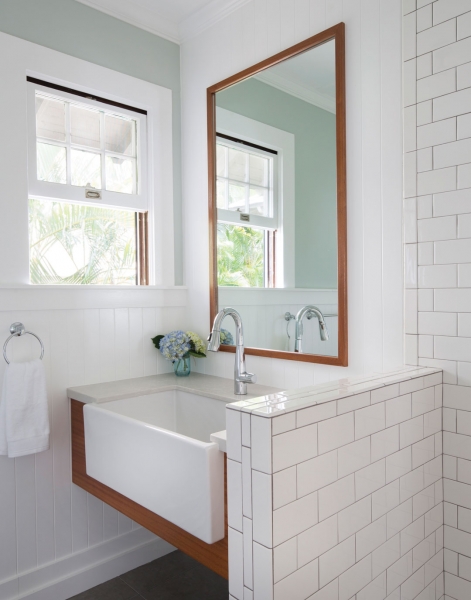 "While I believe building new is often the best option, it is important to be able to see ways to preserve and enhance what was once there. In some cases, like this, renovating and connecting to the past is like finding an heirloom in the attic, polishing it off and putting it back on the mantle. It can never be replaced or replicated, and now will shine on for many more years," Tang says.
WHERE TO GET IT
Countertops: Caesarstone in alpine mist
Cabinets: Bellmont Cabinet Co. shaker style in lemon chiffon
Wood shelving, breakfast nook countertop and built-in buffet countertop: Koolau custom built, sapele and mahogany with galvanized steel-hammered bronze finish
Backsplash: White subway tile, classic brick pattern
Appliances: Bosch induction stovetop, hood and dishwasher
Sink: Rohl apron front