Saving Vida Mia
A historic motor-yacht is brought back to life.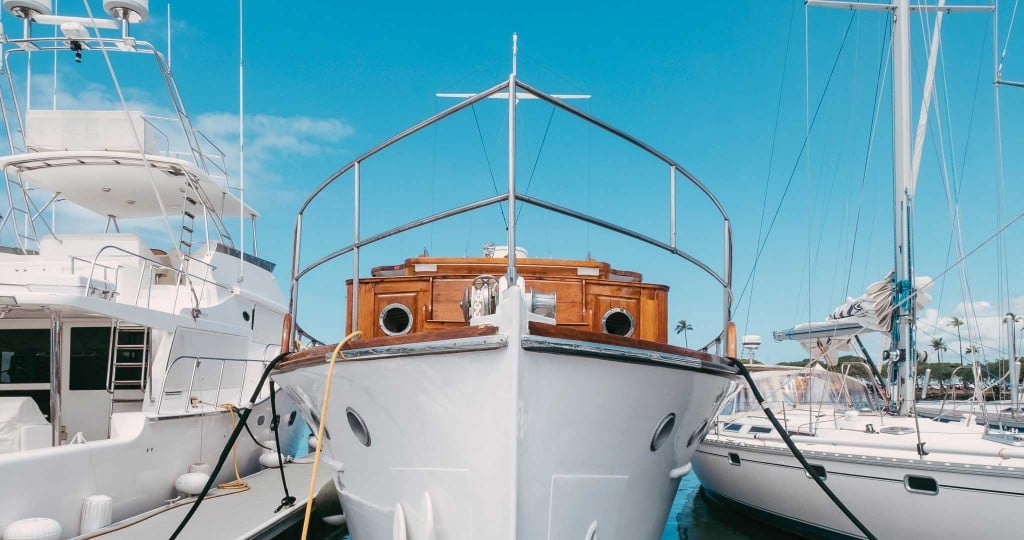 Her name, Vida Mia, means "my life"— a Spanish term of endearment and a fitting moniker for a boat very much a part of so many people's stories. "That boat followed me around my whole life," says Steve Martin, partner of Vida Mia. "I grew up on a boat and the Vida Mia was our neighbor at the Berkeley Yacht Harbor. Then, in 1966, my family and I sailed to Hawaii. The Vida Mia showed up at our harbor in Hawaii just a few years later."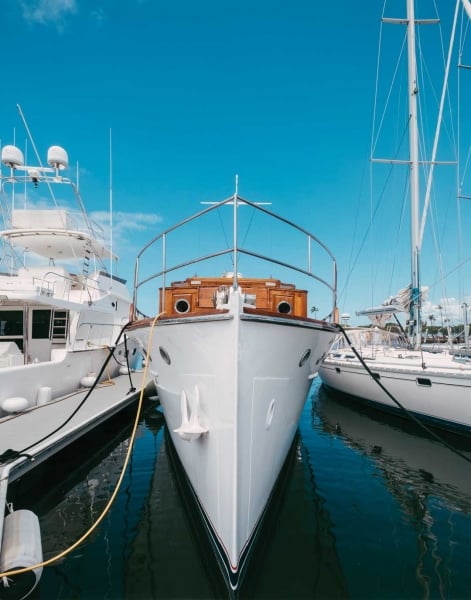 Built in Sacramento in 1929, the Vida Mia was a commuter boat for wealthy businessmen. Since her creation, she has changed hands many times. During World War II, she was commandeered by the United States Coast Guard, painted grey, and sent to patrol San Francisco Bay. She arrived in Hawaii after serving as an unofficial escort of the famed Transpac sailing race in 1963. She's hosted weddings and funerals, survived hurricanes and flooding, and entertained celebrities such as Elizabeth Taylor and Louis Vuitton.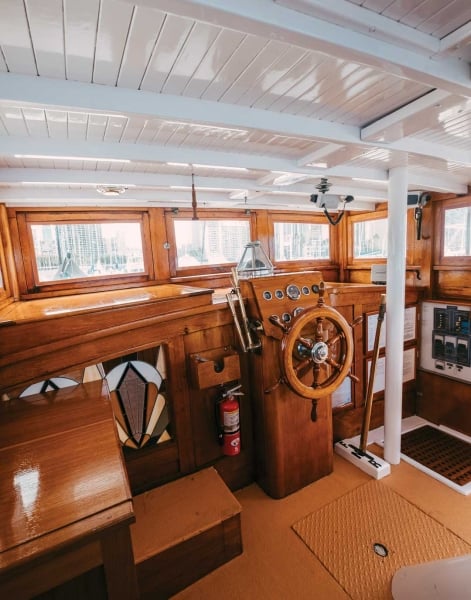 When Martin partnered with Scott Bradley to purchase Vida Mia at auction, they knew her restoration would be complex. She sat abandoned in Keehi Marine Center for years, unattended and sun-worn. She had raw, splintering decks, a wood-rot-eaten hull and decaying interiors. Martin and Bradley brought in a team of experts, including master boatwright Ciel Tierra of Ocean Woodcraft, to revitalize the historic yacht.
Tierra admits he's had his eye on the 61-foot Stephens Brothers motor-yacht since it first entered the marina and was thrilled when Martin and Bradley asked him to work on it. "Every time I would walk past Vida Mia at the boat yard I would think, 'Wow, I want to be part of that project,'" explains Tierra, who specializes in custom marine woodwork and marine restorations.
Tierra remodeled the forward cabin, galley and the two aft staterooms, as well as repairing many other parts of the interior and exterior of the boat. In the forward cabin, he removed the old bunks and created a usable space for the boat's charter crew. With simple lines, white granite and shaker-style cabinets, Tierra added modern updates and expanded the galley prep space while keeping with the motif of the original interiors.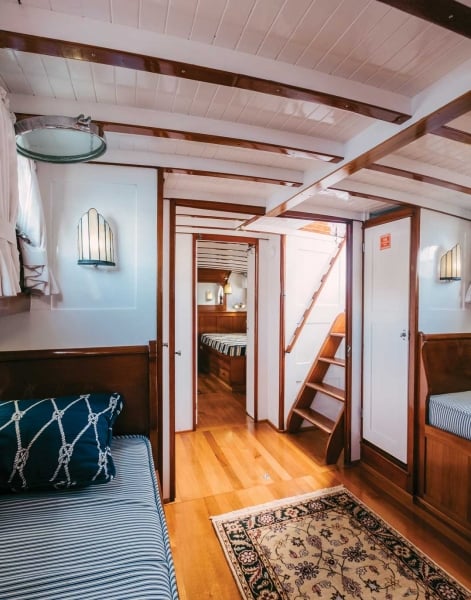 "I've realized people expect the interiors of boats to be a certain way," Tierra explains. "When you're on a boat, that boat is keeping you alive and that is why boat building is such a conservative art form. Builders have figured out, over the millennia, what has worked and what is safe. I think that's why interiors haven't changed that much in style over the years, because the tradition of keeping the sailor safe bleeds into every aspect of the boat's design, even the cabinets. Having different motifs from one state room to the next could be jarring on a boat."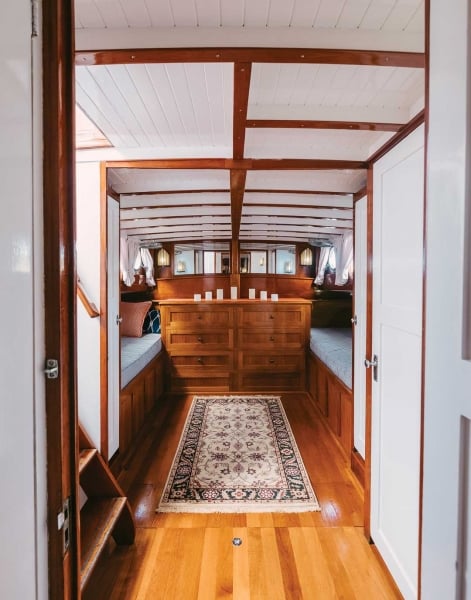 The real challenge was restoring the back aft quarters — the wooden ribs were rotted through, eaten away by moisture and salt. Tierra took everything down to the hull and put in all new floor timbers — laying massive mahogany beams from the stairs all the way through the heads and back aft. "When I walked into the aft state room and saw all those broken floor timbers, I started to wonder if I was ever going to get the boat back together again," he says. "But, then I got to work and it all came together."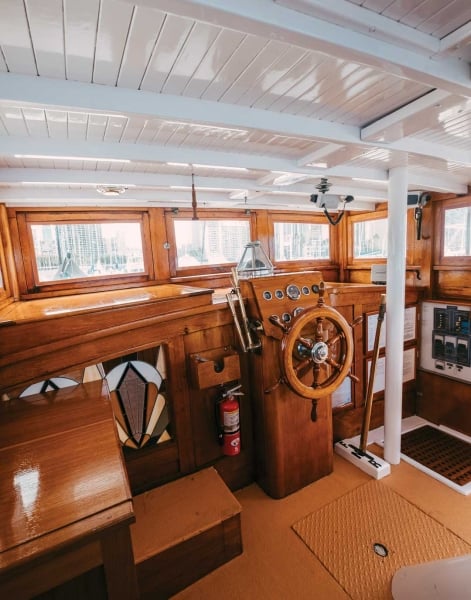 Tierra also repaired the upper deck's pilot house, adding an icebox and custom cabinetry to create a mini bar — an ideal setup for inter-island charters. He used teak — the classic boat wood, sourced for its rot-resistant properties — for all of the interior and exterior cabinetry and surfaces.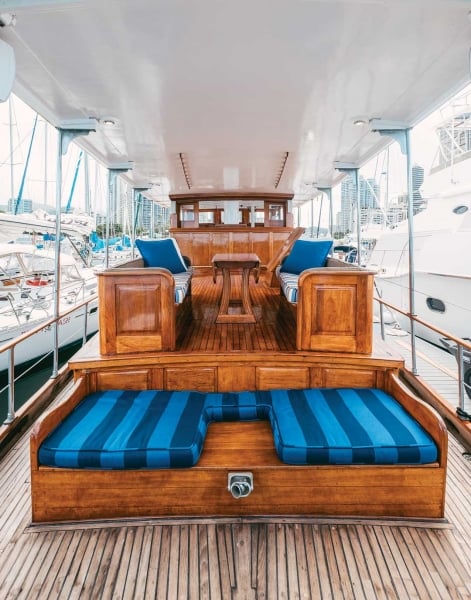 Today, the Vida Mia floats in a slip at Waikiki Yacht Club, restored to her former elegance and available for charters and events. Her owners understand her sentimental importance to the community and plan to keep her here, well-varnished and well-loved, for people to create new memories on her decks and reminisce on the old. "It's so nice to see people enjoying this boat again," says Tierra. "She deserves better than to rot away in some back corner of a marina. She's really a classy old boat."