Seeds of the Future
Communities come together to give a slice of the west side a new life.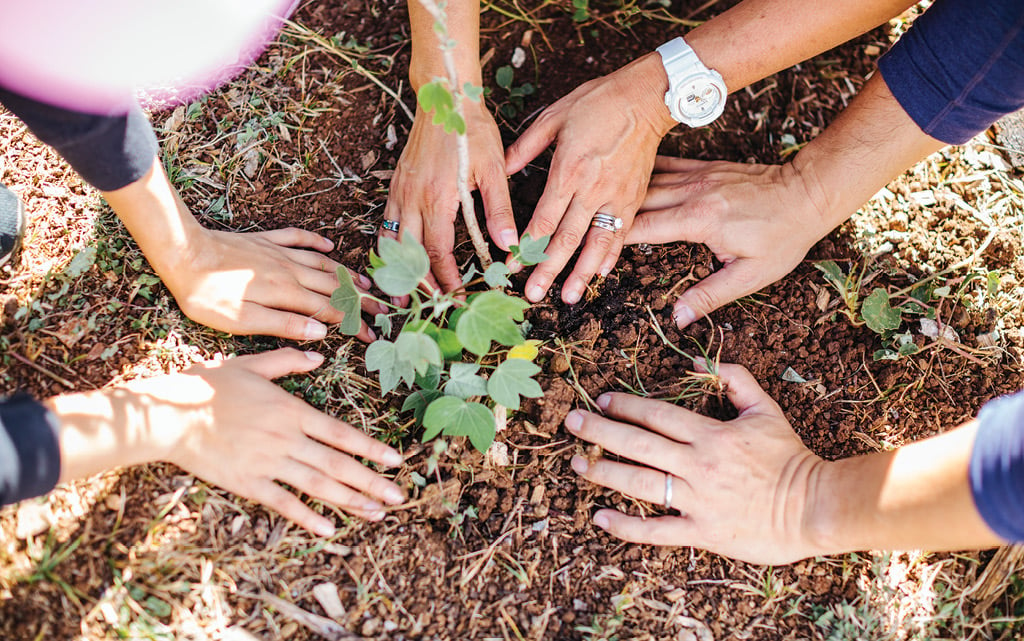 It was a sight to see: more than 100 people of all ages, clutching at one long strip of black weed cloth high atop the peaks of the Waianae mountain range on a sunny Monday afternoon. As one, they were angling for just the right way to stretch the cloth, which would help stop aggressive invasive weeds from spreading across a grow bed of plants installed just that morning. And as one, they had planted the beginnings of a new era for this historically deforested region—a beginning that would, hopefully, see a resurgence of now-scarce native botanicals that would heal the scorched and parched land, and begin a process of environmental healing.
It was all a part of Kupu's 11th Annual Martin Luther King Service Day, which united individuals from across the island in the common cause of giving back to the aina. The group included elementary, middle and high school students and adults hailing from a multitude of organizations, schools and neighborhoods, all coming to pour their sweat, time and energy into the future of the land.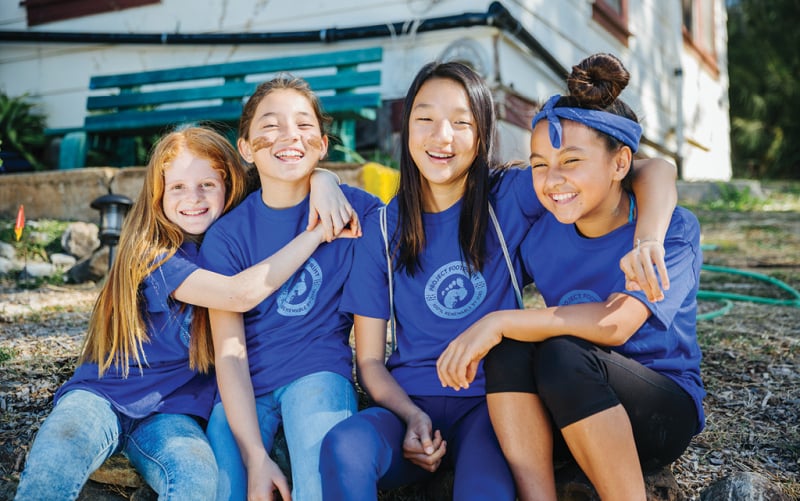 "The focus is really to bring the community together around conservation work that's important to do, and to help out one of our partners," explained Kupu's executive director, John Leong. Engagement and collaboration is a key part of the Kupu model, which puts a heavy emphasis on partnerships with other organizations that are also fighting for conservation and a better Hawaii. While Kupu has a bevy of programs on its own plate—from conservation efforts to programs that help underserved youths to succeed—it's the collaboration with other organizations that really helps it maximize efforts all around. (And, look for an uptick in those collaborative efforts soon. Kupu's latest project is a brand new education center off Kewalo Basin that features classrooms, an outdoor recreation area, spaces for meetings, and even a commercial kitchen, making it the ideal space for Kupu and its partners to engage and host the community.)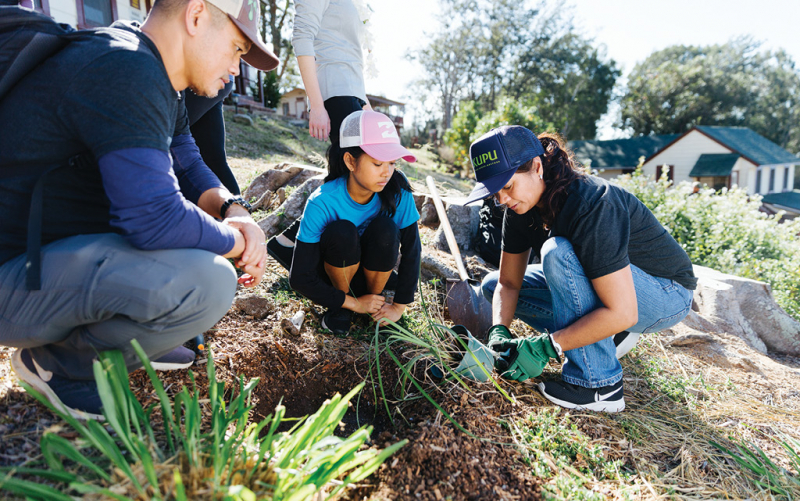 For this year's MLK service day, Kupu worked with three longtime partners. In addition to joining forces with Hawaiian Electric as a sponsor for the event, Malama Learning Center, a west side nonprofit focusing on sustainability and conservation, was spotlighted and Camp Palehua was the work site. Nestled in a scenic, wild spot in the mountains of Kapolei, many folks might not even know it's there. And despite the beautiful location, it's suffered its fair share of ecological damage, leaving plenty of opportunities for planting and reforesting with native, sustainable plants.
"We're making conservation and caring for our environment more relevant to people, and helping them understand that it's everybody's responsibility."
—Pauline Sato, Malama Learning Center
AJ Halagao, of the Hawaiian Electric Industries Charitable Foundation, brought his son Jordan and his sixth-grade class from Hanahauoli School. "It's important we all find a way to serve," he says. "Being with your children, having them learn more about native plants, and what they can do to make Hawaii better and along the way, reduce our carbon footprint … I think it was great sharing that experience with them."
That experience included invasive species clearing, plant restoration and beautification of the campsite, spearheaded by the experts at Camp Palehua, which focuses on creating a community network grounded in cultural education and conservation work, and Malama Learning Center. In this area, "most of the native plant forests will be at the tippy top of the mountains, where people don't live," says Malama Learning Center's executive director, Pauline Sato. "We're trying to reverse that." One of the center's goals is to make those native plants, which have been lost to the Ewa region for generations, once more visible—and once more a part of the community's family again.
It's a lot of work, but 100 extra pairs of hands on Martin Luther King Jr. Day certainly helped. That meant 100 more people clearing out the tangle of invasive plants, and planting new, indigenous ones, which were purchased or grown in Malama Learning Center's Kapolei High School nursery.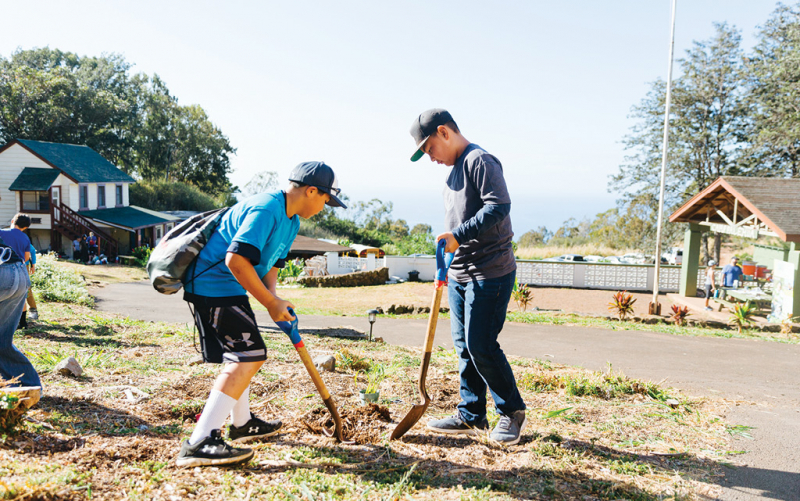 "We're making conservation and caring for our environment more relevant to people, and helping them understand that it's everybody's responsibility," Sato explains. "I emphasize to the group that it's not really one day that will solve the issues—we have to do it every day. But this is a way for everybody to learn something new and be part of the solution."
At Camp Palehua, the beginnings of that solution are visible, thanks to the efforts of the volunteers. The plants went into the facility's newest Hawaiian garden, and include everything from flowering pikake and puakenikeni to be used in future lei-making workshops, to mamaki for making tea for campers. Aweoweo and ilima plants that are native to these ewa-side areas, were also specifically included, says operations manager Paoakalani Montgomery, who points out that the MLK Day participants can feel like they contributed to a lasting legacy.
"To come back in 15 years and say, 'I'm the one that planted that, we planted that tree'—it was really to get folks to feel a connection to this place, to understand the history and to give them a chance to make an impact of their own."
In the end, that's what the day of service is all about. "The biggest thing is not just what they're doing that day; it's about bringing the community together around something bigger than themselves," explains Leong. "(We're) trying to plant the seeds of service in the hearts of the participants. That's why we do it."