Setting Sail
Peter Vincent Architects takes a marina house on a nautical voyage.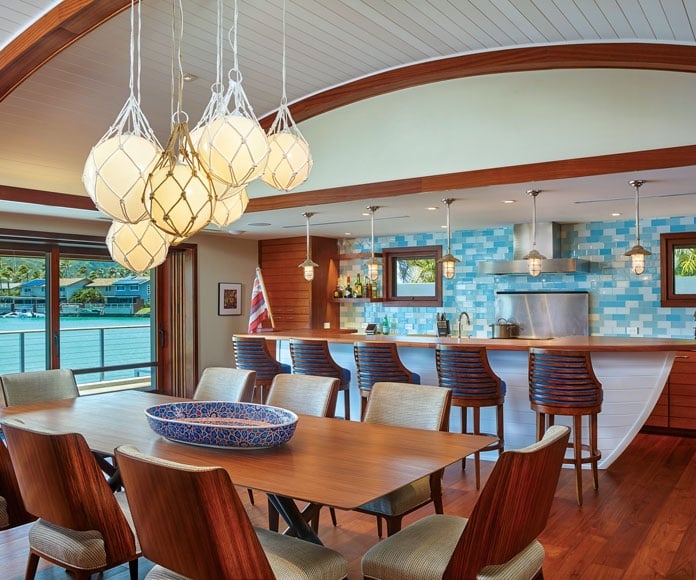 2017 AIA Honolulu Design Awards – Editor's Choice Award.
---
Dry docked on the waterfront streets of Hawaii Kai Marina, a single-family house was about to undergo a complete transformation. Its marble interior, fountains and split-level floors did not fit the new owners' taste, feeling they were out of place in the neighborhood.
Despite their desire to jump ship on the house's design, the homeowners wanted to find an architect who could retain its structure while completely transforming its aesthetic. They cast a wide net for their may-day call and reeled in one architect that was willing to work with them on their vision: Peter Vincent Architects. All other architects they met with recommended tearing down and building new.
"We really wanted to keep the house out of the landfill," says Peter N. Vincent, FAIA, NCARB. "Sometimes financially, emotionally and in the right situation, it is good to keep the existing structure."
But there was a lot of work to do.
The homeowners wanted the house to look more appropriate in the neighborhood, while taking advantage of the marina views and introducing indoor/outdoor living.
"To celebrate the house's location, a modern 'boat-house' design theme emerged, intended to be both playful and sophisticated," Vincent says.
He reconfigured the home into new living quarters that feel like living on a yacht. The materials as well as color palette were inspired by vintage Chris-Craft boats, owned by the likes of Elvis Presley and Frank Sinatra.
"A unique aspect of the house is how the curved ceilings were created to reflect the hull of a boat. Nautical light fixtures add appropriate detail for effect throughout and the use of ocean-colored glass tiles expand the sense of view and lighten and brighten otherwise dark spaces," Vincent says.
Peter Vincent Architects worked with Terry Doyle of Axiom Design to create the custom kitchen cabinetry and boat-shaped teak and holly countertop, the focal point of the kitchen.
The powder room was also redesigned with curved wood slats on the walls and ceiling to carry the boat hull design throughout more of the house. The mirror looks like a porthole, while the sink and fixtures are also reminiscent of a boat. "It took a very insignificant space and made it feel important and a fun 'surprise,'" Vincent says.
He is grateful the owners trusted in his creative vision, noting they were apprehensive at first. "It is a leap of faith and they were such collaborators and wonderful teammates throughout the whole process," he says.