Share the road and protect the environment with Biki
Hawaii roads are being shared more than ever thanks to the state's first bike-share program.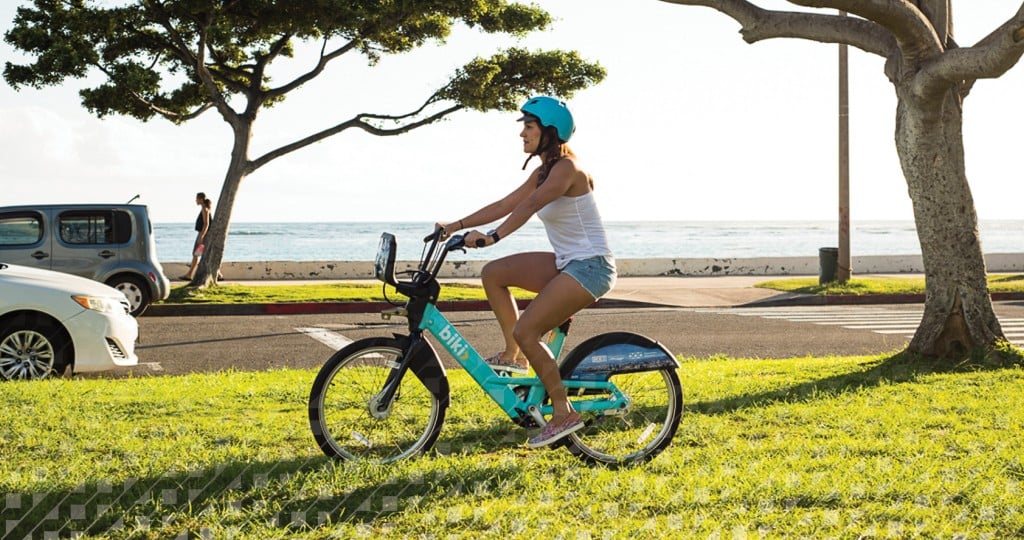 The roads in town are being shared more than ever before thanks to the state's first bike-share program, which officials plan to expand this year.
Since Bikeshare Hawaii launched Biki last June, the bicycles have been taken on more than 450,000 rides. In the first six months of the program, 64 percent of the rides were taken by Oahu residents.
Biki Stops are located between Chinatown and Waikiki, and from Beretania Street to beachside parks and roads. The bikes are an eco-friendly alternative to driving or catching a ride in an Uber, Lyft or cab. A Biki member survey found that 59 percent of respondents used their personal car most of the time before Biki, which suggests the program is succeeding in taking cars off Honolulu's crowded roads. The survey also found that 36 percent of respondents used Biki to commute to work, 60 percent to dine and 56 percent to shop.
"Biki benefits Hawaii residents and visitors by providing a low-cost, convenient, zero emissions transportation option that is healthy for the community and the environment," says Lori McCarney, CEO of Bikeshare Hawaii. "By offering an affordable alternative to cars, Biki reduces or eliminates parking, gas, traffic and the use of fossil fuels. Biki also takes advantage of Honolulu's year-round sunny weather as our Biki Stops are solar powered."
Bikeshare Hawaii is working on expansion plans for the middle of this year that call for additional Biki Stop locations, based on requests from the community. According to Bikeshare, 130 requests have been submitted for Biki Stops in neighborhoods currently not served by Biki, or for additional stops within its current range. In-demand location requests include Makiki, the University of Hawaii, Kapiolani Park and Iwilei.
If you're interested in trying Biki, consider downloading the Biki App. It shows the location of each Biki Stop and provides real-time availability of bikes and docks at each station. If you'd like to support Biki's mission in other ways, consider the Adopt-a-Biki program. A $1,000 adoption fee allows you to create a personalized inscription that will be placed on a Biki. You can track the Biki's activity, including how many people have ridden it, how many miles it has logged and how many calories it has helped riders burn.