Sharing Spaces
Personality and style collide and compete in one of the smallest spaces to live in: a college dorm room.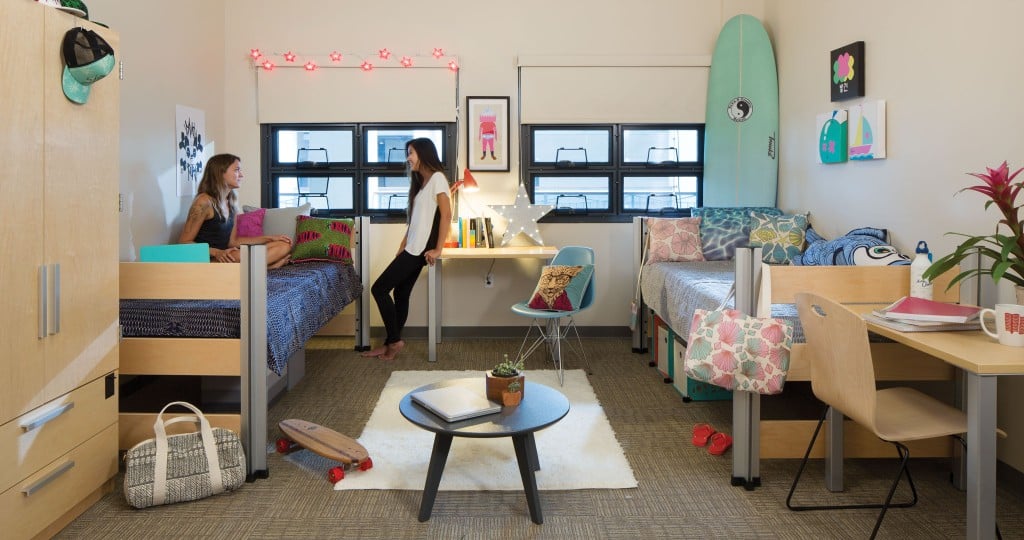 A room can feel its absolute smallest when you share it with a complete stranger, who one hopes will turn into a new best friend over the course of a college semester. Hawaii Pacific University's Waterfront Lofts student housing at the Aloha Tower Marketplace can house as many as 272 students in 75 suites. Here's a few tips for making a home away from home for the school year.
This dorm room at the Waterfront Lofts is decorated with essentials, most of which are made by Hawaii designers.
GET THE LOOK:
1. Island Hopper duffel bag in akoakoa, $72, from Manaola.
2. Pineapple twin coverlet in sapphire, $86, from Manuhealii.
3. Architect Desk Lamp in red-orange, $30, from Bed, Bath & Beyond.
4. Pineapple twin coverlet in titanium, $86, from Manuhealii.
5. Seaflower pillow cover, $66, from Jana Lam.
6. T&C Surf
8-foot Mini Tanker Longboard, shaped by Tommy Tanaka, from T&C Surf Designs.
7. Shellini pillow cover, $66, from Jana Lam.
8. Reversible Cube Grid in aqua/red- orange, $20, from Bed, Bath & Beyond.
9. Sunny Beach Bag tote, $110, from Jana Lam.
10. Tall ceramic mug, $12, from Manuhealii.
STORAGE TIPS
Sharing cramped quarters with a new roommate can make moving into a dorm a maddening game of life-size Tetris. Using a self-storage warehouse can help relieve some of that stress before you move in for a new school year. StorSecure shares these tips for getting the most out of a self-storage unit:
• Pack schoolbooks flat in boxes to preserve spines, using pallets or skids beneath boxes to prevent moisture.
• Use cushioning like newspaper or bubble wrap but don't overstuff cartons.
• For maximum efficiency and organization, leave a walkway to the rear of the storage unit, situate commonly used items closest to the door and label all cartons appropriately.
• Create a list of the labeled cartons, which will serve as an easy reference when transporting cartons and will simplify your life greatly on moving day.