Smart Small Spaces: Cozy Cottage
Who says you need a lot of square footage to be happy? These small spaces under 1,600 square feet prove otherwise.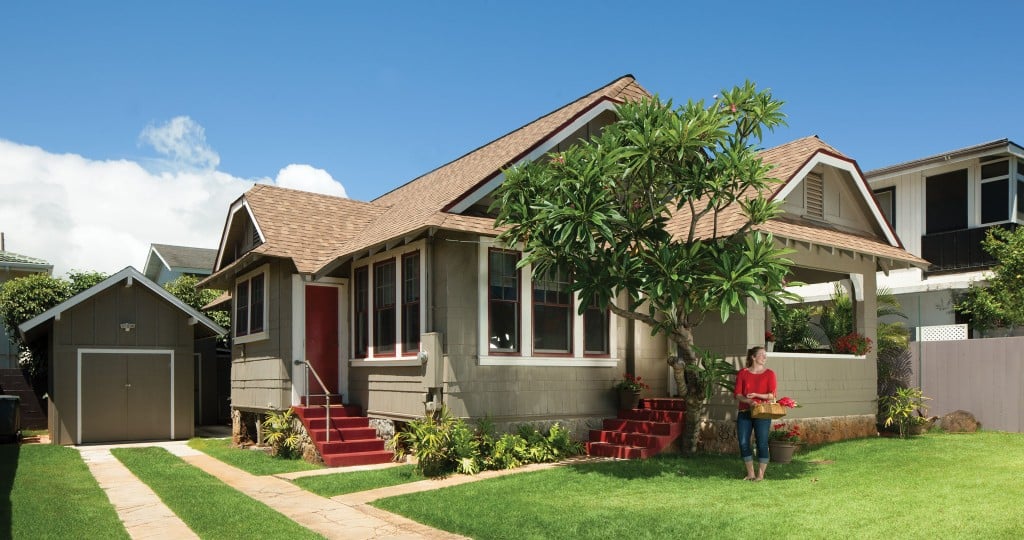 In Hawaii, where space is limited and you pay a premium for square footage, there is a range of choices for small-space living, whether a cute cottage, beach bungalow or high-rise condo.
"I love the way some vintage homes were designed," says Nick Tang of Koolau Builders, including this 1931 three-bedroom, one-bathroom Kaimuki cottage he purchased in 2007. He bought it from the original owner, and no renovations had ever been done on the home, which was overgrown with trees and had a foot of dirt covering the driveway when he first laid eyes on it.
"When we saw the home, we fell in love with it because no one had touched the house or added any awkward spaces," Tang says. "Vintage homes are already built with a small footprint in mind, so when they created the layout in the home, often there was great use of every space in the home."
In Tang's opinion, the more original a home, the better. "This house had everything original and I knew with some (a lot of) work we could get it to be something special."
His goal was to retain as much of the vintage character as possible, while adding more conventional finishes as needed. Fortunately, the original built-in cabinetry was still intact, as well as the original hardware — even the original skeleton keys from 1931 were there. V-notching, which was prevalent in home construction at the time, was used on the walls and the kitchen ceiling. The home also had crown molding and a plastered ceiling (original plaster is a key historic element of an old house), while all the original double-hung windows just needed to be refinished and repainted.
Despite the great "bones" of the home, "It had not been touched in 75 years and was ready for some relief," Tang says. The biggest change was removing the walls between the kitchen, the living room and the dining room. "Although the layout of the home maximized space, some of the walls separating the kitchen, dining and living rooms constricted the flow and view through the home. It made each of those spaces feel small."
Tang remodeled and restored every single surface of the home, and added new plumbing and electrical wiring. A full bathroom was added to the master bedroom to make it a three-bedroom, two-bathroom home, while the existing carport was converted into an enclosed garage with a mezzanine for more storage, which freed up space inside. A hallway closet was converted into a stacked laundry center, while the master bedroom was enhanced with a built-in desk and storage console. On the outside, "The yard was enclosed with a fence, so that with the front door open you feel engaged between the interior and exterior, which also adds to the perception of greater space," Tang explains.
"Small spaces can have everything you need," he adds. "For us as a family of five, this home had everything we needed — a place to cook, a place to eat, a place to sit down. Our kids used bunk beds and shared rooms, and we enjoyed and used the space outside to extend our useable space."
5 Reasons to Live in a Small Home
1. It costs less. Save money on home maintenance costs, from utility bills to roofing and landscaping. With less to break, there is less to repair.
2. It saves time. Spend less time on home repairs and housekeeping.
3. It Keeps you organized. Living in a small space forces you to control the clutter coming into your home, simplify your life and stay organized.
4. It is greener. A small home not only reduces consumption and waste, it also uses less energy overall and is easier to get LEED certified.
5. It is easier to sell. Small homes are often more affordable to buy and easier to sell.