Soaking in a Beautiful Bath
Spruce up your bathroom space with an elevated remodeling project.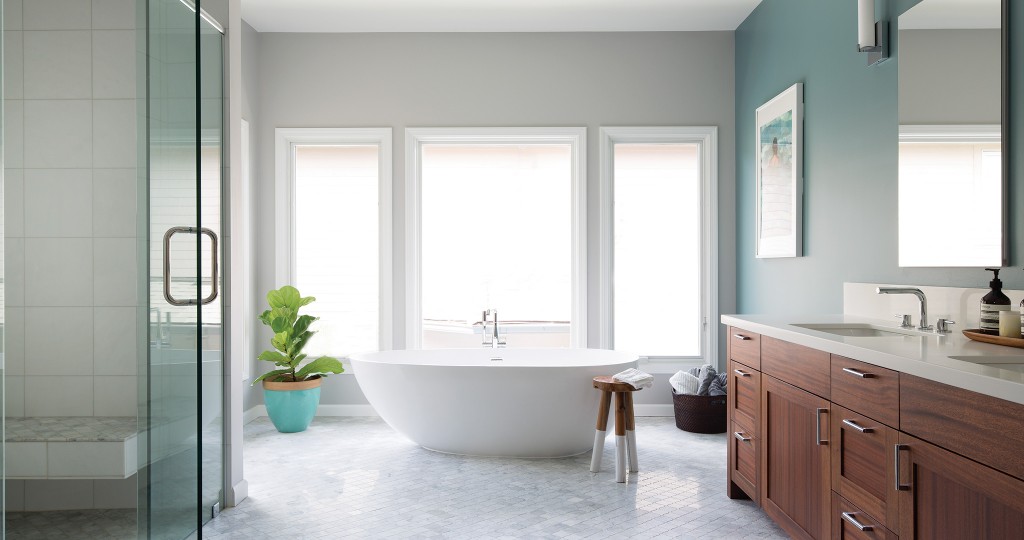 Your bathroom is the hub of your morning and nighttime routine — it's where you get ready to start your day and where you brush your teeth before heading to bed. Take care of this essential space by creating a functional room that you'll love with a range of remodeling projects.
Simple cost-effective fix-ups, such as a new showerhead, accessories and furnishings, can revive your current space, while renovating can upgrade the bathroom and significantly boost your home's value.
"The cost of a bathroom renovation can vary greatly based on many factors," says Marshall Hickox, president and chief administrative officer of Homeworks Construction Inc.
If you are planning to do a renovation, Hickox recommends budgeting $10,000-$15,000 for a standard refresh that'll utilize the same floor plan for plumbing and electrical, but will give you a like-new bathroom. For larger remodels, such as a master bath or new layout, he says that costs can go above and beyond $20,000, and even $50,000 for a higher-end bathroom is not uncommon.
Remember to seek the advice of local designers and builders, who are willing to help you map out your bathroom plan. "Having a clear picture of the bathroom before you even start is possible by generating a high-resolution rendering," Hickox says, adding that Homeworks Construction does this for its clients as a standard practice.
What's more, check with your local financial institution to understand how you can finance this minor or major remodel, and see these bathroom beauties to help inspire your next home project.
"Big or small, HawaiiUSA is here to help you make your financial dreams become reality."
— Michelle Gono, Ala Moana branch manager
Projects for every price point
$ Charming Addition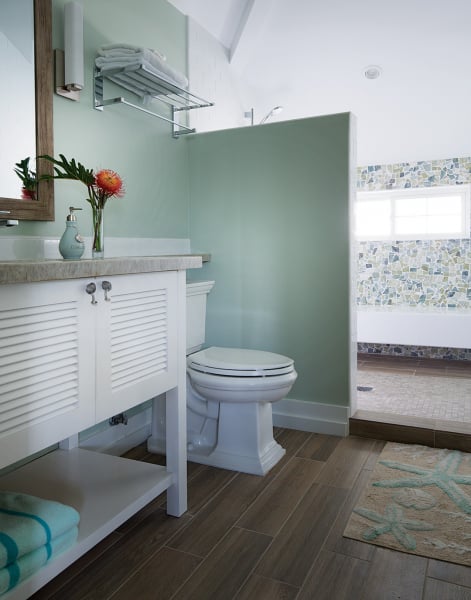 Seth and Natalie Sutherland of S.S. Builders build Hawaii homes for a living, including their own home and guest suite for out-of-town visitors and extended family. A look inside this small-space suite reveals a guest bathroom inspired by the ocean.
• The guest suite bathroom is a favorite of both the homeowners and architect, Geoffrey Lewis.
• Mosaic glass tiles are reminiscent of broken beach glass.
• The bathroom features a free-standing vanity with
Monte Carlo granite on top, plantation-style louvers and
a floating shelf.
Best way to pay: HELOC
$$ Relaxation Room
Koolau Builders completes projects of any size, including ground-up construction, which is why this growing family entrusted in them to design an additional 2,700 square feet of living space with a second-story master suite, family room, laundry/mudroom and office. The second-story suite offers an escape for the husband and wife, equipped with their own master bath retreat.
• The expansive bathroom showcases a separate tub and curbless shower with a linear drain and floating shower bench with LED lights underneath.
• Features include his-and-her sinks, mahogany cabinets and quartz countertops, along with integrated lighting in the medicine cabinet.
Best way to pay: HELOC
$$$ Brand New Space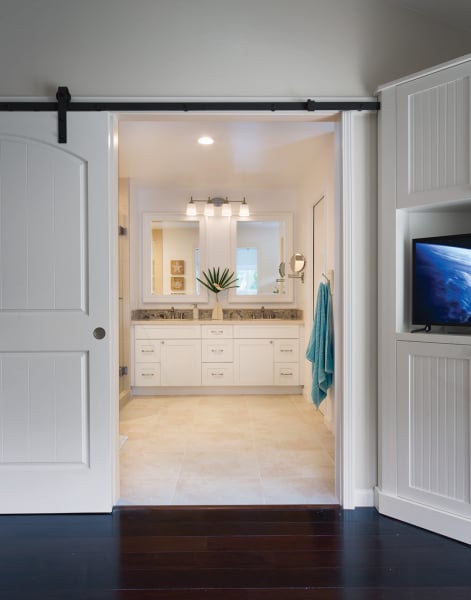 Homeworks Construction was able to relocate this spacious master bath during a whole-house remodel. Step inside through custom sliding barn doors to see a truly elegant bathroom.
• The bath is made complete with his-and-her sinks, a soaking tub, a walk-in shower and a separate washroom.
• Homeworks Construction had to do all new wiring, as well as relocate plumbing.
• Select-grade tiling, custom frameless shower doors and American-made plywood cabinets with beaded doors, soft-close hinges and rock maple drawers, enhance this higher-end remodel.
Best way to pay: HELOC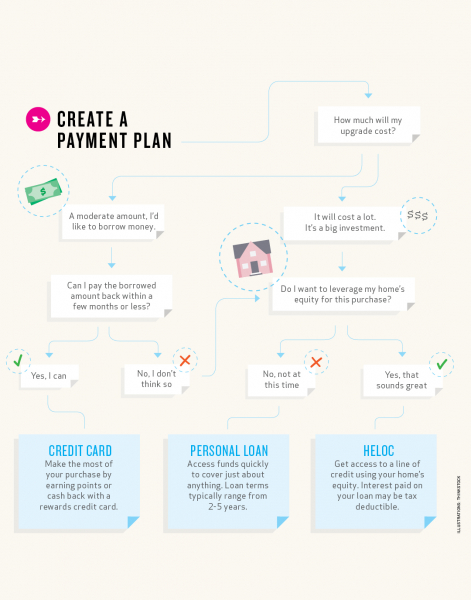 HawaiiUSA FCU
Ala Moana Branch
1538 Kapiolani Blvd. #105
Monday-Friday 9 a.m. to 5 p.m.
Saturday 8:30 a.m. to 2:30 p.m.
(808) 973-1570