Solar: Now What?
Experts say photovoltaic is still a worthwhile investment despite new state caps.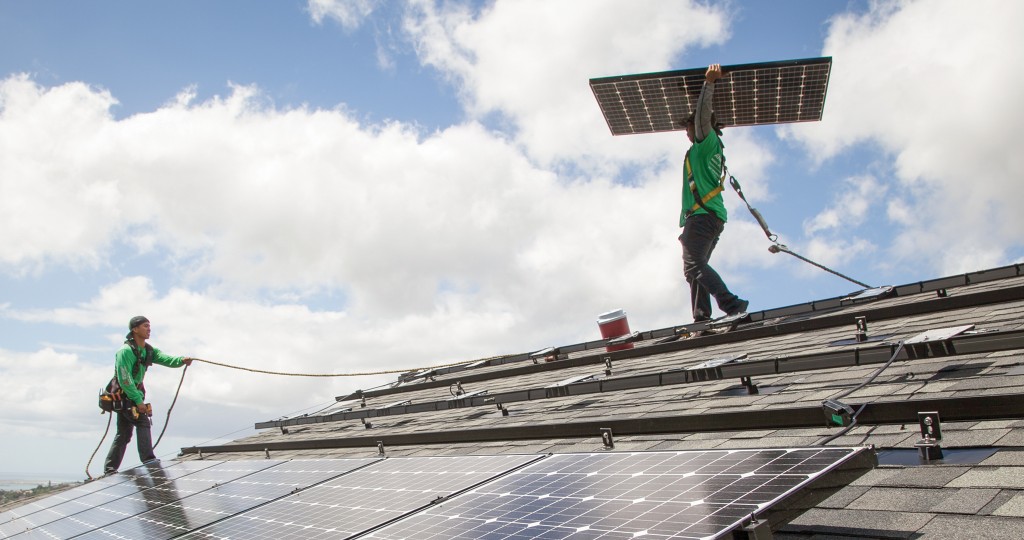 New state policies are clouding the future for solar energy in Hawaii this year, industry experts say, but there is hope on the horizon. "We still think the long-term outlook for solar in Hawaii is bright," says Colin Yost of RevoluSun. "But, there's no question, there is substantial turmoil in the short-term market."
The cause of the turmoil is the state Public Utilities Commission, which recently reduced the compensation that new rooftop solar owners will receive for the excess energy their residential photovoltaic systems send to the grid. The state will also cap additional projects at a total of 25 megawatts or about 4,000 new systems on Oahu. That cap likely will be reached in the next few months. Once it's met, no additional rooftop solar systems can be connected to the grid.
"For just our company, we have orders on the books for a megawatt," Yost says. "So it won't take long for the industry to hit that cap. A lot of people are predicting sometime between April and June."
With all the changes, here's what you need to know:
YOUR CURRENT SOLAR PROVIDER SHOULD HAVE:
A PROVEN TRACK RECORD
Ask how many customers it serves and how it handles complaints.
TECHNICAL TRAINING
Is it licensed? Are installers trained and certified?
SOLID CUSTOMER SERVICE
Research its warranties and guarantees.
MANUFACTURER PARTNERSHIPS
Check to see what partnerships it has and how they can benefit you.
NET METERING RATE, cents/kWh
| Island | Previous | NEW |
| --- | --- | --- |
| Oahu | 26.3 | 15.07 |
| Big Island | 32.1 | 15.14 |
| Maui | 28.6 | 17.16 |
| Molokai | 34.8 | 24.07 |
| Lanai | 37.6 | 27.88 |
| Min. Monthly Bill | $17 | $25 |
| 100% ROI | 4 years | 6 years |
IF YOU HAVE SOLAR …
Congratulations! Current PV owners and those who applied by Oct. 12, 2015, have been grandfathered into the program and will maintain their net-energy metering (NEM) agreements. "They are going to have the best benefits and ROI available," says Michael Ito of Alternate Energy Hawaii.
However, maintenance and warranty fulfillment could be challenges for current solar owners. The solar market is going to be a volatile one in the next year as companies adjust to the new regulations. "If everything goes the wrong way, half the industry could go out of business in 2017. Customers should ask their solar providers what their plan is for surviving. It's going to be a hard question for many of them to answer because they haven't been able to diversify."
Ito agrees that some solar businesses may not survive. "Consumers definitely need to be aware of who they're working with," says Ito. "Do your due diligence now."
Warranty fulfillment is also a critical consideration. "Be sure you're not only aware of the workmanship warranties, but also the manufacturer warranties," Ito says. "Typically, a good manufacturer will honor its warranty even if the contractor goes out of business, so know who the manufacturer is. Keep in mind, no manufacturer will honor its warranty if it's not around."
IF YOU DON'T YET HAVE SOLAR …
There are still options, but the changes are substantial. New solar customers on Oahu will be credited 15.07 cents per kilowatt-hour on their monthly bills for excess energy they send to the grid, compared with the NEM program currently in place offering a full retail rate of 26.8 cents per kilowatt-hour. New solar customers on the Neighbor Islands will also see reduced credits for excess energy. The new minimum monthly bill will rise from $17 to $25.
Under the previous rates, it would take about four years to see 100% return on investment for those who went completely solar. "It depends on the cost of your panels, but now it's above six years," says Yost. "Solar still makes sense for Hawaii homeowners, it's just not as good a deal as it once was."
There is hope on the horizon: self-supply using hybrid solar-battery systems. Instead of feeding excess energy into the grid, homeowners will use all the energy they produce and buy less (or none) from the grid. However, affordable batteries still need more time to develop. "It's going to get cheaper, but it's unknown how long it will take to get cheaper," Yost says. "We're testing batteries on many of our homes now. The refrigerator in our break room is completely off the grid and on a battery we're testing.
"I'm guessing in two years, everyone will want a solar battery system. They're going to be sexy and easy in two years. The biggest problem with the PUC order is that it won't be soon enough. There will be a cliff that everybody falls off before that happens."