Step It Up
Indich Collection at Na Lama Kukui offers a variety of outdoor rugs, perfect for taking the party outside this summer.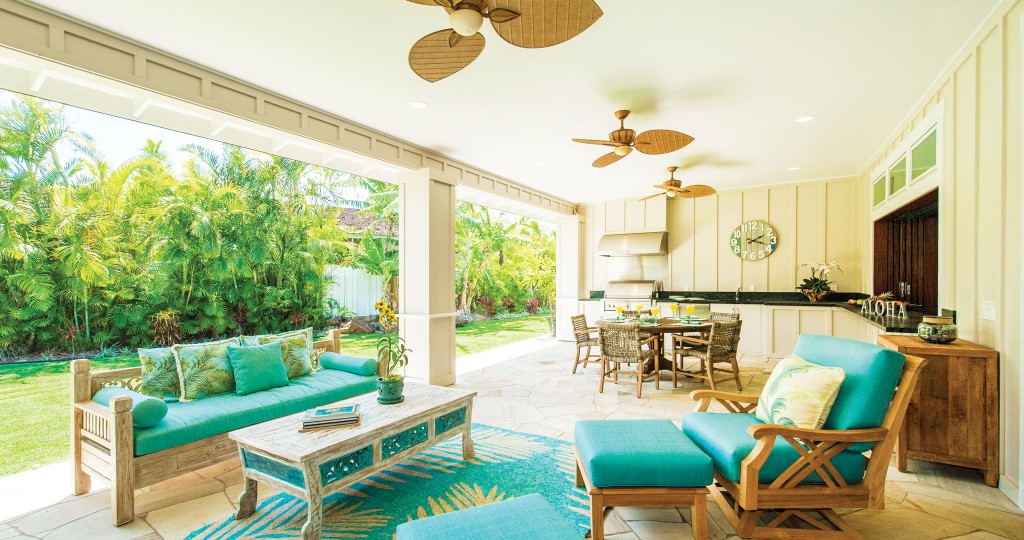 Rugs have the power to define spaces and create a specific ambiance. Rugs with small, repeating patterns can make a room look bigger, while ones with stripes create the illusion of a longer space. The right outdoor rug can extend your home's interior and make use of underutilized space.
Unlike the natural wool, cotton and silk fibers used in handmade, interior rugs, outdoor rugs are built with synthetic fibers that can resist water and other elements; most commonly, nylon and polypropylene. Usually machine made or machine-gun tufted, outdoor rugs can be produced quickly and are a less costly option than interior rugs.
"Many people are using outdoor rugs for indoor areas like kitchens, baths and high-traffic entries," says Bill Indich, owner of Indich Collection. "Some of our customers are even using outdoor rugs in low-traffic areas as well, because they like the designs and colors."
Thankfully, the synthetic fibers used in outdoor rugs generally don't need much special care or attention. As far as materials go, nylon holds up the best. Polypropylene is also great for outside, but wool, silk and cotton fibers need continued maintenance. Regardless of the rug's material, sand and grit can be abrasive and break down its foundation and backing. Indich recommends vacuuming the back of outdoor rugs with a beater bar attachment on a hard floor to release trapped substances.
Another thing to consider when selecting an outdoor rug is color retention. Although they're made to be durable, there can still be some fading due to the intense sun and ozone of the Islands.
Still, with the plethora of rugs available, homeowners are sure to find one that fits both their aesthetic style and their budget. "It's an exciting time for rug buyers today," Indich says.
---
A: Starfish – Beige Orange B: Nautilus – Seafoam C: Coral – Aqua White D: Ginko – Beige