Steps to Take for Aging in Place
Plan ahead to make the process easier on you and your finances.
Aging in place doesn't happen overnight (phew!) so plan ahead to prepare your home to make the process easier on you and your finances when the time does come.
Essential Access
When designing a new home and planning to age in place, it's important to consider whether the home will be one floor or two. If it's two, Randall Omoto, a kitchen and bath designer and certified aging-in-place specialist at Homeowners Design Center, recommends putting the kitchen, a full bathroom and a bedroom — or a room that can be converted into a bedroom later — on the first floor. That way, if a family member needs to remain on one level, they have all the necessities for everyday life accessible.
Flat Surfaces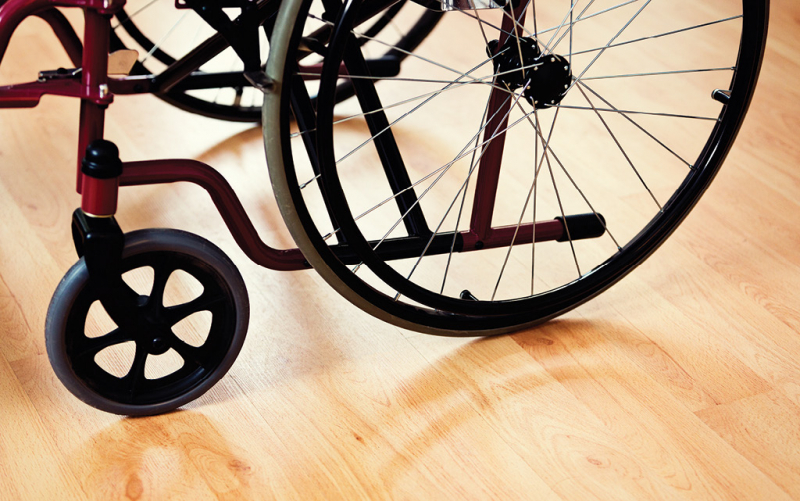 A home's flooring should be free of trip hazards, like thresholds between rooms. Consider using the same flooring throughout rooms.
Natascha Roblee of Pacific American Lumber recommends wood flooring for aging in place. It's flat and durable enough to withstand wear from walkers, wheelchairs and canes, but relatively soft as compared to porcelain or stone. "It's softer on your feet and back when you walk, and if you happen to slip and fall, it will hurt but it won't be as great of an impact as falling on concrete, stone or porcelain," she says.
Get Out
—

and In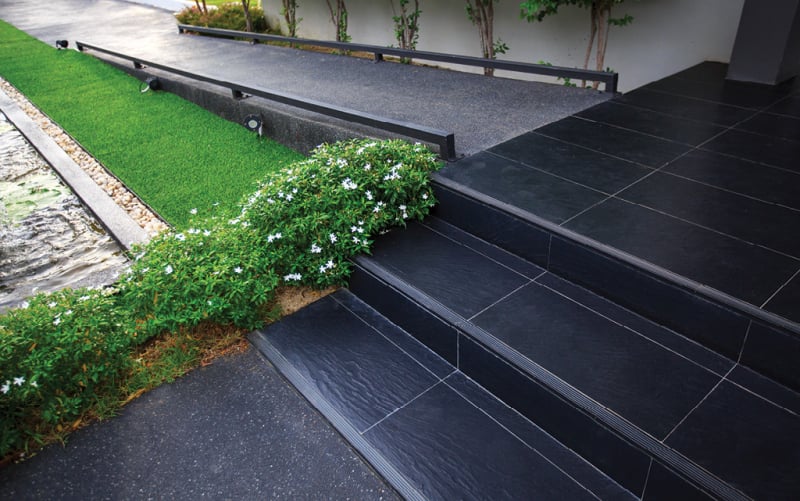 Accessibility in and out of the home is crucial for aging in place to prevent being homebound. If you live in a single-family home, consider having a ramp installed. It doesn't have to lead to the front door, a telltale sign that kupuna live there, points out Maile Shimabukuro-Pascual of Results Design + Planning and Results Construction. Instead, consider a ramp to the side door, or directly into a bedroom entry, which can be helpful for ambulatory care, in case of emergency. Within the home, hallways and doorways at least 36 inches wide help with accessibility and make the home feel more open. "It looks very luxurious, but in the future, should they need assistance walking or getting through the space, it's still wide enough where it can accommodate two people," says Shimabukuro-Pascual.
Bath Refresh
The bathroom is one of the most important places to make aging-in-place modifications, from installing blocking behind the walls for grab bars to low-curb or curbless oversized showers. Results Design + Planning and Results Construction designed and built this master bath's oversize shower with a built-in seat and detachable shower head.
Recipe for Success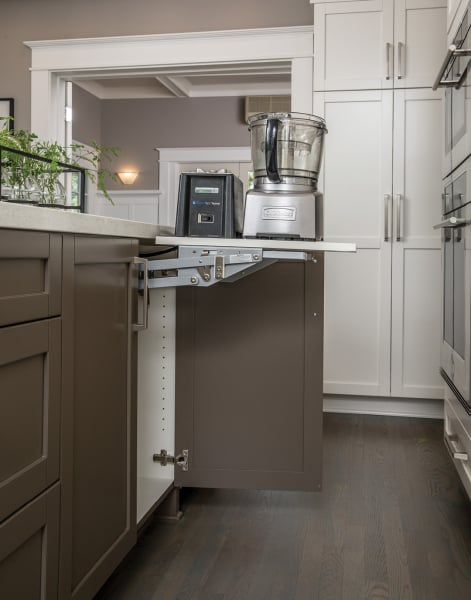 This kitchen designed by Homeowners Design Center has an appliance lift, a useful universal design feature that is also beneficial for aging in place.
Accessibility and safety in the kitchen are essential to aging in place. Cabinetry should be easily accessible and equipped with drawers and conveniences like appliance lifts. Cooktops can also be designed to be lowered, wall ovens can be designed at chest level and microwaves can be tucked into lower or base cabinets.