Striking Stonework
Unique tastes and colors fill this Honolulu home.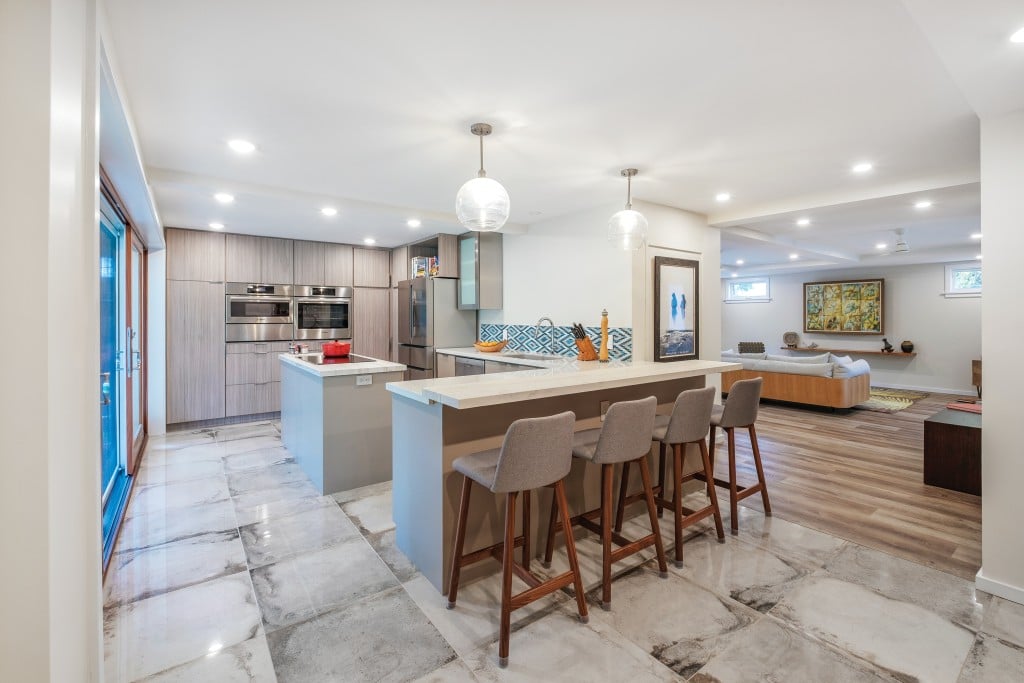 What makes a home special is the love and care its homeowners put into it. For this Honolulu homeowner, sustainability and creating a fun space to gather were top priorities when it came time for a renovation. Along with achieving those goals, the final result, she says, is a work of art, thanks in part to various stone finishes from Bella Pietra Design.
"The kitchen was one of the main focal points of the house," says the homeowner. "I wanted it large enough where two or three people could easily be in the space at one time. After living in the home for a few years, I knew I only used the indoor dining room a few times a year. Therefore, I designed a large, covered lanai where we could easily have dinner parties, one in which made the flow from the kitchen to lanai simple."
"I wanted the house to feel comfortable and inviting," she adds. "Somewhere we could enjoy a good meal, talk story and laugh" and just spend time "enjoying what our Hawaiian weather gives us — the indoor-outdoor lifestyle."
The kitchen and foyer floors highlight Artistic Tile's Mojave Brown Polished high gloss porcelain, and the kitchen counters boast Dekton's Makai Wild and Viatera's Coral White. The backsplash is a beautiful glass tile: Lunada Bay Tile's Textile Bargello Blue Stone.
"She studied design in college, so she has a really good eye and knows what she wants," Bella Pietra Design's Meagan Jensen says of the homeowner. "I think the two things that she consistently loved and wanted to use from the beginning was the flooring in the foyer and kitchen, and also the Dekton counter in the kitchen."
The homeowner bought this property in 2016 after finishing her graduate degree in sustainable systems. Her vision was to create a home that had as little impact as possible on the island. "A small footprint, however, enough space for my family and friends to stay while visiting," she explains. The property features a photovoltaic system for renewable energy, and space to grow her vegetables.
"This was a great project to work on," says Jensen. She says she and the homeowner worked together for about five years and had a lot of fun selecting finishes. "It was so great to see this project come together and to get to see the finished product."
The home includes bathrooms on the first and second floors, and a master bathroom. Jensen particularly loves the small details in the bathrooms, like the glass tile that extends behind the vanity in the second-floor bathroom instead of just stopping at the end of the wall. "They cut around the glass to create a step effect," she says. "It's such a small detail but creates a really fun detail."
The first floor bathroom has matte porcelain flooring set in a unique pattern. The product is called Amazonia Tropical Hexagon Cotta by Stone Products Unlimited and it comes in three different colors.
"This bathroom floor is such an amazing statement piece," says Jensen. "The line comes completely random, so you will get a mix of different shades of the solid tiles as well as a mix of different tropical printed tiles."
The tile is made in Spain and has been very popular with Bella Pietra Design's clientele over the past couple of years.
Overall, the use of color is what makes this home exceptional. "I think she incorporated color in a really fun but tasteful way," says Jensen of the homeowner. "Each room has its own individual style and feel, but they are all cohesive and work well together."
An example of this is the unconventional mixing of finishes and textures: In the kitchen, there's a high gloss floor with a textured countertop accented with glass, which combines both gloss and matte in the space.
"I love when a client makes their house for them, and not just for what the trends are at the time," adds Jensen. "I think that is what makes this house so special. From the backsplash to the bathroom accents — it's just a fun house but still in such an elevated, high-end way."
"Construction is challenging and rewarding," says the homeowner. "You will find surprises, some good and some expensive … I love my home. It is what I had envisioned."