Sugar & Spice
A pastry chef blends a pinch of the old with an ounce of the new to create a rustic-modern kitchen in his Manoa home.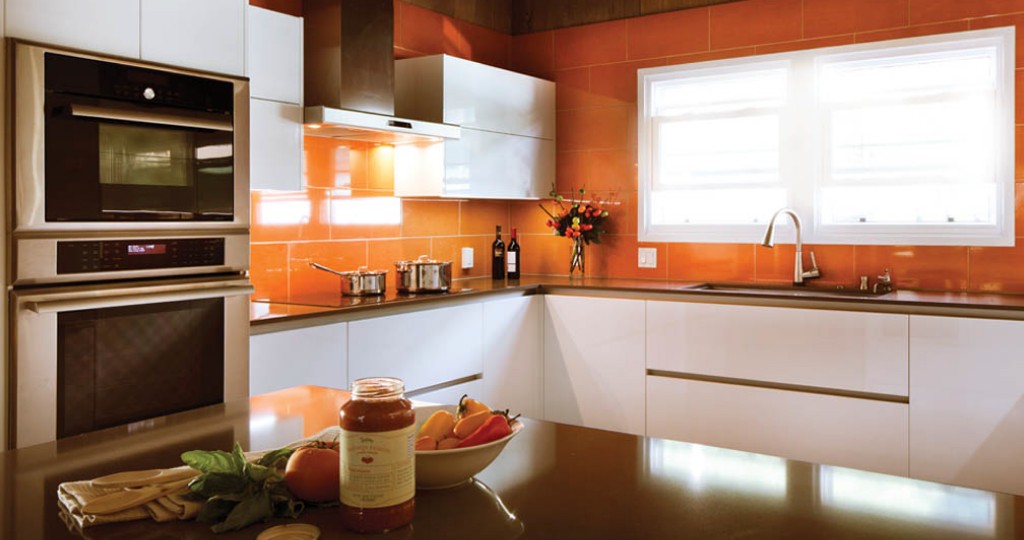 Fenton Lee knows his way around a kitchen. The award-winning executive pastry chef has been creating desserts at luxury hotels across the Hawaiian Islands for nearly 40 years, while also opening his own restaurant on Kauai. 
At home in Manoa, Fenton and Winona Lee have been cooking in the original kitchen of their 1960s-era home for a dozen years, since closing their Kauai restaurant and moving back to Oahu. The redwood walls and cabinets coupled with poor lighting created a dark and drab atmosphere, while limited space and an old stovetop made cooking at home feel like a chore.
After upgrading the home's plumbing, wiring, windows and floors, the Lees felt ready to bring new life into the heart of their home. They knew exactly what they wanted: She wanted clean white cabinets for storage and he wanted top-of-the-line appliances for cooking.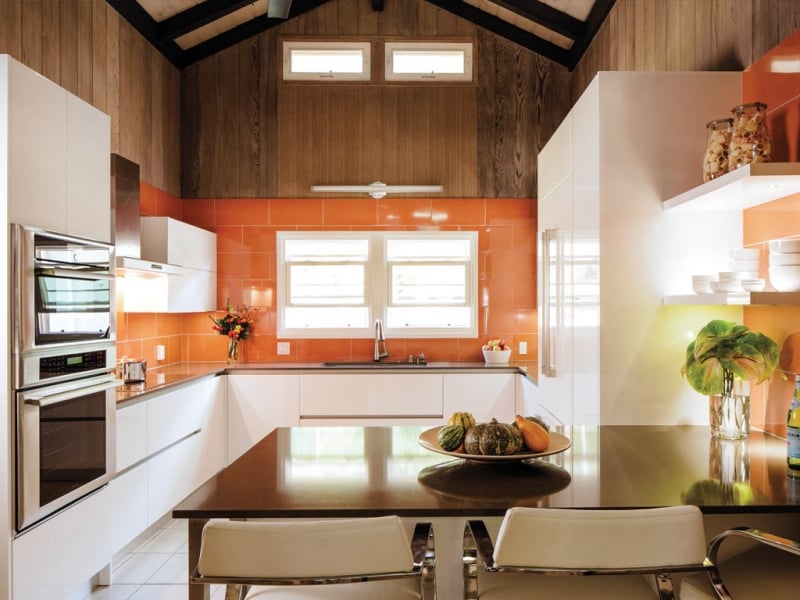 "Everybody right now wants all stainless this and that, how a commercial kitchen would be," Fenton says. At first he wanted that, too, but he sees stainless steel all day while creating pastries in the Pacific Beach Hotel kitchen. "I just wanted something really nice to come home to with top-of-the-line appliances that would accommodate whatever my needs would be at home."
Fenton and Winona sought the expertise of Hinano Nahinu, certified kitchen designer and general manager of INspiration Interiors. The design center's new kitchen showroom impressed them, as did Nahinu during their first exchange with her.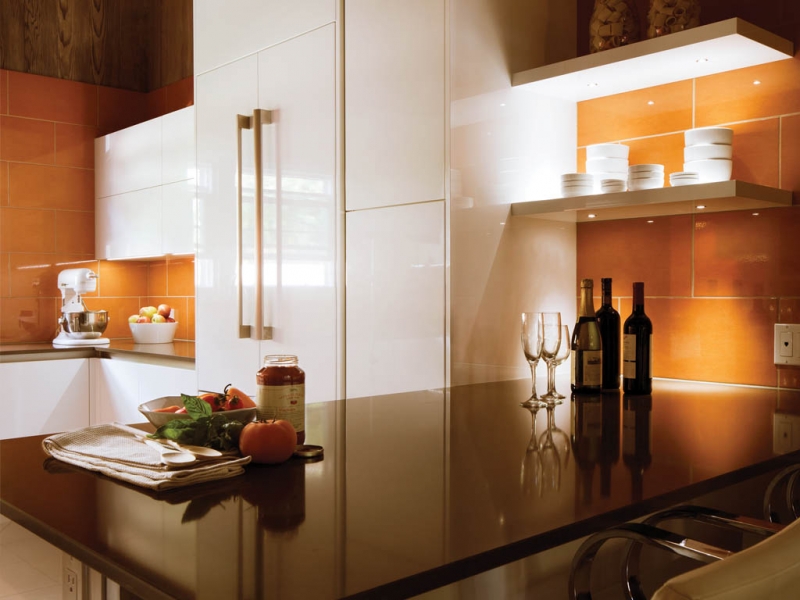 Fenton and Winona needed better functionality in their kitchen. "The perfect work triangle was imperfect," Nahinu explains. The kitchen was cramped, with the old cooktop flush against a tall cabinet and a lack of usable counter space, storage and seating.
Winona gave her husband free rein of the kitchen design, as long as she had white cabinets to store the dishes, pots, pans and pantry items. Nahinu helped them to select ValDesign Reflex in gloss polymeric bianco, giving the cabinets a high-gloss, reflective look. To everyone's surprise, Fenton selected an orange backsplash to complement the white cabinets and brown hues of the countertop, redwood walls and 15-foot-high ceiling.
"The orange backsplash was his dream," Nahinu says, so she showed him a sample of Interceramic Aquarelle in earth orange from Tile Warehouse.
"I didn't want an ordinary, little tile backsplash," Fenton says. "It was the perfect fit for the kitchen because of all the straight lines and the pattern on the tile had different hues in it."
Orange, an unexpected choice, is Fenton's tribute to fond memories of his and Winona's Hawaiian Classic Desserts Restaurant and Bakery on Rice Street in Lihue on Kauai, which they owned and operated for about four years.
The restaurant was previously Chef Jean-Marie Josselin's Pacific Bakery & Grill. Its dining room had orange walls with yellow swirls, which reminded Fenton of a dark mustard color. Fenton and Winona left the restaurant's décor unchanged when they opened Hawaiian Classic Desserts.
Fenton wanted to bring the energy of the restaurant's dining room colors into his Manoa kitchen. "The warmth of the orange, that's what I was looking for," Fenton says. "It was really nice. We just wanted to bring that back in our home a little bit."
To tie it all together, Fenton hand-selected a grout color to complement the lightest color of the quartz countertop and the wooden walls above the backsplash and cabinets.
"The grout color helps to marry the orange with the countertops and the wooden walls, which is a nice relationship with the materials," Nahinu says. "It's a lot easier on the eye. You don't see the seams of the tile because they blend with the wood tone."
The kitchen appliances are the icing on the cake. Fenton and Winona have a Thermador appliance package, including what Nahinu calls the Porsche of cooktops: the Thermador 36-in. Freedom Induction Cooktop.
"I do love their appliances," Nahinu says. "Because he's a chef, the appliances give him more of an industrial, almost commercial gourmet kitchen right in the convenience of his own home."
---
Ulu Tartlets
Recipe by Fenton Lee
Tartlet
Ingredients:
Tartlet shells
Pinch of cinnamon
Pinch of nutmeg
Pinch of salt
1 pound ulu (breadfruit)
3 ounces sugar
1 ¾ ounces brown sugar
3 eggs
13-ounce can of evaporated milk
Directions:
1. Cut ulu in half and place on an oiled baking tray.
2. Add ½ inch of water and bake at 400 degrees for 1 hour.
3. Measure sugar and spices in a mixing bowl and set aside.
4. After baking is complete, weigh 1 pound of ulu and put into a stand mixer with a paddle and mash until the consistency is of a smooth, thick paste. Add sugars and spices and continue to mix.
5. Add 3 eggs, one at a time.
6. Add evaporated milk and continue to mix on medium speed until all ingredients are thoroughly blended.
7. Pour mix into tartlet shells and bake for 15 to 20 minutes or until firm to a light finger touch.
Haupia
Ingredients:
13-ounce can of coconut milk
3 ¾ ounces sugar
4 ounces milk
1¼ ounces (5 tbs.) cornstarch
Directions:
1. Bring coconut milk and sugar to a boil.
2. Combine cornstarch and milk and add to coconut milk, whisking continuously until mix thickens.
3. Top tartlets with haupia and chill.