Sustainability Goals Gain International Recognition
United Nations identifies Hawaii as one of the world's first local sustainability hubs.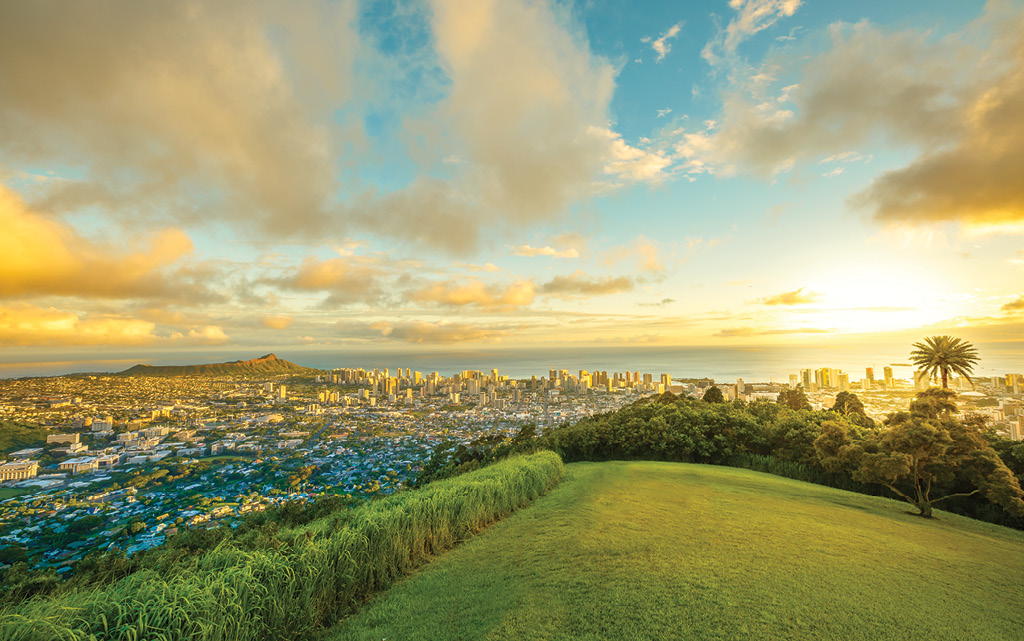 Hawaii has been officially recognized by the United Nations as one of the world's first local sustainability hubs.
In November 2018, Hawaii Green Growth—a statewide public-private partnership aiming to foster and track Hawaii's progress in achieving economic, social and environmental goals—officially accepted the U.N.'s invitation to become a Local2030 Hub.
Local2030 Hubs are part of a new U.N. initiative to spotlight successes at the local level in advancing the U.N.'s sustainable development goals; these local models can be scaled to size and applied globally.
"The U.N.'s invitation recognizes Hawaii's history of systems-thinking and statewide leadership on sustainability," says Celeste Connors, executive director for HGG. "Building on our host culture and island values, Hawaii can share integrated solutions to address global challenges." Connors previously helped develop the sustainable development goals when she served as the White House's director for Energy, Climate and the Environment in the Obama administration before returning home to work with HGG statewide partners.
HGG formed in 2011 in the lead-up to the Asia-Pacific Economic Cooperation Summit in Honolulu to identify green growth priorities across the water, energy, food and urban nexus. Due to the HGG partnership's strong track record, the group, the first of its kind in the Pacific, was recognized by the U.N. as a leader on sustainable development goals.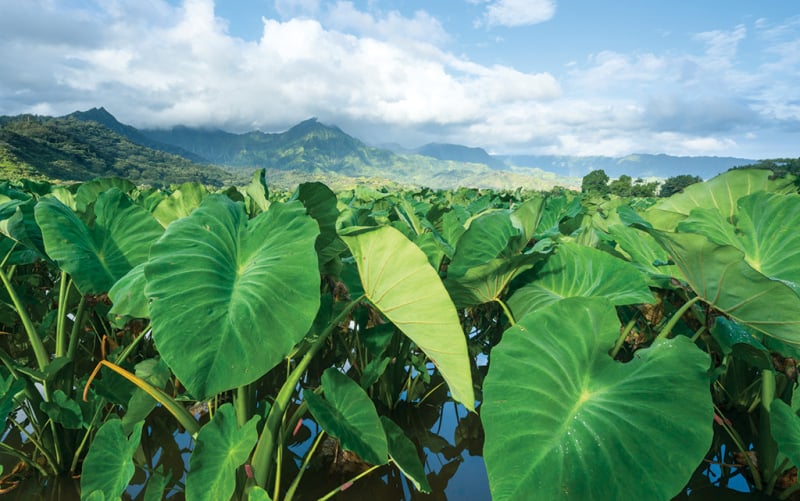 "As an island community, collaboration is an integral part of our values system and how we strive to do business," says Connors. "The launch of the U.N. Local2030 Hub celebrates Hawaii's role as global sustainability leader and the legacy we want to leave future generations."
HGG is a network of public, private and civil society partners who agreed upon sustainability goals that employ technology and open-data initiatives to track progress. The group works toward joint initiatives that build community resilience and the new innovation economy to create local jobs for Hawaii's workforce of the future.
"The goals of Hawaii Green Growth are closely aligned with our work to help build sustainable and resilient communities," says Scott Seu, senior vice president of public affairs for Hawaiian Electric and HGG board chair. "Working together with HGG and our other partners, we can show the world how different organizations with different missions can help secure a wonderful future for our island home and families."
The HGG network worked together to launch the Aloha+ Challenge in 2014, a statewide commitment to achieve 2030 sustainability goals. This year marks the five-year anniversary of the Aloha+ Challenge, which is Hawaii's local plan to measure and implement the sustainable development goals.
Through the Aloha+ Challenge the partners committed to meeting sustainability goals across renewable energy, local food production, natural resource management, waste reduction, smart sustainable communities, and green workforce and education.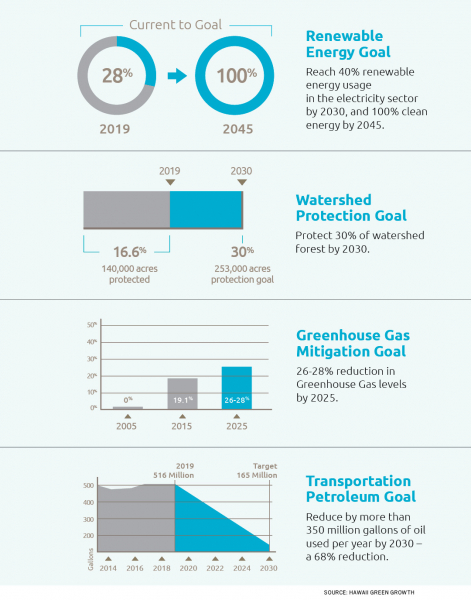 The Aloha+ Dashboard open data portal allows stakeholders to see progress or areas that need improvement toward achieving the sustainable development goals for Hawaii.
"Elected officials are holding themselves accountable through a transparent tracking system," says Connors. "The Aloha+ Dashboard measures how we're doing on these commitments and where we need to focus our attention."
Not only is it a resource for policymakers to assess progress, the dashboard is also available to the public. The figures provided include insight into: the amount of recycled materials, freshwater security, affordable housing, invasive species, aina-based education programs and economic diversity. The dashboard also tracks Hawaii's commitment to the Paris climate agreement, which was enacted through state legislation in 2017.
Hawaii's place-based model through the Aloha+ Challenge is a blueprint that can be applied to support widespread delivery of the sustainable development goals at a local level. Now, with international recognition, the HGG Local2030 Hub has a platform to facilitate and convene international dialogue on sustainability – and share solutions globally that can be applied by other local communities.
"The goals of Hawaii Green Growth are closely aligned with our work to help build sustainable and resilient communities."
—Scott Seu, Hawaiian Electric
"Even if we achieve Hawaii's goals, we are still at risk to global threats such as climate change. We need to partner internationally with other islands, communities and major economies to achieve the sustainable development goals because our long-term security depends on the world getting on a green growth pathway," says Connors. "Hawaii's model is already being recognized and scaled from the U.N. and the Commonwealth to Tasmania and Pacific islands, and through the Local2030 Hub, we can help to drive impact at a global level."
Goals and Targets
A commitment to increase clean energy, achieving 100 percent renewable energy in the electricity sector by 2045
Target of increasing the state's freshwater capacity by 100 million gallons per day
Reducing the solid waste stream by 70 percent
Increasing affordable housing, maintaining an affordability index over 100
Doubling local food production
Reducing community vulnerability to natural disasters and hazards
Increasing youth leadership pathways and academic participation