Sustainable and Affordable Housing
An urban Honolulu project is forward-thinking in its community impact.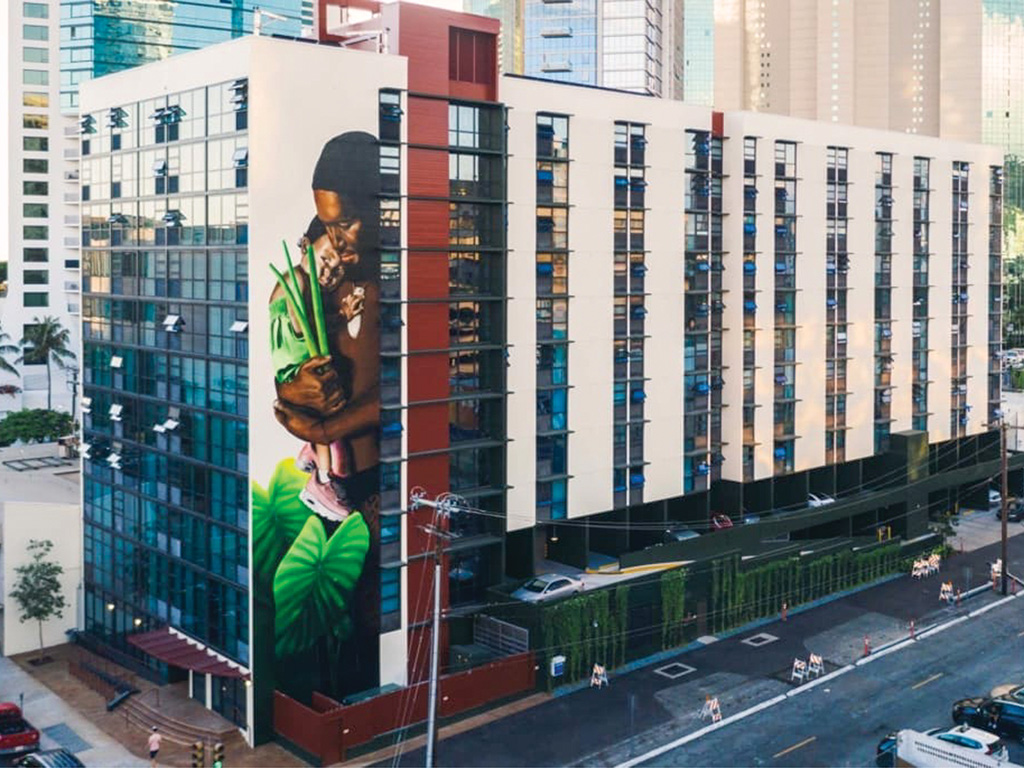 Everyone who drives up Piikoi Street has seen the beautiful mural on the side of the Hale Kewalo building, painted by local artist Kamea Hadar. But passersby and admirers may not know that the building is an environmentally sustainable and affordable housing option for the community.
The building is LEED Silver certified, which means that it meets key standards for lower carbon emissions while enhancing the overall well-being of its residents. Here are some of the LEED certification categories it meets and some related environmentally friendly home tips for your own consideration:
Sustainable Sites
The Hale Kewalo roof and carport system includes photovoltaic panels that absorb sunlight throughout the day and convert it into electricity for tenants. This helps offset about 30% of the energy usage within the building and reduces the amount of energy needed from the local energy company.
Fun Tip: On a hot, sunny day, you wouldn't wear a dark-colored outfit since it would absorb heat and make you perspire. You would opt for a lighter-colored option instead. It's the same idea with roofing — you want to select a lighter-colored roof that deflects light and heat and meets Solar Reflective Index requirements. Doing so will reduce your energy cooling costs per month and create a more comfortable home environment, too.
Water Efficiency
Low-flow plumbing fixtures — including water faucets, toilets and showerheads — were selected to reduce the amount of water usage in each unit at Hale Kewalo. To help reduce the overall amount of potable water being used in a building, it's important to consider the gallons of water required per minute, or gallons per flush, for each type of plumbing fixture.
Fun Tip: This same consideration can also be applied when selecting the types of plants to incorporate around a home. Look into native plants that require less water and maintenance, as those are adapted to our local environment — and they help our aina!
Energy and Atmosphere
Appliances — such as refrigerators, ranges and hoods — and air-conditioning units with Energy Star ratings were also installed at Hale Kewalo to help reduce the amount of energy used.
Fun Tip: When selecting light fixtures, look into light-emitting diodes — better known as LEDs. They're more energy-efficient and compact and they last longer — and they're taking over the market. Pay attention to the Kelvin units, or color temperature, of your lighting fixtures as well. The color temperature for your home can be adjusted based on individual preferences, but typically a good starting point is 2700 K or soft white. My personal preference is 3000 K or soft bright white, which provides warm light that's not too cool or sterile-looking.
Hale Kewalo also provides affordable housing. The apartment complex, in the heart of Honolulu's urban core, has 128 rental units for tenants who are earning up to 60% of Honolulu's area median income.
Sustainability and affordable housing are not "new trends" for 2023, but these topics are still important in the home and building industry and will always be on our radar. We look forward to further exploring these topics and spreading awareness for a more conscientious community.
Lisa Nguyen is an interior designer and LEED Green Associate at RMA Architects and president of the American Society of Interior Designers Hawaii chapter.
Hale Kewalo Project Information
• Location: Honolulu, Hawaii
• Owner: Stanford Carr Development
• Architects: Alakea Design Group and RMA Architects Inc.
• General Contractor: Swinerton Builders
• Completed: 2019
• Awards: GCA Award of Excellence for New Construction and 2020 Kukulu Hale Award