Sustainable Living Guide
Eco-conscious notes for your spaces.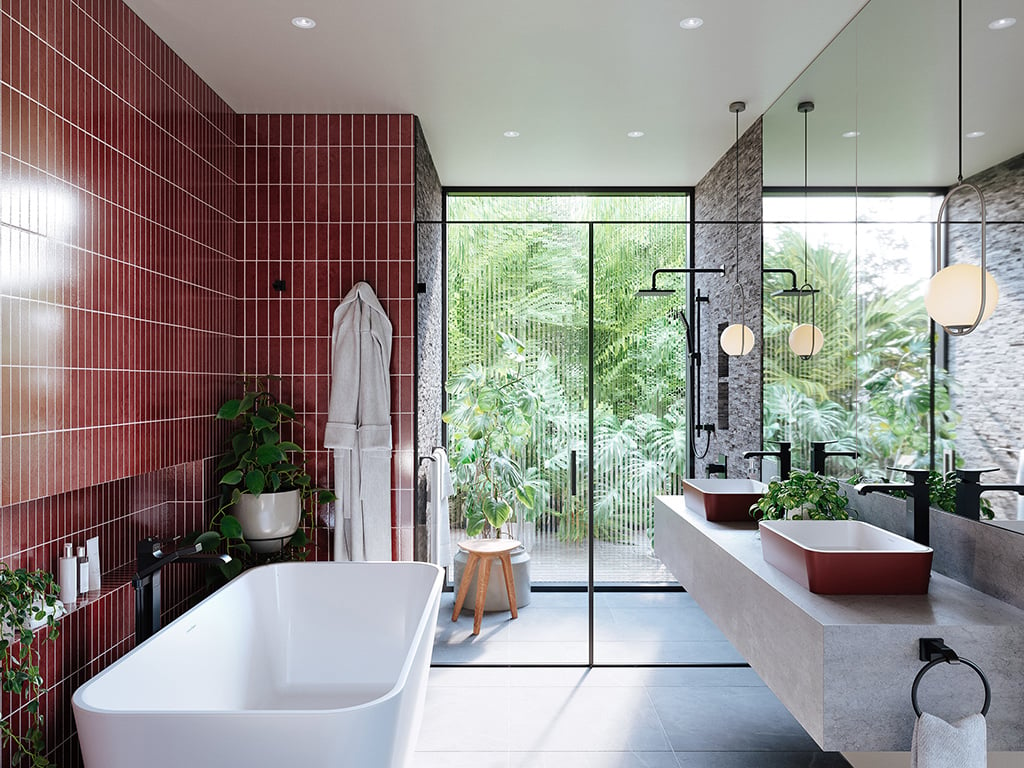 Environmental awareness isn't a new "trend," but industry insiders at ASID and Ferguson Bath, Kitchen & Lighting Gallery note in their forecasts that sustainable elements continue to rank high among what homeowners are seeking in 2023. Whether it's utilizing renewable resources for renovations and builds, or selecting brands that support eco-friendly causes, "green" living can be incorporated into your home in many ways.
"Perhaps at no other time in history has interior design had such a prominent contribution to make in addressing some of society's most pressing challenges," notes the ASID 2023 Trends Outlook. "Across all sectors of the interior design industry, clients, companies and institutions are assessing how interior spaces can be re-imagined to reduce negative environmental impacts, while improving health, safety and well-being."
Ferguson Bath, Kitchen & Lighting Gallery explains in its 2023 Trends & Influences IX compilation that eco-mindful consumers "will opt for nontoxic and chemical-free materials in every stage of a project" in an effort to "aid in preserving the environment by eliminating potentially harmful chemicals from entering landfills or being introduced into the water supply."
Here is a quick guide on trending indoor and outdoor sustainable living tips.
Modern Eco-Chic
Fresh takes on the manufacturing, functionality and aesthetics of environmentally friendly home goods are redefining sustainable living trends. A movement away from synthetic items is gaining momentum, ASID notes, with a shift toward utilizing naturally sourced products in home design. Popular options include lighter woods, floors in cork or bamboo, plant-based dyes, and fabrics like wool and cotton. Innovations abound as well with conscientiously sourced alternatives to traditional bedding, furniture, cabinetry and more. "Responding to consumers' growing interest in sustainable living, top brands are touting eco-friendly and -responsible products, giving designers a much wider variety of quality products, materials and finishes to choose from," notes the ASID Trends Outlook.
Conscientious Utilities and Features
Ferguson Bath, Kitchen & Lighting Gallery's Trends & Influences IX explains that "as the world progresses, so do our homes. In the next few years, homeowners will continue to invest and upgrade their home's technologies." This includes smart devices that can help with turning your lighting fixtures off to conserve energy, or adjusting your thermostat to account for the most efficient use of power when no one is home. Appliances with Energy Star ratings remain popular as well. ASID notes that features such as modern air conditioning and heating units, low-energy lighting, insulation and draft sealing, double-glazed windows, dual flush toilets, rainwater tanks and grey-water systems are some of the trending requests among homeowners today.
Environmentally Friendly Paints
Not all paints are created equal, and more homeowners are opting for indoor paint lines that are low on volatile organic compounds, or VOCs. Off-gassing paint odors can affect the air quality in your spaces, along with releasing harmful emissions into the environment as paint products break down over time. Using brands with LEED and GreenGuard Gold certifications reduces your risk of chemical toxicity and negative environmental impact. Trending Colors of the Year, such as Behr's "Blank Canvas," are often available in low- or zero-VOC versions, so you don't have to compromise your favorite paint hues for eco-consciousness.
Beware of Greenwashing
Biophilic design is growing in popularity as homeowners intentionally incorporate elements of nature such as plants, flowers and water to promote wellness and flow in their spaces. While the concept may seem environmentally friendly, ASID warns of "greenwashing" where these elements are being added without meeting sustainability standards. It's important to make sure that finishes, enhancements and materials truly follow biophilic concepts of conservation and conscientious sourcing. Make sure to go beyond aesthetic purposes when considering biophilic additions and select vendors or contractors who are well-versed in this area.
Natural Landscape Design
When curating your outdoor spaces, consider purchasing garden products from long-standing local outlets like Fukuda Seed Store. Joanne Fukuda, whose grandparents established the Fukuda Seed brick-and-mortar-store, recently took the shop entirely online. The company offers numerous seed varieties, and Fukuda says she can visit customers at their homes to help with setups and cultivation. Fukuda says more people are opting for chemical-free gardening products to benefit the environment and their family's health. One of Fukuda Seed Store's bestselling items is EM1 — this versatile blend of ingredients developed in Okinawa by Dr. Teruo Higa includes natto and yogurt with microorganisms that provide probiotics and inoculants for plant maintenance. Visit Fukuda Seed Store at fukudaseeds.com.