Take a Trip to the Ozzy's Construction Showroom
For all your home remodeling needs, Ozzy's Construction will have a plan.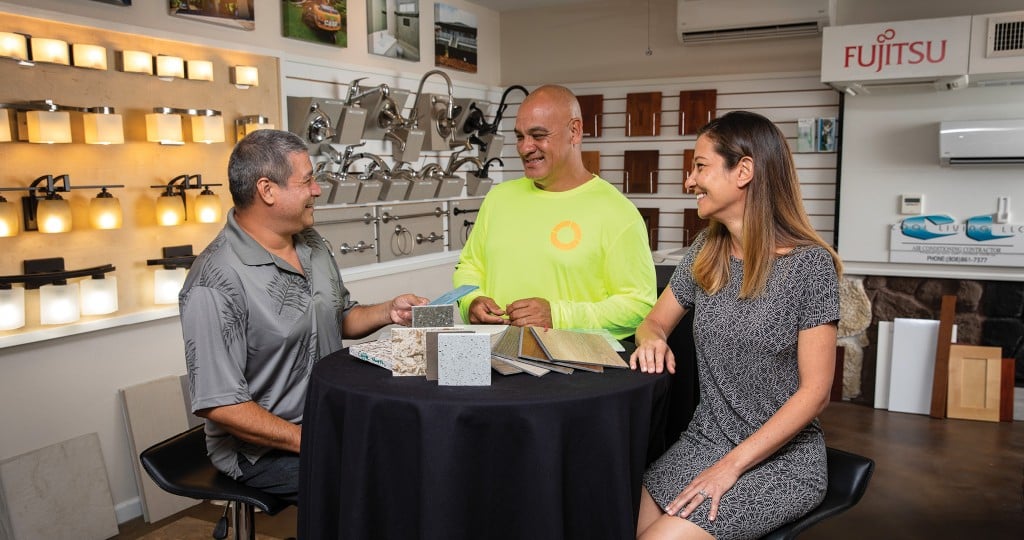 Whatever the job may be, Ozzy's Construction will have a plan to get it done. Founded locally by Shontaz and Ozzy Naweli, Ozzy's Construction has been serving Oahu for more than 12 years as a licensed contractor and homebuilder. Specializing in ground-up construction, Ozzy's Construction is capable of handling any task that comes its way. "We want to keep it simple for the customer," says Shontaz Naweli. So in 2014, they opened a showroom to help the business do just that. Ozzy's Construction has its available product samples – flooring, carpets, cabinets, window treatments, shutters, lighting, fixtures and much more – on display all in one spot. How convenient is that? And you won't feel the need to roll up your own sleeves to get things done – the team here is ready to help you every step of the way, making things as easy and seamless as possible.
Savings at Every Step
Ozzy's Construction offers a number of cost-saving services for new-build projects.
1. Free demolition of existing structure.
2. Gutter installation, approximately $2,000 to $2,500 in savings.
3. Garage door installation, a value of $2,800 to $3,000.

Ozzy's Construction
201 Kapaa Quarry Place, Bldg. 25, Suite 2503, Kailua
808-259-9859
Hours: Monday & Thursday: 8 a.m. to 3:30 p.m.; Tuesday, Wednesday, Friday: 7 a.m. to 3:30 p.m.; Saturday: appointment only; Sunday: closed
ozzysconstruction.com