Testing the Future
Entrepreneur Henk Rogers' Oahu and Big Island homes prove that off-the-grid living can be both comfortable and full of modern conveniences.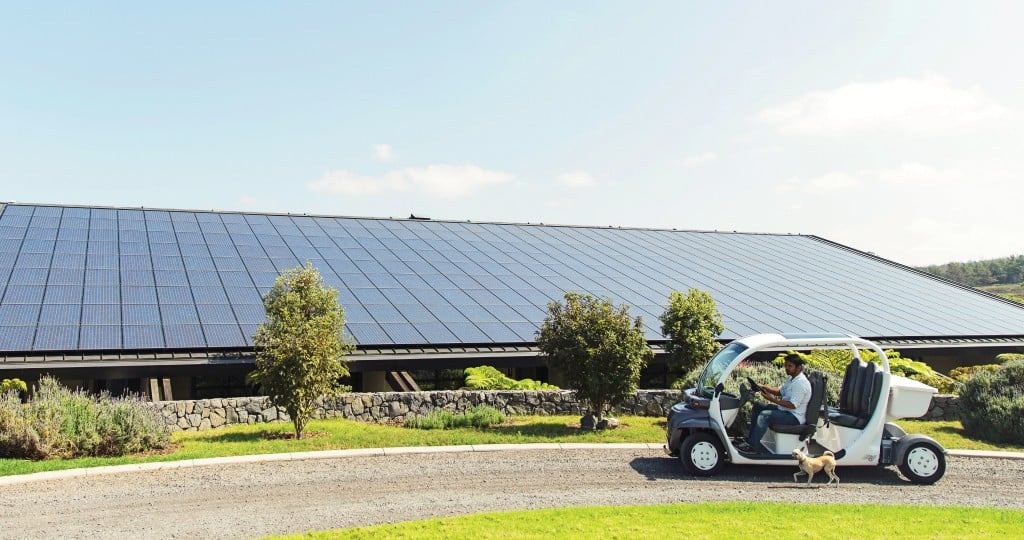 The Rogers' house on Tantalus looks like its neighbors' homes in many ways: unassuming and welcoming, with views stretching from Diamond Head to the airport, a laundry room with an energy-efficient washer and dryer, and a full kitchen with a suite of appliances. And, like many local homes, it is multigenerational, with seven family members from three generations living together. But in the two-car garage, a sleek wall radiating a deep-blue glow hints at the power stored to keep this household running completely on the energy of the sun.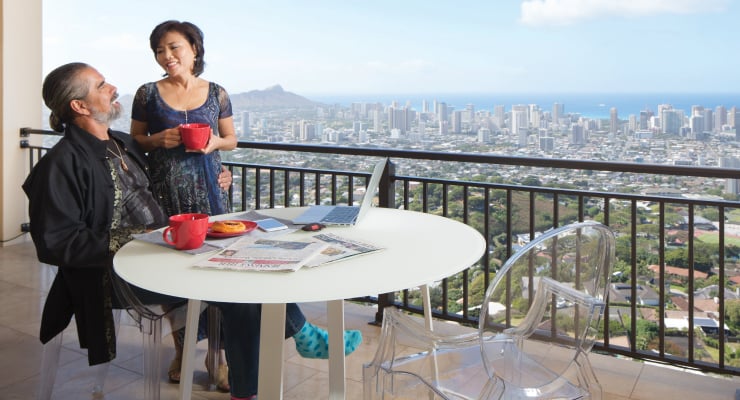 Rogers is well known for bringing the video game Tetris to North America and Europe, and for his mission to end the use of carbon-based fuels. His latest venture is Blue Planet Energy, whose Blue Ion technology is an energy storage solution for solar photovoltaic systems. The batteries allow Rogers to take his Tantalus house and all 11 residential buildings at his Big Island ranch off the grid.
When Henk and Akemi Rogers purchased their Tantalus house three years ago, they bought it for the view, not as a test bed for energy storage. "It's the most phenomenal view of any place I've ever been in Hawaii," Rogers says. He planned to install solar panels on the roof and connect to the grid, but Hawaiian Electric Co. gave him the bad news: The circuit was full.
"I'm trying to end the use of fossil fuels," Rogers says, frustration in his voice. "I don't like the idea of someone making me burn carbon somewhere to use electricity."
He had already installed an energy lab to take his ranch, called Puu Waawaa, off the grid, and he envisioned a smaller version for his Tantalus house.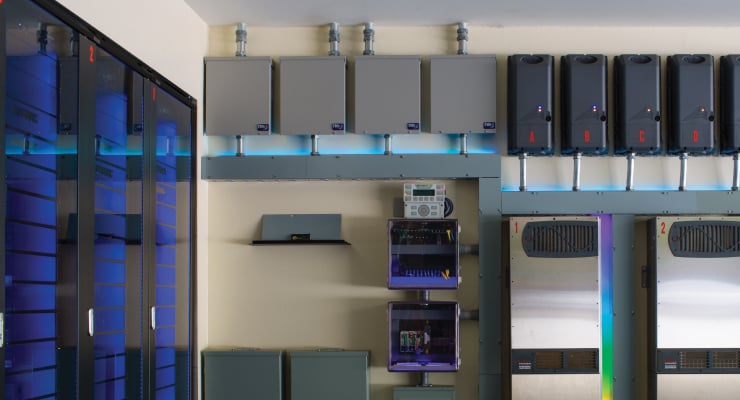 "This was the first real residential installation for Blue Planet Energy. Before I tried it on someone else, I wanted to try it on myself," Rogers says.
Solar panels were installed on the roof and Blue Ion batteries connected in the garage to store energy captured by the panels.
"The ranch is more of a laboratory for this experimentation, but, here, we would have a house with people going through daily living and finding out what the issues would be," Rogers says.
The biggest of those issues came when Rogers arrived home late one night and plugged his Tesla Model S in to charge. The vehicle's battery stores 85 kilowatt hours, and it drained the house's 60-kilowatt-hour battery overnight. The next morning, everyone took a cold shower. (The Rogers' solar water heater hasn't been installed yet.)
"Since then, everybody seems to know the state of charge of the batteries," Rogers says with a laugh.
Like many fathers, Rogers trails his children and grandchildren around the house, turning off lights behind them. The incandescent bulbs drained the energy storage before the family upgraded to LEDs. "We swapped hundreds of light bulbs out, literally hundreds of light bulbs, and that made the load so much lower that we haven't had any problems since then," Rogers says.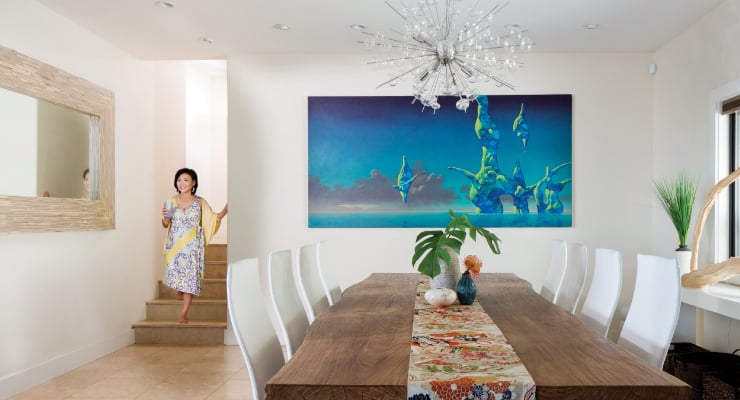 The Rogers haven't sacrificed modern conveniences to sustain their off-grid lifestyle. Their kitchen is equipped with a full suite of appliances, they use an energy-efficient washer and dryer, and they work in home offices — or at the dining room table — on their desktop and laptop computers.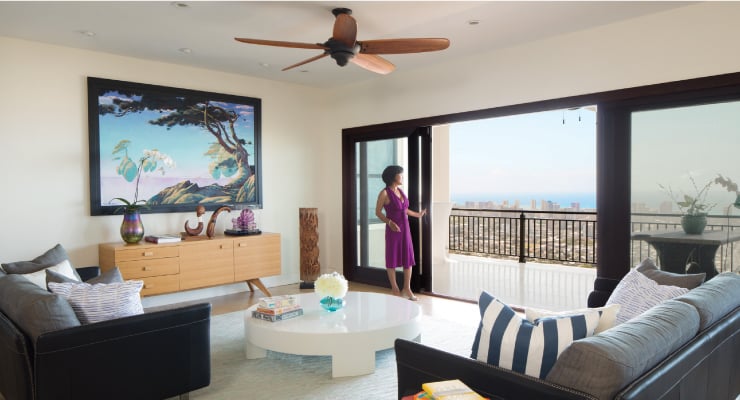 "I've become much more conscious about all the appliances we use. We are early adopters, so our battery system is bigger than it needs to be," Rogers says, explaining that he and his family wanted to be sure the system could store enough energy for their everyday needs. Since initial installation, and after making a few adjustments, they realize they have a much bigger system than they need.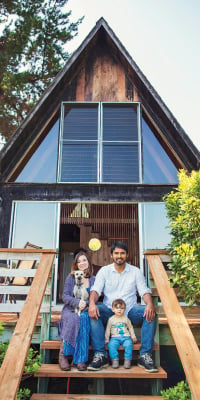 Home life on Puu Waawaa Ranch is more relaxed than on Tantalus. While the Rogers' Tantalus living room does not have a TV — not to conserve energy, but rather to foster communication — the ranch has only one TV on the entire property, and it's reserved for emergencies (and soccer games). The family entertains often, including high-profile guests, and they want the ranch to stimulate meaningful conversation about business and the future in a relaxed setting.
The main house on the ranch is more than 100 years old. Since the Rogers' bought the property about a decade ago, the biggest change has been building an energy lab that took the property off the grid. They've also started a project to grow enough organic food to feed 50 people, and installed a fence to keep animals out of the crops. The energy lab is where Blue Planet Energy first experimented with Blue Ion technology.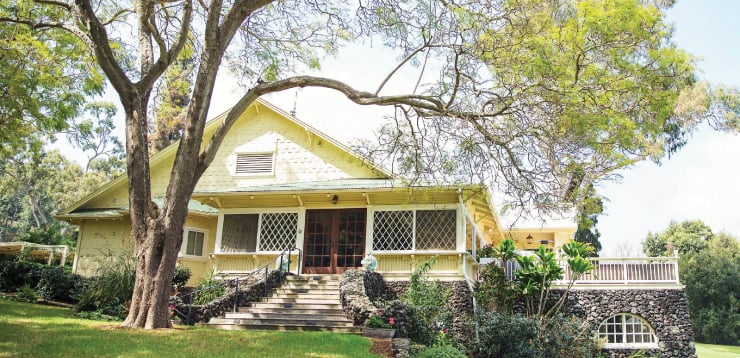 "Why am I doing this?" Rogers asks. "I want to find out what it's like living in the future. It's pretty nice. I didn't sacrifice anything, my quality of life, to achieve any of this stuff."
While the Rogers family was the first to incorporate Blue Ion into a residence, the system is still best suited for early adopters. "It's a little on the pricey side," Rogers admits. Prices are coming down, he adds, suggesting homeowners look into it and check back next year if it's too expensive for them now.
"I just feel a little bit better about myself," Rogers says about his off-grid, energy-storing lifestyle. "We all need to turn a corner on using carbon-based fuel real soon, or the climate change will be unstoppable."