The Artful Pickler
Oahu's pickle lady simplifies fermentation for us and shares three sure-fire recipes.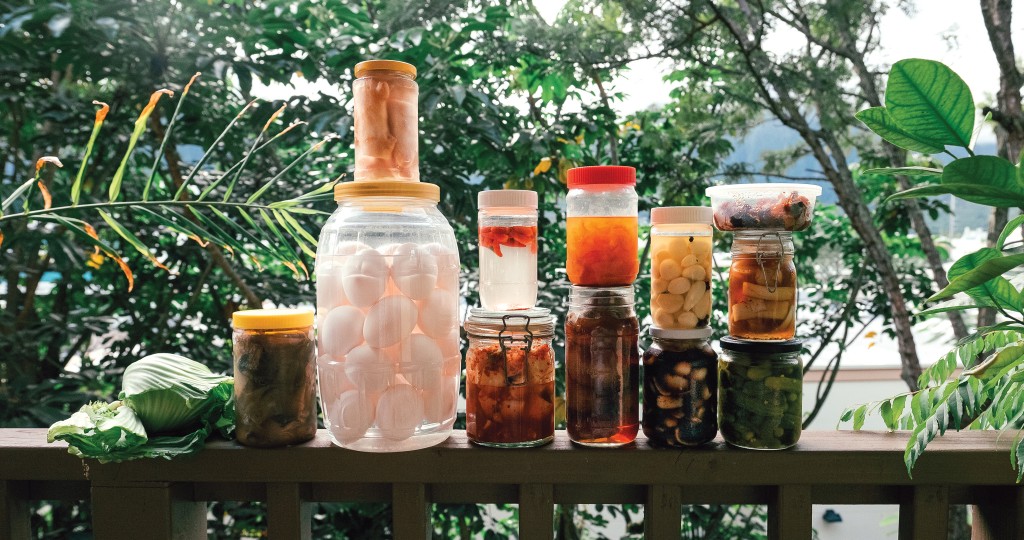 The smell of rainwater sizzling on hot Kaneohe asphalt heralds another perfect morning for pickling.
In the familiarity of her kitchen, Leonora Ching moves fluidly, preparing jar after jar of her unique recipes. "My mother was a fabulous cook," she says, shifting a recycled Costco-size pretzel jug filled with Chinese pickled tea eggs from one counter to another. "But, I didn't want to learn how to make my own meals until I spent my first year of college in Kansas, starving and missing Hawaii's food."
 When Ching returned home, she began paying closer attention to how her mother prepared food. Standing in the corner of her auntie's kitchen, notepad and pen in hand, she studied and recorded her family's techniques and traditions, then modified them to fulfill the most important of her budding list of culinary principles — simplicity.
"I started with pickles because it was cheap and easy," says Ching, who has  earned the affectionate name "The Pickle Lady." "Everything I do is from scratch, with simple ingredients. I don't waste anything and I absolutely believe anyone can do it."
She's right about that last point. Ching's collection of recipes, which were published in the first and second installments of her original cookbook, The Pickle Lady's Pickle Passion, is a genesis of food fermentation and preservation basic enough for any timid novice pickler. Utilizing common pantry ingredients, the Pickle Lady demystifies this age-old practice with quick and accessible recipes.
Now, Ching is updating her anthology with a third rendition, which will add several new, homespun pickles, salads and preserves to the wealth of briny treats. All of these dishes are considered long-lasting "fix and eat" delicacies — meaning they take no time to make and will happily sit in your fridge for months.  Yes, months.
"I love to cook and pickle because I love to eat," Ching explains. "I'm constantly challenged because I don't want to just eat a dish, I want to know how to make it." Ching often spends all night in her kitchen, reverse engineering meals she's eaten that day and thumbing through food journals from past overseas trips. A little bottle dressed in a red label, bought at a market during her recent trip to Shanghai, waits on her pantry shelf to be opened, tasted and deciphered.
Some of her pickles were born from late-night musings, while others were taken on as challenges when friends and neighbors gifted her with extra bounties from their gardens and fruit trees. Many recipes are rooted in her family's heritage of Cantonese cooking, and have been passed down verbally for generations. "The sour variety is the best," Ching says, as she fills an empty jar with artfully sliced star fruit, Hawaiian salt and a dash of Chinese five spice. "There was a tree near my old house with the sour star fruit. My mother used to salt it and dry it in the sun, and then steam it with beef — it was really tasty. But, it's hard to find now. Grocery stores seldom carry it because it bruises easily and most people prefer to eat the sweet ones."
Food and memory are akin, especially in Hawaii, where one brings so much meaning to the other. For 37 years, Ching worked as an occupational therapist sharing the significance of a meal with her clients. She spent several of those years teaching cooking classes to the blind. Although she retired 10 years ago, Ching is not one to sit around — making preserves for local fundraisers and revising her next cookbook are just a few of the activities peppered around her three part-time jobs. "I'd rather do 10 things than two," she laughs.
Her jars are full now. Thick-cut daikon pieces mound upon each other with bright spears of green onion poking through, the taut-skinned garlic cloves are soaking in the sugar and salt mixture, and Ching finally sits to take a rest. "You like papaya-pineapple jam?" she asks, and she's back on her feet again. "Here, I have plenty. No point in making good food if you can't share it."
---
The Pickle Lady's Pantry Essentials:
Hawaiian Salt
White Vinegar
White Sugar
Li Hing Mui
Korean Chili Pepper
Hawaiian Chili Pepper
Whole Black Peppercorns
Soy Sauce