The Next Generation
Setting up families for success.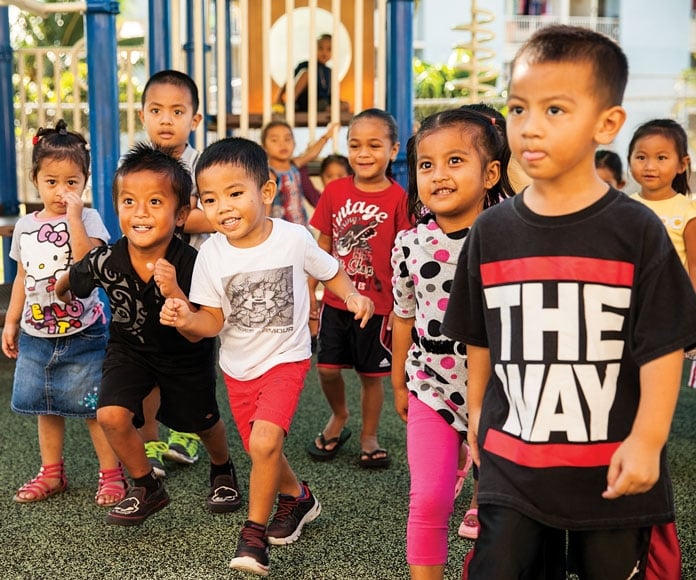 The project team at Kahauiki Village sought to remove the barriers that impact homeless families the most – a lack of quality child care and social services. Searching for a solution, the leadership of Kahauiki Village reached out to Parents And Children Together, a statewide not-for-profit organization, to provide early childhood support services and family engagement programs.
"The goal of the Kahauiki Village Project is to create housing, a support system and a community network that will strengthen children and families and empower them with resources to help end the cycle of homelessness," explains Ryan Kusumoto, president and CEO of PACT. In addition to providing on-site child care and preschool, PACT will also offer supportive services to ensure that health needs are met and parents are involved.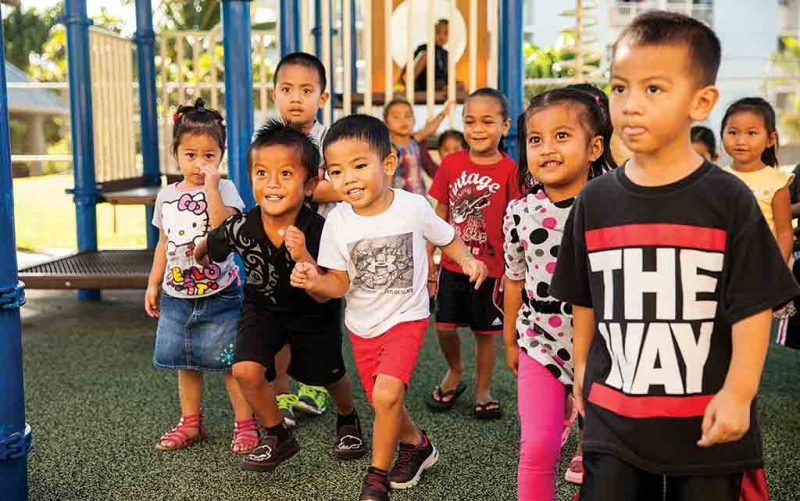 The Freeman Foundation, a philanthropic organization that has a history of giving to Hawaii scholarships and other special projects, has provided funds to construct the child care center and preschool facilities. Once built, PACT will begin to host classes and other programs for children and their families. While these services are free of charge to residents, the McInerny Foundation is lending a hand to fund operations for the preschool and child care facilities for the first year.
Kusumoto sees these services producing a ripple effect, which will prove valuable for long-term efforts. The child care center is a fundamental facet of the project's success, allowing at least one parent the opportunity to work full time.
"Our programs are rooted in relationship and community building," Kusumoto says. These crucial services will undoubtedly engender long-standing benefits that will not only affect families today, but for generations to come. "We believe that every child, individual and family in Hawaii deserves a bright and healthy future," he adds.
---
Creating Job Opportunities
It's hard enough to live in Hawaii on a modest income. But it's even harder when there's no income at all. Fortunately, United Laundry Services and Y. Hata & Co. Ltd. have stepped up to address the issue of unemployment among the homeless by offering the residents of Kahauiki Village an opportunity to receive skills training and a job.
Vicky Cayetano, president and CEO of United Laundry Services, says her company will be offering a variety of job opportunities to residents, which will provide steady hours, fully paid medical insurance and other benefits. "[The residents] have to start somewhere and our work environment at United Laundry is one that is very supportive and one they can succeed in," Cayetano says.
For Russell Hata, chairman and CEO of Y. Hata & Co. Ltd., it's a two-pronged approach. "I want to create an employment agency, specifically for the food service industry," Hata says, hoping that his efforts will produce both jobs for residents and funds to help support Kahauiki Village in the future. Hata says he will provide opportunities for those who want to be employed right away and for those who seek further skills training. "As far as hiring people, that's not a problem," Hata laughs. "I've always fought for the underdogs."
The key for Cayetano and Hata, though, is sustainability. "I hope to develop their spirit strong enough so that they can sustain a job in the long run and sustain their families," Hata says. "That's really what I hope for." Cayetano anticipates that the jobs provided will begin to build confidence within the residents and their families so that one day they are able to live independently.
"You know, it takes a village to raise a child," Hata points out. "The more partnerships it can create, the better."