The Romance of an Ultra-Contemporary Maui Kitchen
The new property's kitchen showcases the work of Gina Dunker of Pacific Source.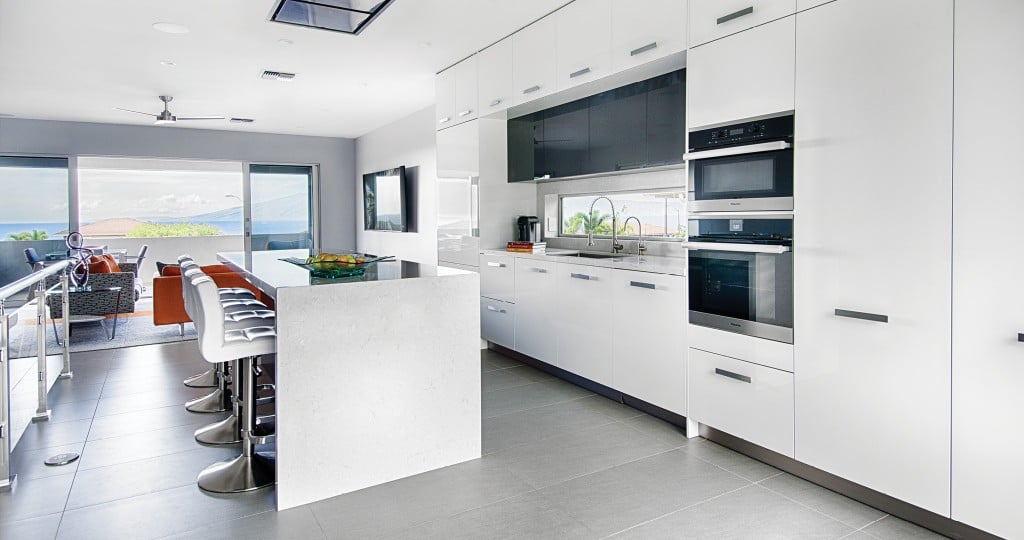 Featuring: Pacific Source
It began in 2011, when Lee Ibrahim surprised his wife, Amanda, with a trip to Maui for her birthday. It was this initial trip that planted the seed that would eventually bloom into a decision to move from Colorado to the lush Valley Isle. "Finally, we said let's see what we can do to make it work and pack up our lives and move out here," Lee says. That marked the decision to chase their dreams, and the Ibrahims haven't looked back since.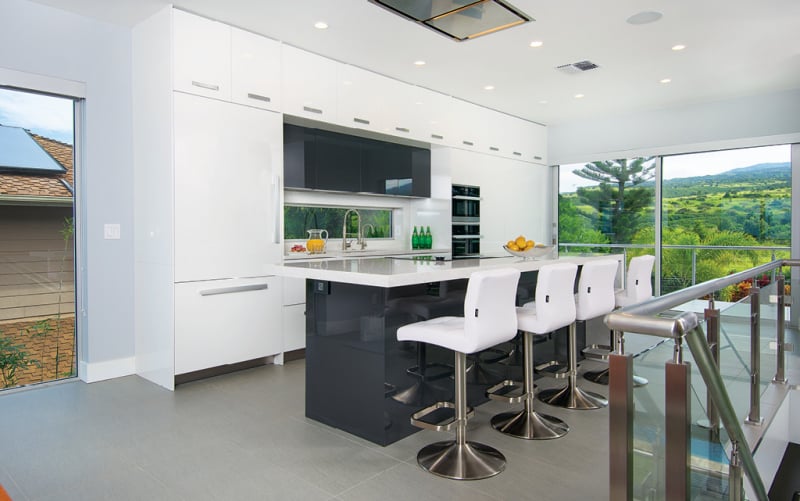 The newly built property showcases the exemplary work of Kasprzycki Designs and Thad Henry-Design Group, a Maui-based architectural firm and general contractor, respectively. But step inside this ultramodern home and you will also be greeted by the work of Pacific Source interior designer Gina Dunker. "Both of [the homeowners] had a very clear vision; they are not strangers to design," Dunker says. "It was really a little bit of a match made in heaven. We started talking and it was soon very clear that we were on the same wavelength; it was really quite a fun process."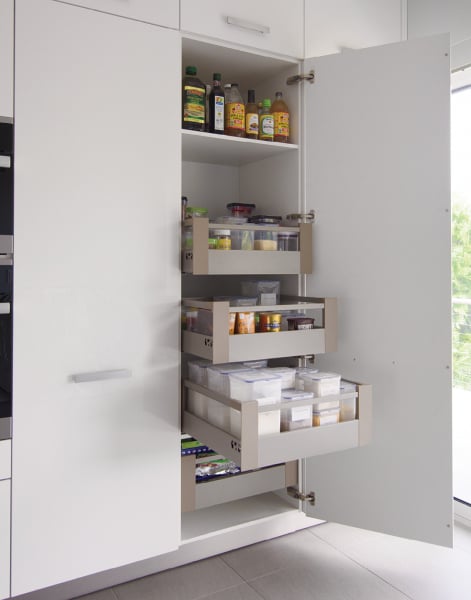 "We wanted to do white from the get-go. We had always been drawn to that," says Lee of the vision he and his wife presented to Gina. Then, as the homeowners and designer bounced ideas off one another, they decided on contrasting colors for the cabinets above the sink, as well as the kitchen island, "to break up the white."
Behind the glossy slabs of European cabinetry that surround the kitchen is ample space for storage and appliances. The deep drawers and wide pullouts provide the foundation for a neat and tidy kitchen space, while the flat panel facades integrate a refrigerator and dishwasher into a seamless, clean design. Above the sink, Dunker added under-cabinet lighting using LED strips housed in a metal groove, creating a place for hands to pull when opening the cabinet door while also adding effective task lighting to a crucial area. "Most people that look at it don't even realize that there is another bank of wall cabinets, because there are no handles on them," she explains.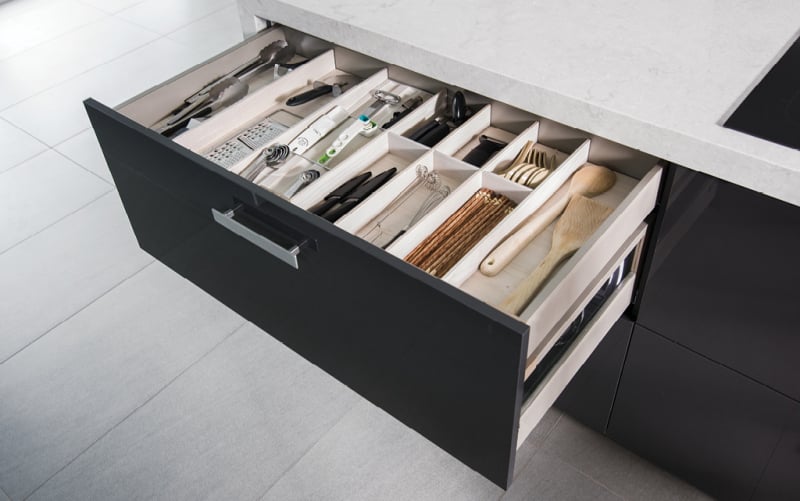 Over on the kitchen island is one of Lee's favorite things about the area: a sleek, black Miele induction cooktop. "I spend most of my time over the range, cooking all kinds of different things," he says happily. "You can boil a pot of water in two minutes. I really, really enjoy it." As for Amanda, she adores the overall look and design of the kitchen. "The functionality is great, the look of it is great. It fits every need that we have," she attests.
Where To Get It
Appliances: Miele 36" integrated bottom-freezer refrigerator; Miele 24" integrated eletric single-wall oven in clean-touch steel; Miele 36" induction cooktop
Cabinetry: Bauformat Pamplona door style in high gloss, lacquered white and carbon, from Pacific Source
Countertops: Swanbridge quartz stone surfaces by Cambria
Flooring: Surface Art Venetian Architectural Collection, in basalt natural gray, from Pacific Source