The Top Home Design Trends of 2022
This is the full report.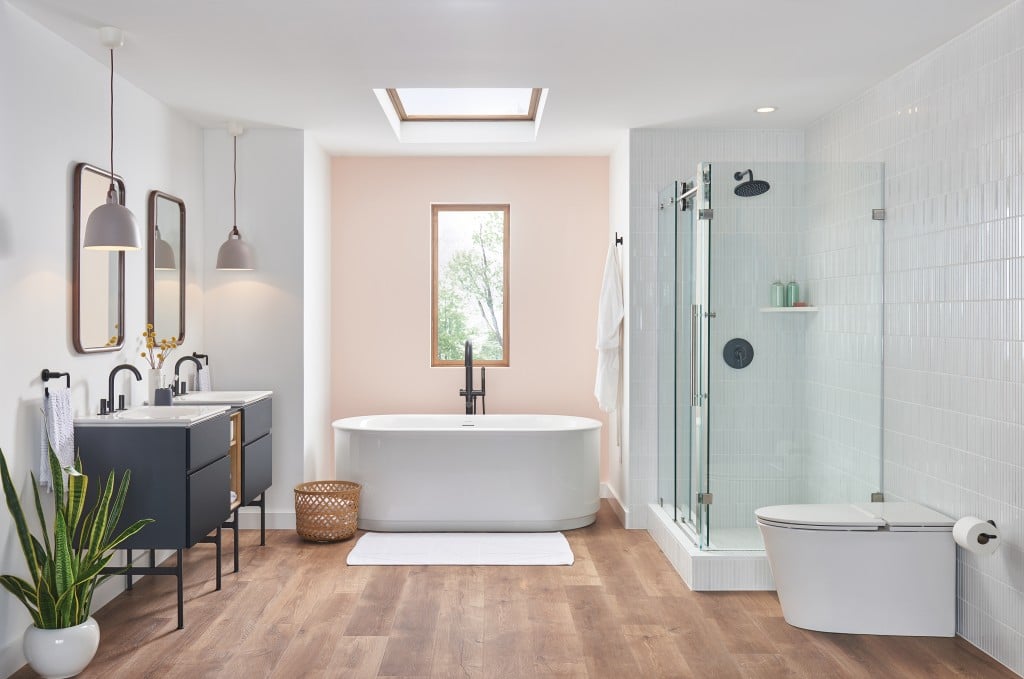 It's exciting to find out the latest trends and how we might want to include it in our spaces. We looked through the Ferguson Bath, Kitchen & Lighting Gallery's Trends & Influences, an annual guide to the hottest appliances, lighting and plumbing, and asked industry experts for their take on what's trending in home design.
JUMP ON JAPANDI
Japandi design marries minimalism, comfort and beauty — bringing Scandinavian functionality and Japanese elegance together. See here for more about this new design trend.
NATURAL SELECTION
"Organic and natural spaces will dominate the kitchen space in 2022," says Cris Johnson of Hawaii Kitchen & Bath. "Think nature-inspired wood-tones and warmer hues."
Johnson shares that open-concept spaces with modern designs and clean, minimal aesthetics will continue to be on-trend. "Large windows will be incorporated to increase natural light with the addition of large sliding doors, opening to a nearby patio area, for an outdoor living space," she says. "Larger islands are being designed for prep areas as well as a flexible space to use" for business, bills or homework.
IT GETS PERSONAL
"The trend in home renovation, especially kitchen and bathrooms this year, is all about creating one-of-a-kind spaces," says J.R. Moorhead of Moorhead & Company Inc. "That means no one else's place looks like yours. How do you do this? You customize everything. Each light, each sink, each faucet, each space, has something unique about it."
For a standout kitchen, Moorhead recommends having multitone cabinets — blue and white is a popular color combo — balanced with white quartz countertops, a glass subway tile backsplash and varying fixtures from different places. "People like to express their individualism by being unique," he adds. "In a bathroom, you can get really creative with tile if you want to be different."
Marshall Hickox of Homeworks Construction believes that people want to personalize and differentiate their homes, but in a manner that's not ostentatious. "Having spent more time at home this year, I feel people have become more in tune with what they want out of their living space: personal, comfortable, manageable, and most importantly, functional," he says.
A KITCHEN THAT SIZZLES
Create a hotter kitchen by incorporating the latest improvements. Appliances are more advanced than ever with voice activation and mobile app control. There's also built-in customization and integration.
"Homeowners are opting for complete custom fabricated cabinetry for more flexibility with design and features. To keep the open feel of a kitchen, homeowners are mixing wood floating shelves with upper cabinetry," says Johnson.
You'll find matching appliances and cabinetry, built-in pantries, deep drawers with pullouts and unique designs that'll include everyone in your family, including your pets. "Pets are considered in the planning of cabinetry with designated spaces for food and even a niche space within the island or adjacent area for pets to nap," says Johnson.
Quartz remains the top countertop choice and touchless faucets are on everyone's wish list. Matte black, brass, brushed finishes and other metals are in high demand.
A DASH OF STYLE
Fixtures with modern finishes add a bit of flair to this kitchen, which pairs together black and gold lighting with a Signature Hardware Caribana Single-Handle Kitchen Faucet in brushed gold to create a cohesive and chic look.
HAPPY, HEALTHY HOME
It's no surprise that hygiene and wellness are top priorities these days. People want their homes to be safe and spotless. Today's innovations can help you clean better and faster, leaving more time on your hands.
MULTIFUNCTIONAL & LONG-LASTING
Versatile spaces and durable products are key to an enduring home. "By far the most in demand trend we are experiencing now is the desire for long-lasting, low-maintenance products," shares Hickox.
"These would be the continued use of LVT flooring, quartzite surface product, as well as energy-efficient appliances, AC and water heaters, such as heat exchange hybrid types."
Designing for the future is essential, whether it's with state-of-the-art technology or universal design elements. Creating an inclusive abode will allow you and others to age in place peacefully.
TOUCH OF NOSTALGIA
Coined by House Beautiful, grandmillennial — combining the words grandma and millennial — is the latest interior design trend that's all about embracing the old and new. It's "granny chic," with 20- to 30-somethings adopting old-school styles, like floral wallpaper, mixed patterns and vintage brass.
SERENE SPACES
"Baths have become the sanctuary space with more master baths increasing in size from previous years," says Johnson. "The addition of stand-alone tubs, larger walk-in showers and separate dressing areas have turned the master bath into a spa experience."
Custom storage solutions allow homeowners to have a seamlessly designed space, with walk-in dressing areas and closets that match the cabinetry, shares Johnson. There's also a demand for separate makeup counters, multiple sinks and interior cabinet accessories.
AN OFFICE THAT WORKS FOR YOU
"This past year has seen the new work-from-home movement, creating a need for an office space and for the first time even a concern for lighting and how it will affect videoconferencing," says Hickox.
Parents are asking for an area where kids can study at home, away from the kitchen counter or dining room table, shares Hickox.
"We had many parents with younger children that had to work in shifts to take care of the children so they could work from home undisturbed," he adds. In these cases, we were needing to create isolated offices so one parent could work out of sight and sound."
BLEND TOGETHER
Connect your indoor and outdoor spaces to increase your living area and allow for seamless entertaining year-round. Have guests mingle inside before stepping outside for the party. Don't forget to have a well-lit area and proper seating. Keep yourself involved in the festivities by moving the cooking to the outdoor kitchen.