The Ultimate Fan Cave for UH Football
University of Hawaii sports fan transforms his garage into a Rainbow Warriors showcase.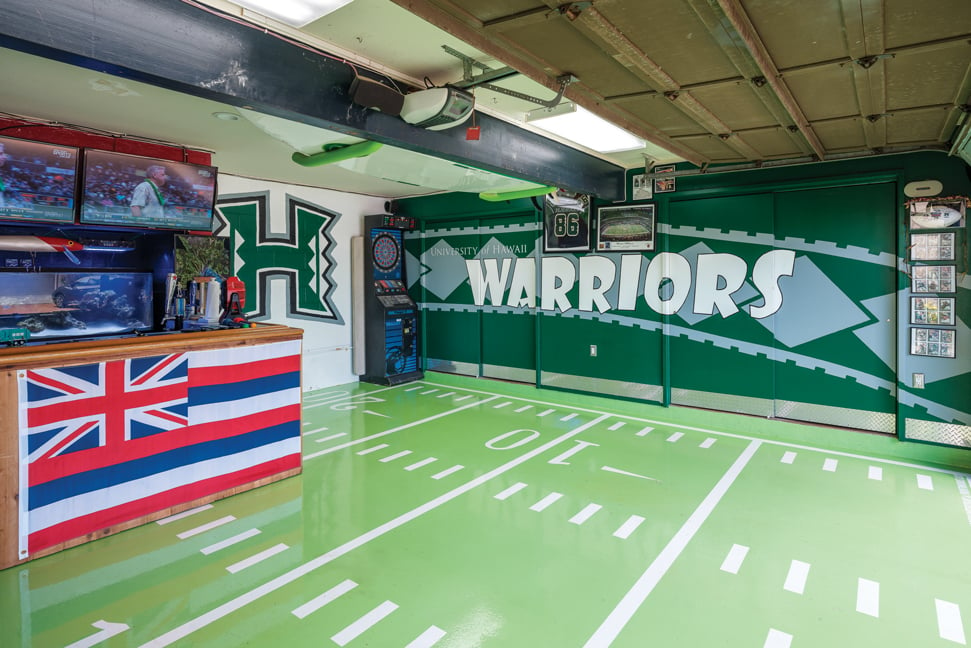 When Jerry Ancheta moved into his house, the first thing he did was begin converting his garage into a University of Hawaii football fan's dream space. "I've always lived in apartments, and I've always loved sports all my life. I knew that whenever I got a house, I would do something with my garage," says Ancheta.
The floor is painted to mimic a football field, with the Warriors team name proudly displayed across the garage's walls. The room is decked out with a bar, multiple televisions and a full sound system. When asked what inspired him to go all-out, Ancheta says: "That's just what I do. When I do things, I do to the extreme."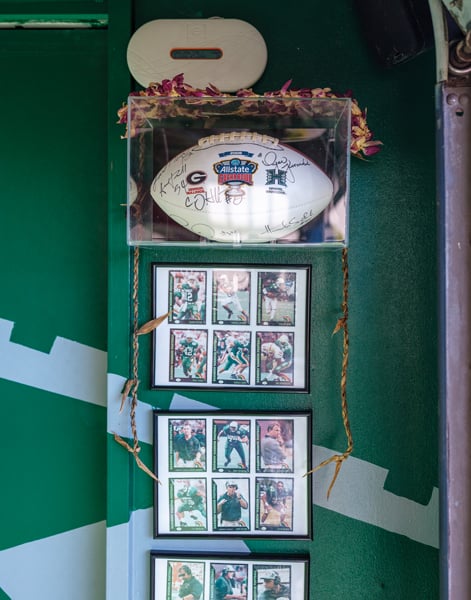 The fan cave also features an impressive collection of UH memorabilia. "A lot of that was from the Sugar Bowl, the time we went up to New Orleans," Ancheta says. "That year meant a lot to me." And he's selective about what he puts on display. "Because I have a place like this, people do give me a lot of gifts," he says. "I could've gone crazy and put everything I own up, but everything up there actually means something to me. The jersey that you see — I wore that the entire season and the season after that."
The space doesn't sit empty when it's not being used for watch parties — it still serves its purpose as a car garage, but even then, it's a relaxing place to hang out. A glowing fish tank sits neatly behind the bar table. "Sometimes I'll go to my garage, I'll leave all the TVs off, and I'll just watch the fish and relax. I'm there to unwind almost every day," says Ancheta.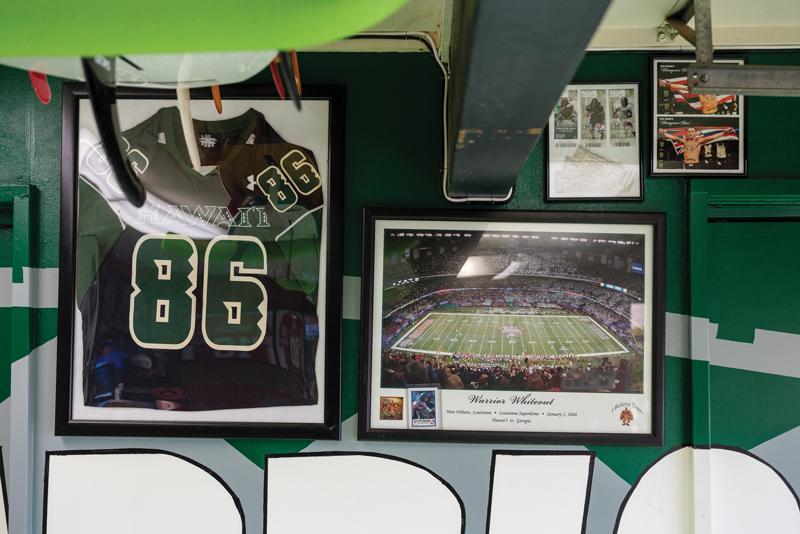 Virtually every inch of the space is maximized, but Ancheta isn't quite done yet — not until the last remaining blank spot is covered. 
"I want to paint the garage door, so when you look up, there's something there too," he says. "It'll be something one day."
Jerry Ancheta is the winner of the UH Fan Cave social media contest, sponsored by University of Hawaii Athletics, ESPN Honolulu, Hawaii Building & Construction Trade Council and Hawaii Home + Remodeling.