The Water-Wise Garden
Xeriscape: 7 steps to a beautiful landscape with less water.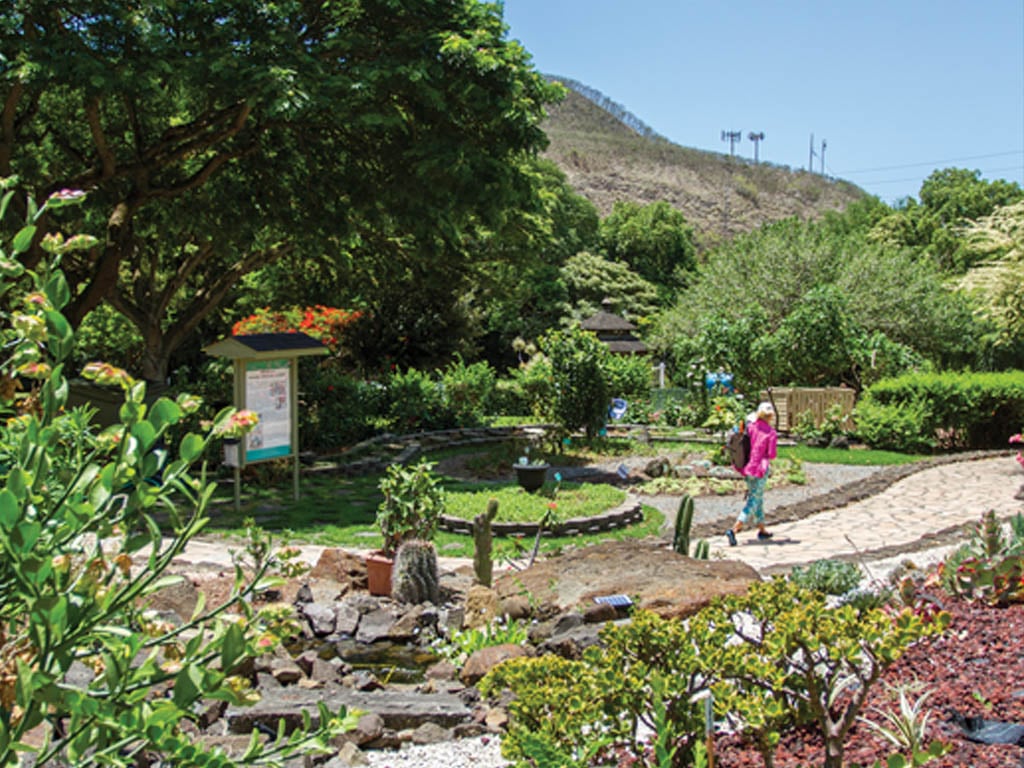 Standing in the much-needed shade on yet another steamy day, Diane Moses looks out over the peaceful Halawa Xeriscape Garden, nods her head and says, "You know, I think this is the best kept secret on Oahu."
Nestled deep in what is mostly an industrial warehouse area, this botanical garden features the very best in residential xeriscape plant options for Hawaii. Xeriscaping is the art of taking plants that need little water and using them in your landscape. The plants frequently used are native plants, succulents, cacti and grasses along with a fair amount of hardscaping to further accent the plants.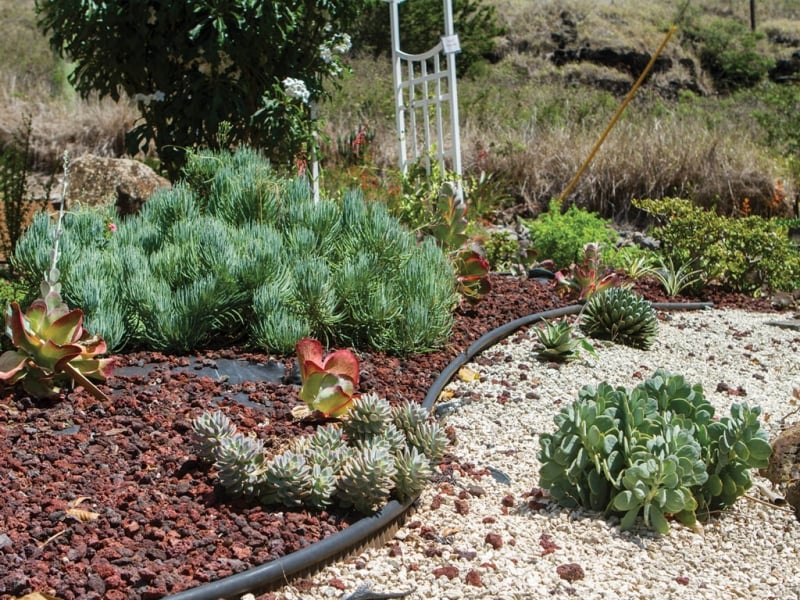 The Halawa Xeriscape Garden was opened in 1989 by the Board of Water Supply as a way to educate Oahu residents on how to save water in lawns, gardens and landscaped areas. "We have a vision that this will one day be the hub for outdoor water conservation," says Moses, who manages garden volunteers and is a Board of Water Supply community relations specialist. "The lessons people learn here will be shared with their neighbors and friends and we will all benefit."
The garden layout makes it easy for visitors to familiarize themselves with the types of plants and grasses that need less water, as well as the variety of approaches that use water more efficiently in the garden. To demonstrate these approaches, the garden is divided into half a dozen sections including aquaponics, herbs, succulents, keiki and more.
Today, the garden is maintained by a dedicated team of eight volunteers. "I used to live in a home with a big yard, but now I have an apartment," says volunteer Luci Picerno, who spends eight hours a week here. "So, this is my garden now. Plus, I've learned a lot through the workshops."
Located at 99-1268 Iwaena St. in Aiea, the garden is open for free guided tours by appointment and self-guided tours are available on Wednesdays and Saturdays from 9 a.m. to 3 p.m. For more information, call 748-5041.
7 Ways: Building Your Own Xeriscape 
With certain areas of Oahu continuing to endure droughtlike conditions, now is the perfect time to reconsider xeriscaping your landscape — even if it's just a portion. Xeriscape is a landscape style requiring little to no irrigation. With minimal effort you, too, can maximize the value and beauty of your more water-efficient landscape.
1. Plan carefully.
Planning is the most important step in creating a successful xeriscape because it allows you to install the landscape in phases, reducing initial expense and ensuring long-term growth. "Wise planting and using microclimates will greatly benefit the garden," says Diane Moses, who is a community relations specialist at the Board of Water Supply, which owns and operates the Halawa Xeriscape Garden.
2. Maximize irrigation efficiency.
Create zones throughout your xeriscape by grouping plants according to similar water needs. Sprinklers, low-volume drip, spray or bubble emitters are all good options depending on the plants. Moisture sensors that can shut down the system when the ground is wet can reduce water waste as well.
3. Limit turf areas.
"Grass is most thirsty, so when irrigating be sure to use it near plants that have similar watering needs," says Moses. Separate turf areas from trees, shrubs, ground covers and other flowering plants so it may be watered separately.
4. Study the soil.
Improvements in the soil allow for better water absorption and improved water retention. Be sure to do any grading and soil improvements prior to the installation of irrigation.
5. Consider more mulch.
Ideal for replacing lawn areas, organic mulch and ground covers help to retain moisture, minimize weeds and put nutrients back into the soil.  Examples of organic mulches include bark nuggets, grass clippings, compost and chopped leaves. "But it doesn't necessarily need to be organic mulch," Moses says. Inorganic mulches include sea glass, pea gravel, white coral and black/red cinder.
6. Select less thirsty plants.
The experts at Halawa Xeriscape Garden are a great resource for learning which plants are perfect for your area of the island. The garden features many drought-tolerant plants that are endemic to Hawaii.  "A lot of the plants have been here for 25-plus years," says Moses. The garden hosts a plant sale every August and local nurseries are also a good resource. Proper plant selection can ensure a long life.
7. Plan regular maintenance.
While xeriscaping can reduce maintenance costs and upkeep, that doesn't mean you can completely ignore the landscape. Regular pruning, weeding, fertilization and irrigation adjustments will ensure a beautiful landscape year round.
With a built-in path up the middle, a Keyhole Garden has easy access to all points inside. Plus, you can build one in less than a day!
1. Build garden waist high for ease of maintenance. Use recycled material, bricks, wood and rocks.
2. It should be no more than 6 ft. across for ease of reach.
3. Wire cylinder (A) to house organic waste. As waste decomposes it releases moisture and nutrients for plants, totally organic.
4. Terra Cotta water wells (B) are filled with water. As plant media dries out it wicks the water from the wells. Fill once weekly or as needed. To prevent mosquitoes from entering the well use Terra Cotta dish as a cover. 
5. Fill your Keyhole Garden using the Lasagna or Layering Compost Method.
6. Plant vegetables or herbs and consider placing garden near your kitchen door for quick availability.
7. Your garden will use less water than traditional raised-bed gardens.