These Backyard Swimming Pools Take Outdoor Recreation to the Next Level
Even with all Hawaii's beautiful beaches, nothing beats the serenity and privacy of a swimming pool in your own backyard.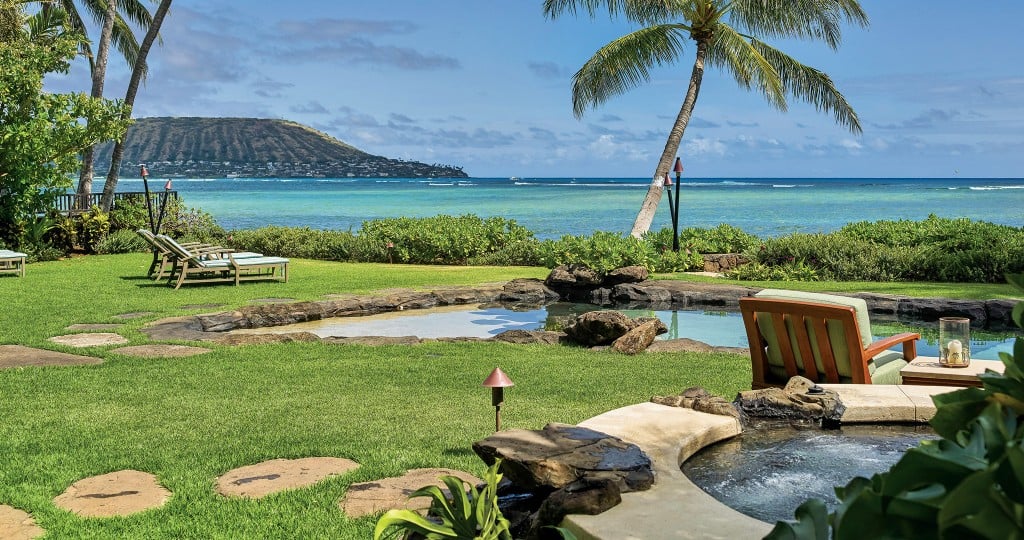 For all of the many beautiful beaches Hawaii has to offer, nothing beats the serenity and privacy of having a swimming pool in your own backyard. From hosting family gatherings to unwinding at the end of the day, these homeowners are making a splash by taking outdoor recreation to the next level.
Backyard Lagoon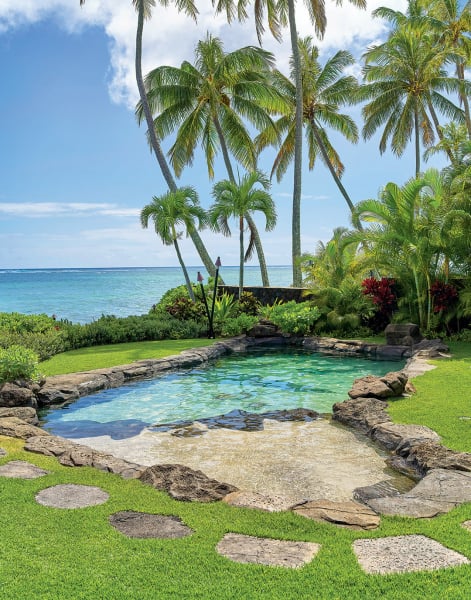 At first glance, you may never guess that there once was a traditional rectangular swimming pool here. In fact, this saltwater lagoon rock pool blends so seamlessly with the surrounding landscape that it looks like everything else was built around it. But the pool is actually the work of DeBiasi Pacific, which performed the remodel as well as the landscaping to complete the look. Textured concrete curves around the edge of the pool, mimicking natural rocks. Salt-tolerant beach plants around the perimeter unite the beachy aesthetic of the pool with the cerulean bay in the distance.
25,000 gallons
Water type: Salt water
Location: Hawaii Kai
Built by: DeBiasi Pacific

Glowing Oasis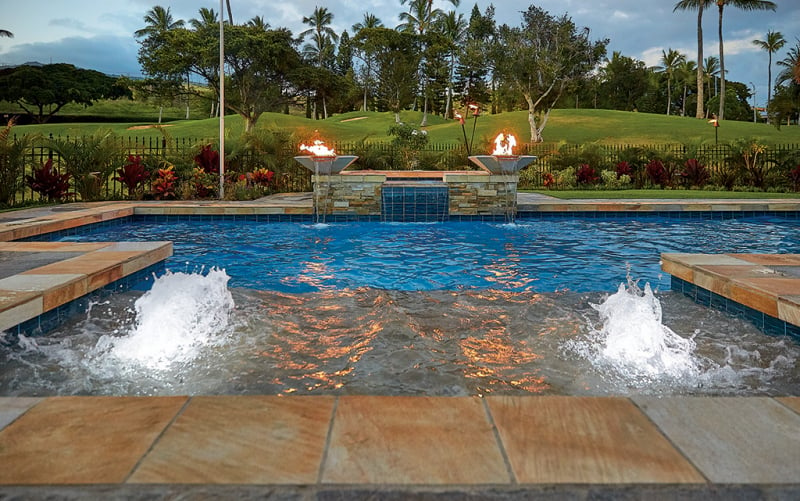 Set against a smoldering sunset, the mixture of fire and water is simply polarizing to watch as orange flames flicker over clear blue water. Water from the heated spa and fire pots cascades into the pool as bubblers come alive on the top step. And as amazing as it is to admire, it's also built with features to enjoy when the homeowners are in it, too. A Badu® SwimJet on one end of the pool allows them to swim in place for as long as they desire. What better way to end a long day than to come home and relax in a pau-hana hideaway.
20,000 gallons
Water type: Salt water
Location: Ko olina
Built by: Pacific Pool & Spa
Pool Party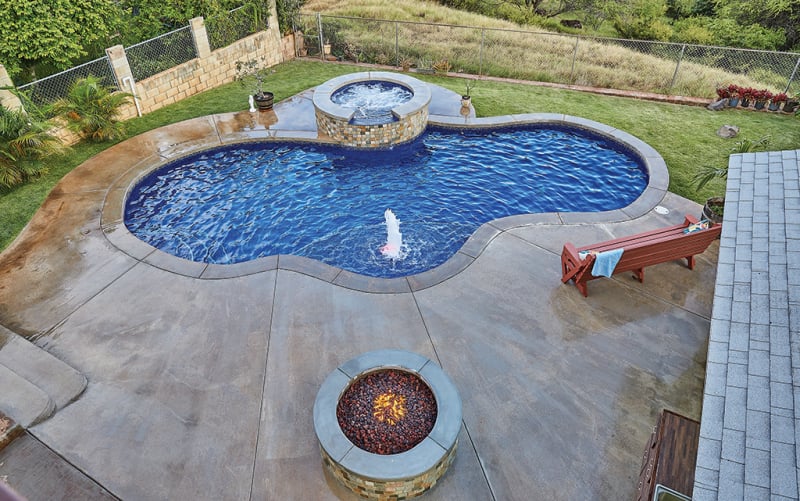 This Makakilo pool has all the features you could want if you're hosting a party. Water from the spa spills over into the pool with this popular combo design. A fire pit is just a few feet away, ensuring guests stay warm and toasty as the party goes on well into the night. Wide ledges top the spa and fire pit, providing ample seating for guests without the need to set up chairs or tables too soon. And when this family isn't swimming in their pool, lighted bubblers around the pool can be turned on with the push of a button, creating a beautiful aquatic display.
18,000 gallons
Water type: Salt water
Location: Makakilo
Built by: Pacific Pool & Spa