This Beachfront Property on Oahu is a Modern Marvel
Decked out from top to bottom, this modern home has limitless potential.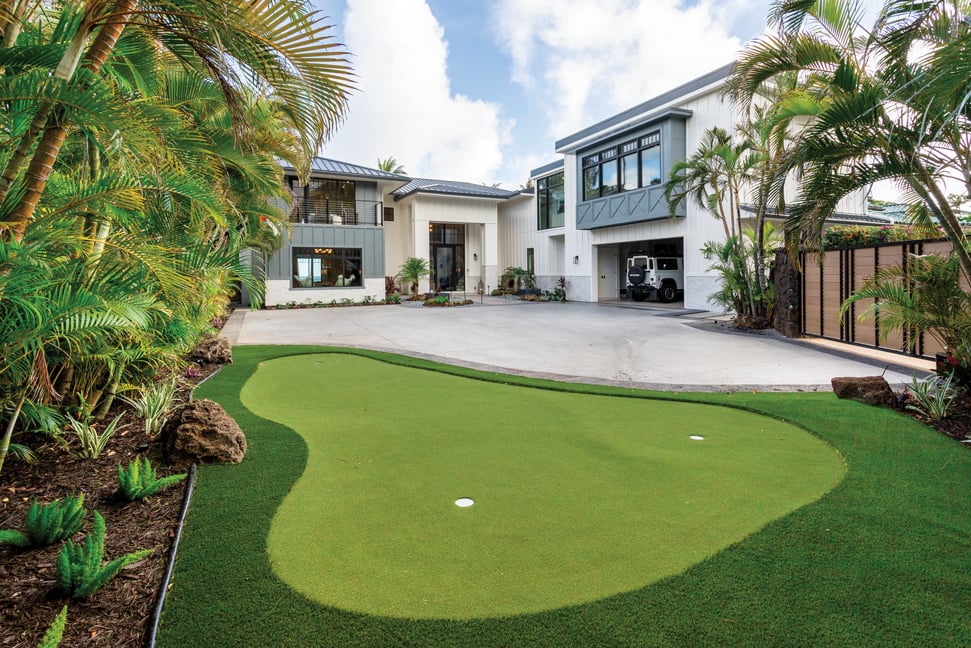 Just steps away from the sandy shores of Niu Beach, this oceanfront property provides ultimate luxury living for a family of five. Here, they enjoy the quiet privacy of their neighborhood while relaxing outdoors and taking in the ocean view. To them, it's paradise.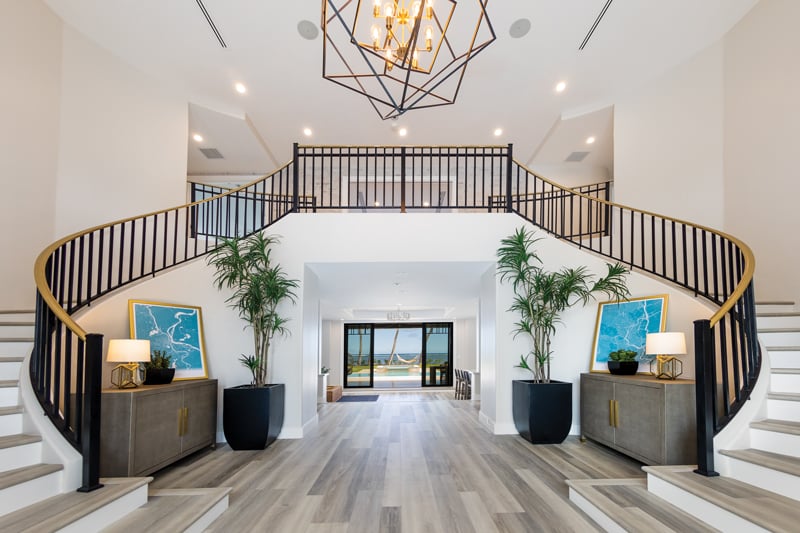 Their journey to blissful island living began when they purchased the property with intentions to complete a full home renovation before moving in. They hired Blueprint808 Architecture for full architectural services and All Things New as the general contractor and builder. "We were the central hub of renovating the project," says Richard Breaux of All Things New.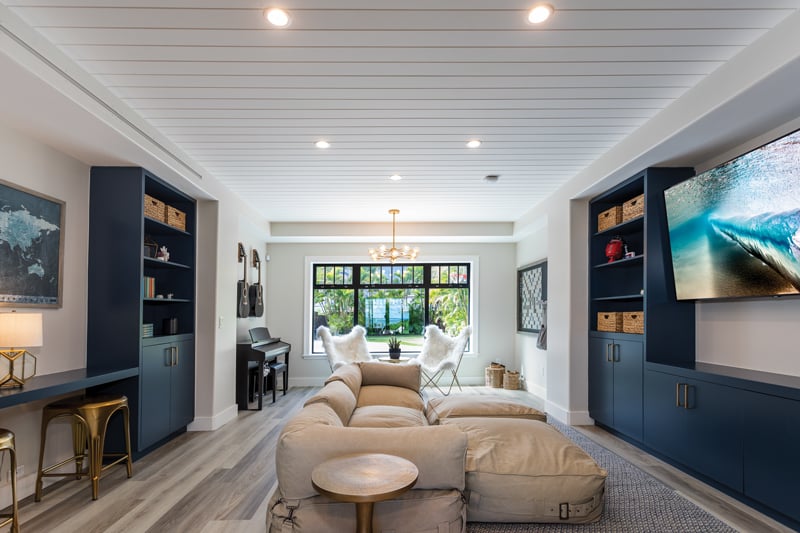 "The original design was a Mediterranean-style home with light and warm tones in color scheme, as well as the extensive use of natural materials such as ceramics and stone," shares Breaux. "The architecture had a lot of radius walls and roof lines with Monier tile roof." Overall, the home needed an update to fit its surroundings and the homeowners' desires. All Things New was able to create a complete 3D virtual tour of the home to provide a clear picture of each space during the renovation process.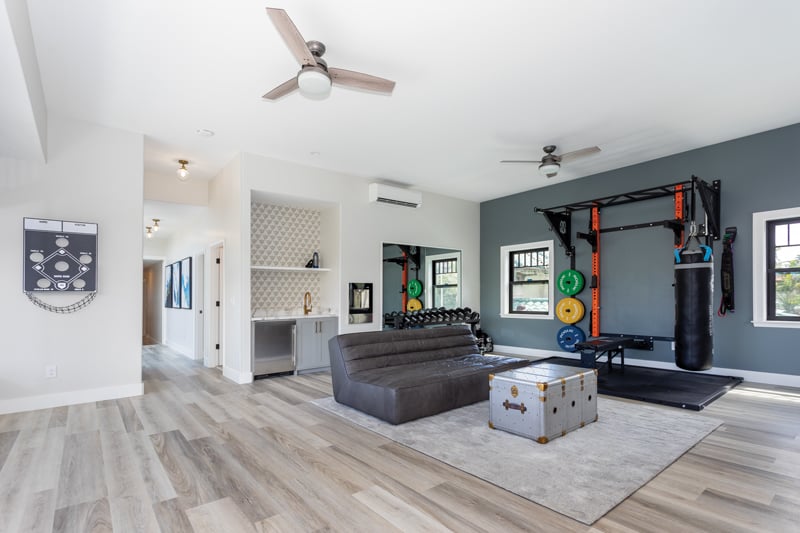 "The vision was to build a contemporary plantation home that juxtaposed modern amenities with a comfortable coastal lifestyle," shares the homeowner. "It was important for us to pay homage to Hawaii's quintessential plantation homes, which boast charm and comfort while incorporating unparalleled luxuries one would expect from an executive estate. This home is incredibly sophisticated yet exceptionally inviting as evident in its finishes, which are timeless, elegant and livable."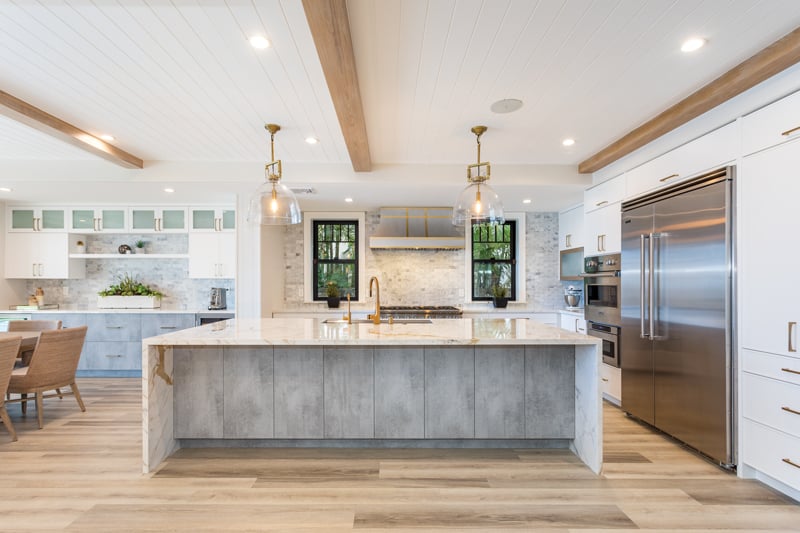 The end result is a masterpiece of a home with more than 7,000 square feet of luxurious interior living spaces — including five bedrooms, six bathrooms and numerous specialty rooms — and more than 15,000 square feet of outdoor spaces to enjoy, from a putting green and basketball court to an outdoor kitchen, private pool and lawn that connects right to the beach. "The home is a result of a 'passion project' and is the culmination of like-minded homeowners, designers and builders," says Andrew Forman of Blueprint808 Architecture.
Stunning double floating staircases, original to the property and redone to preserve their curved nature, make for a grand entrance into the home. Moving through the first floor, there are multiple living areas: a bar lounge area for the adults, a game room for the kids and a family room that brings them all together.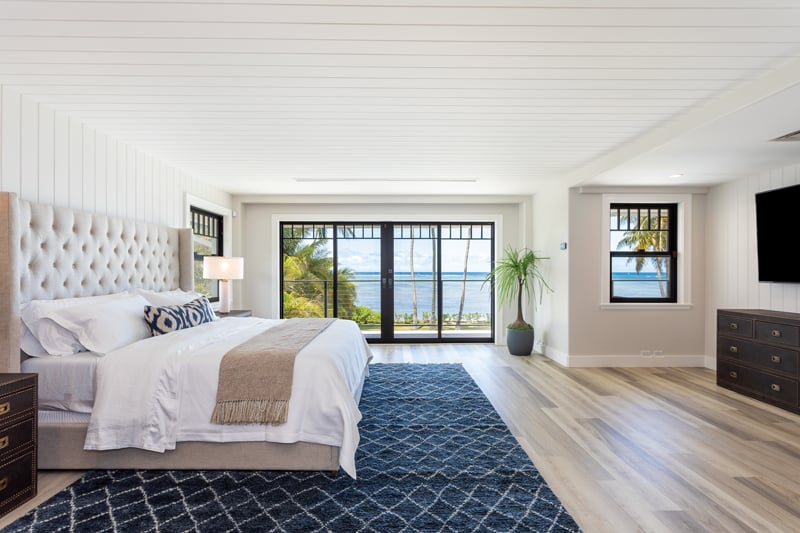 "I think this home honestly has it all," says the homeowner. "It's an entertainer's dream home. Not only is it sleek and up to date, it's comfortable and it's energy-efficient."
There are other specialty rooms throughout the home for the family to use as well, including a wellness room — featuring a CrossFit gym, yoga studio and space for massage treatments — two-person home office, and much more. The modern house is even equipped with voice activation, powered by Tesla's home solar system.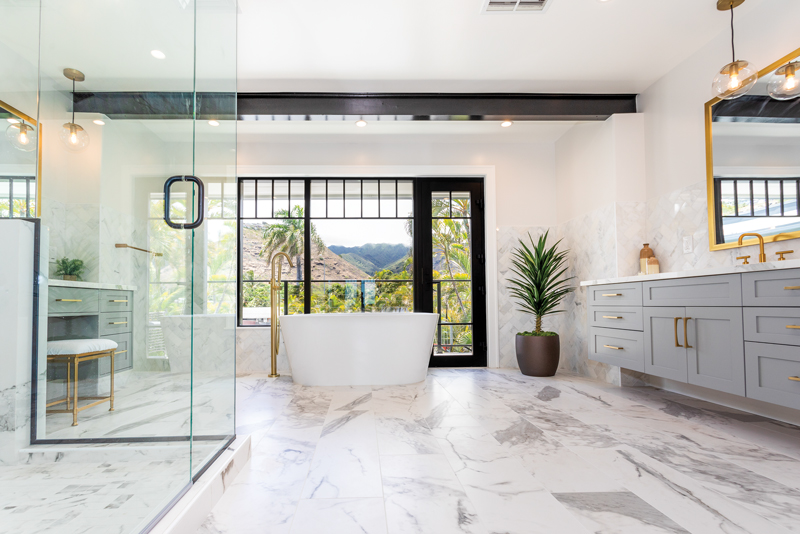 But it's the kitchen where the family gathers the most. Its footprint increased to accommodate a full range of professional-grade Viking appliances, an island and Bellmont cabinetry from Pacific Source, as well as a new layout that takes in the ocean views. "We elevated the space visually by bringing in contrasting elements such as cement-based cabinet finishes against upper white cabinets… tied together with brushed gold pulls and faucets throughout," says the homeowner.
Rattan, wicker and waterproof materials were chosen to achieve the coastal-inspired aesthetic. The homeowners wanted their place to "look pretty, light and airy." But even more important, they say, was that it be "equally comfortable and livable: a place where you can go out surfing in the backyard and be able to walk right back in for breakfast in your wet clothes and it would never be a big deal."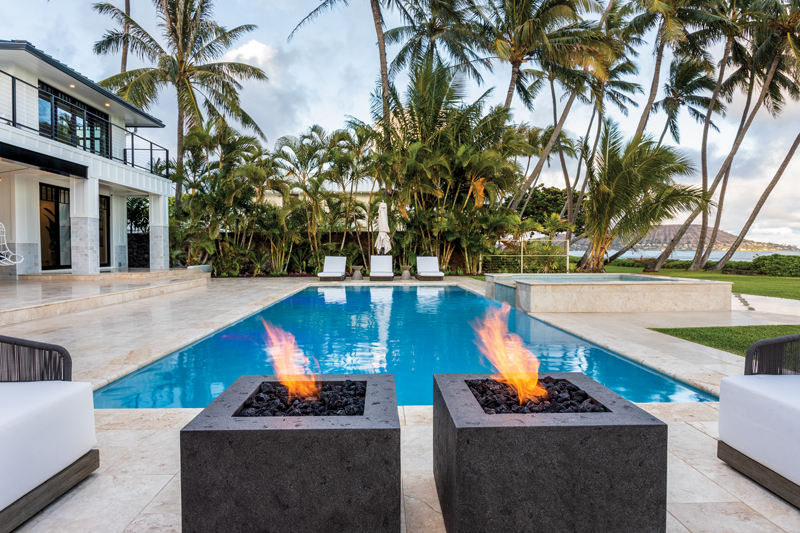 Adds Breaux: "The new design really opened up the home, enlarged key areas like the kitchen and game room and expanded above the existing garage to include a rec room, additional bed and bath. The new black aluminum windows and sliding doors from Fleetwood really enhanced the feel and appeal while opening the home to feel more open and bringing in a lot of natural light."
Outside, the family can enjoy a multitude of activities, including a putting green at the front of the house and a splash pool area to lounge in, in the backyard.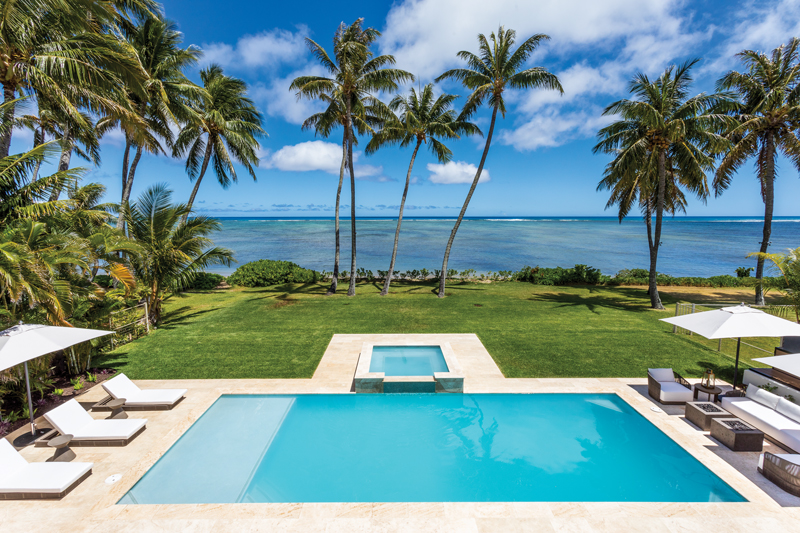 "We love how comfortable the home is; we feel like we are on an extended vacation living in a private boutique resort of our own," says the homeowner. "We accomplished what we set out to do, which was to build a livable plantation home with coastal charm while not compromising on all the luxury amenities that make life convenient."
The homeowners valued the hard work and guidance of Blueprint808 Architecture and All Things New, as well as the open lines of communication between companies and homeowners, which were instrumental in completing their dream home. "We appreciated … that both Andrew and Richie were so good at understanding our vision for this home," shares the homeowner.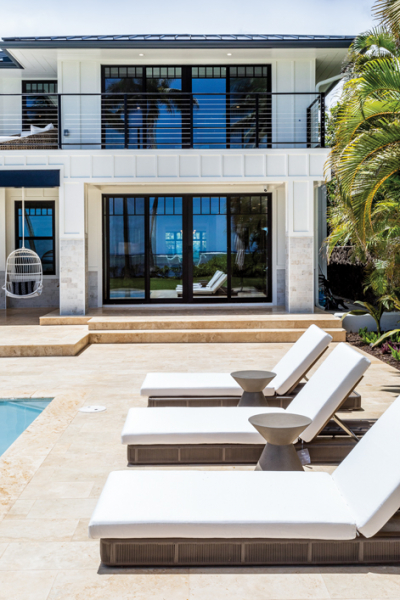 "Personally, I am quite appreciative of how – though the house is quite large – it is incredibly functional. We spent an incredible amount of effort in making sure each space was appropriately designed to accommodate each need and did not waste a single square foot," says Forman. "The result is a house that is as equally comfortable as it is grand."
For the homeowners, it's beachfront living at its finest: "It truly is our slice of paradise."