This Charming Condo Gets a Fresh New Look
The renovation by Koolau Builders allows for a clean, effortless space.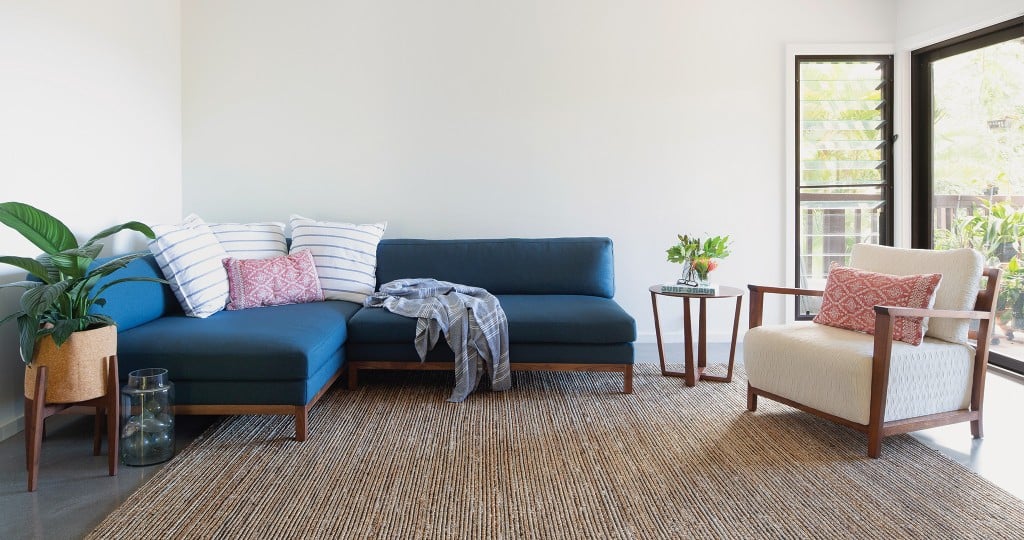 As the sunlight's soft glow fills this home's living room, a sense of calm settles over the blend of midcentury modern furnishings and Island-inspired décor. "It's warm and inviting," says the homeowner. But it wasn't always this peaceful.
One day, the pipes in the unit above burst, sending water down the ceiling and damaging the whole home. "I had to be out of there at least for two weeks for drying and remediation," recalls the homeowner. "After that, all of my cabinets were ruined, my floors were ruined, my walls needed to be fixed."
While stepping back and looking at all the damage, the homeowner realized it was an opportunity to start anew. She asked Koolau Builders for help in transforming her home into a livable space once again.
"I had a pretty solid vision in my head," says the owner of what she planned for her home. With the condo being just under 800 square feet, it was important to maximize the existing footprint, selecting strong materials that are great for indoor-outdoor Island living.
For starters, the house needed to be gutted. "The kitchen, bath and flooring all needed to be replaced," shares Nick Tang of Koolau Builders.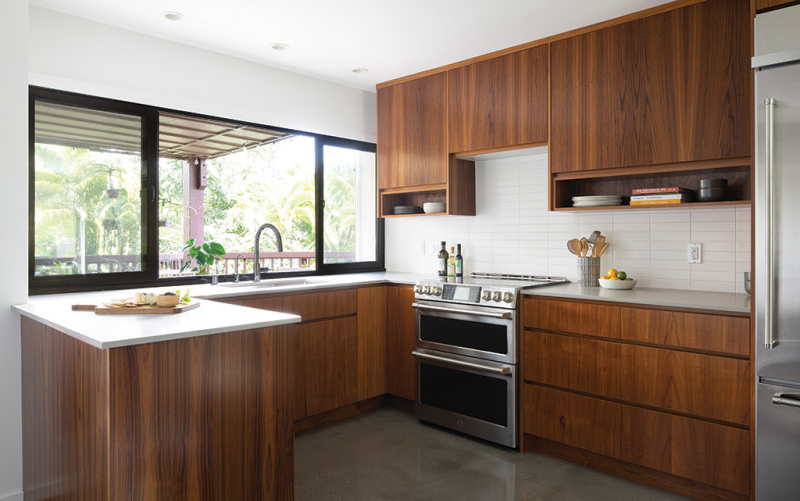 The '80s style textured walls were smoothed out and painted white to brighten up the space. When the destroyed hardwood floors were pulled up, the concrete foundation was revealed, leading to a natural decision to go with concrete floors. "It seemed appropriate because I'm on the ground floor – it didn't seem contrived," says the homeowner. Pacific Decorative Concrete Inc. installed 3/8-inch rapid-set self-leveling cement throughout the entire home.
"It works well with the minimalist approach and is very durable and waterproof," shares Tang.
The added benefits of versatility and sustainability made it even better. "Hardwood just became impractical," the owner says. "I am so pleased that I have something that works with everyday life but is still so pretty."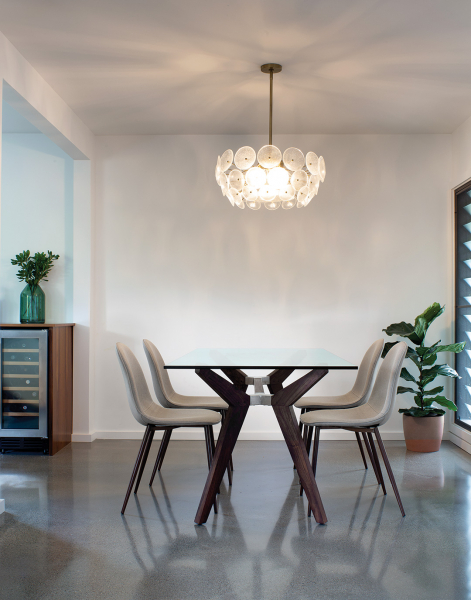 In the kitchen, Caesarstone quartz countertops in raw concrete parallel the look of the concrete floor. Custom teak cabinets from Plus Interiors bring warmth into the space, balancing the room's overall feel and tone. "We loved the color and warmth of teak," says Tang. "It complements very well the coolness of the flooring and countertops selected."
The homeowner opted not to use cabinet pulls, for a sleek, flat aesthetic. Horizontal matte white ceramic tile was chosen to complete this minimalistic design. "I wanted a clean look, but not a cold look," shares the homeowner.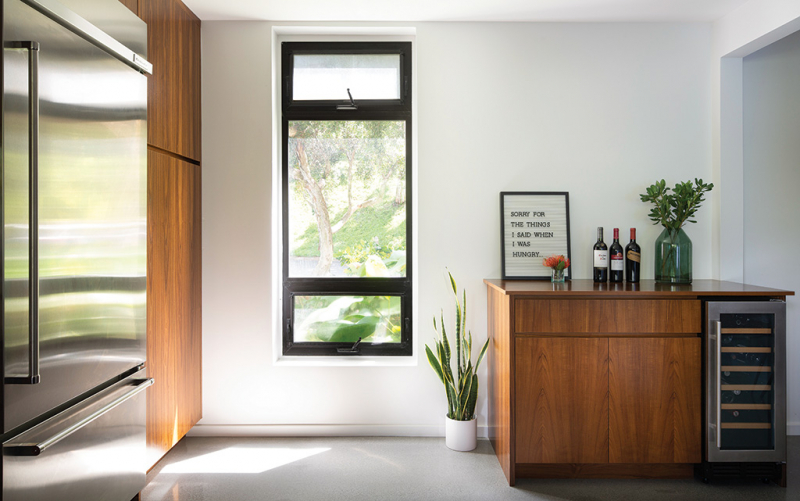 This design choice is evident throughout the home, including the bathroom, which was refreshed with matching cabinetry, color and flooring.
"We enjoyed simplifying design and finishes to create a finished space with details that on their own are standouts," says Tang.
On working with Koolau Builders, the homeowner says: "They were really good at helping me articulate the vision of the things I saw in my head. … It was a nice collaboration."
Where To Get It
Backsplash: Matte white ceramic tile in stacked pattern
Cabinetry: Custom teak cabinets, from Plus Interiors
Countertop: Caesarstone quartz in raw concrete
Flooring: Polished concrete