This Craftsman-style Home is Fit for an Active, Happy Family
A well-crafted abode.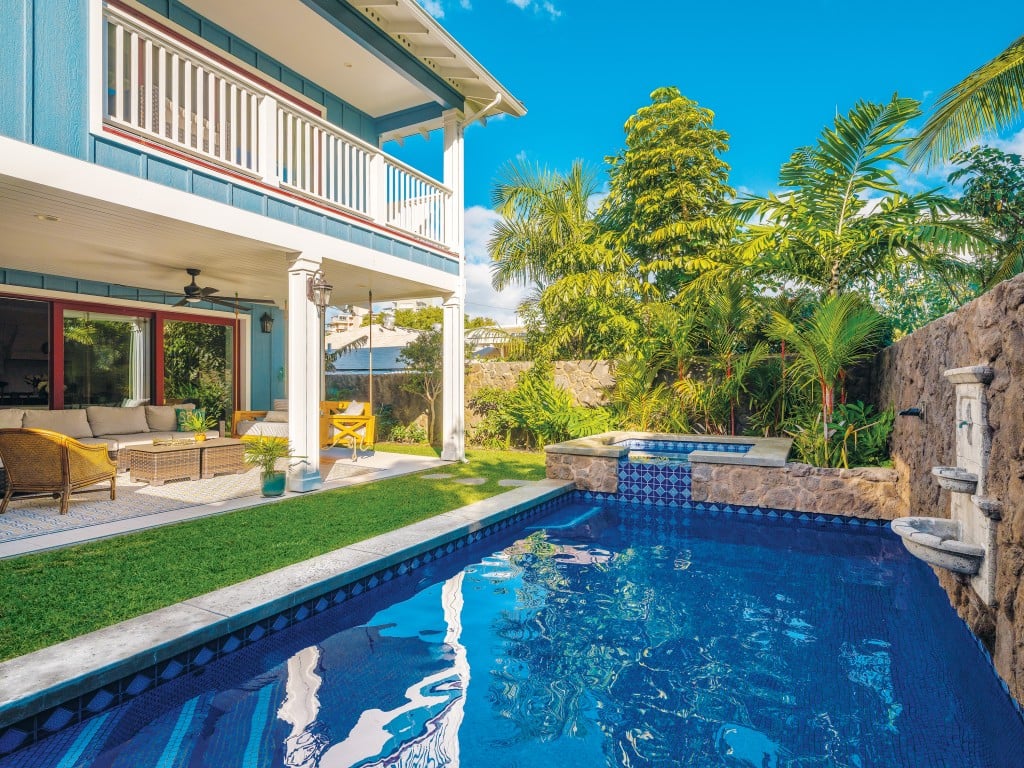 This family dreamed of living in the Diamond Head area. They loved how close they'd be to the beaches and parks and the look and feel of the neighborhood. So when they finally found a house within their price range, they acted fast. "We bought the house with the plan of rebuilding," shares the husband.
They envisioned a home with room for everyone — including visitors — along with outdoor amenities. It also had to be situated as far from the street as possible to minimize sound. Through a friend's recommendation, they called upon design-build firm Homeworks Construction to get the job done.
"They wanted a home that was designed for their growing family," shares Elyse Grable, selections specialist for Homeworks Construction, with "a large kitchen to congregate in, an open floor plan for indoor-outdoor living [and] a craft room."
The newly built two-story house has four bedrooms, two full baths and two half-baths, as well as an accessory dwelling unit above the garage for guests. "The style of the home is a combination of a Craftsman style with a touch of elegance and artistry," shares Grable. And it's a charming abode, inside and out. The exterior features a rich blue color, along with a bright burgundy for the windows and clean white for the garage door, trim and window casings and subsills.
Having an open-concept layout allows the entire first floor to be seen upon entering through the stained-glass front doors. The living room has 10-foot high ceilings and flows directly into the dining area and kitchen. Sliding glass doors stack and slide completely closed to create an indoor-outdoor connection to the covered lanai, pool, hot tub and yard.
The lanai's tile, in particular, played a big part in setting the design style of the home, shares Grable. It is dressed in decorative Spanish-influenced blue and burgundy porcelain tile, carefully laid out in an intricate design.
Outside is also where the wife has her dedicated craft and pottery room. "[Her] craft room for her pottery was something unique and special," says Grable.
"With polished stained concrete floors and a tile baseboard, it was made to withstand the drops of clay and glazes during her pottery sessions."
But the open, spacious kitchen is where the family spends most of its time together. "The large island is multifunctional with plenty of counter space for preparing and making meals" and can be used as a buffet table for those special occasions with extended family and friends, says Sean Bradshaw, kitchen and bath specialist for Homeworks Construction. "The island also has a built-in microwave drawer and additional storage on the dining room side."
Bradshaw designed the space to be timeless as well. Painted white cabinets for the perimeter contrast with the dark-stained cherry wood cabinets at the island. The countertops are quartz and the backsplash is a classic white subway tile. "We also added applied cabinet panels for the appliances and an integrated ventilation hood from Wolf and Dura Supreme for that finishing touch," he says.
When the family wants to rest, they head upstairs where the bedrooms are along with most of the bathrooms and the master suite, which is "very spacious and has a lanai that overlooks the pool area," says the wife.
It has a traditional, elegant master bathroom with a free-standing tub, walk-in shower and marble tile for the shower walls, which the homeowners love. "We also used it on the bathroom floor and created a border with absolute black polished granite tiles and a pinwheel mosaic," shares Grable.
Whether they are relaxing upstairs, preparing a feast in the kitchen, taking a dip in the pool or walking to a nearby park to play tennis — this active family is able to thrive and enjoy everything that their new place has to offer.
"We can only hope this home has made their lives better in a way where they can spend quality family time together and have this be their forever home," says Grable.