This Deck is a Beautiful Place to Unwind
Plus, it's made with materials to last a lifetime.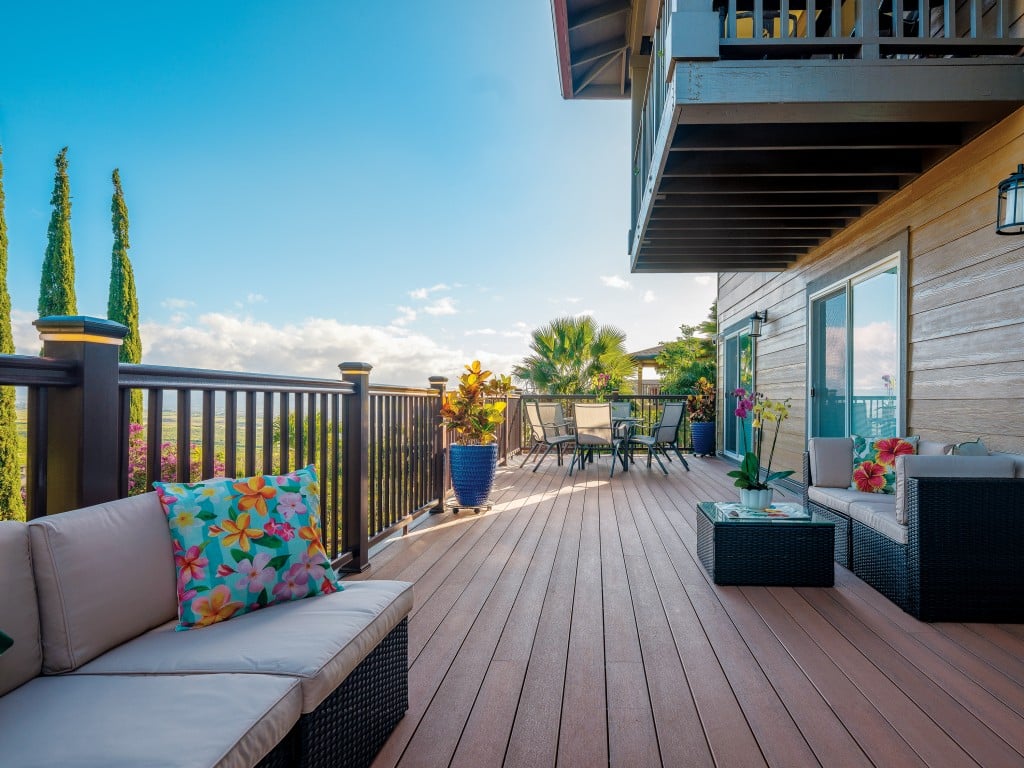 Nothing beats the view from this Makakilo home's deck. It's where the owners go to unwind, with space to lounge, barbecue and entertain. When discussing their plans, they sought out contractors and brainstormed their exact needs before relying on Structural Hawaii and Solid Built Construction Inc. to create their ideal outdoor space.
"We wanted the decking and railings to be a material that would not require as much maintenance," says one of the homeowners. It also had to be an expansive deck, large enough — 36 feet by 12 feet to be exact — to host gatherings outside and have concrete supporting posts instead of wood. To create this dream deck, Solid Built Construction Inc. used supplies from Rinell Wood Systems.
The deck itself is made with Fiberon Promenade PVC decking, so there are no composite or wood materials, says Lex Allen of Solid Built Construction Inc. It's a full plastic deck material that won't be affected by Hawaii's climate and constant moisture, adds Jason Crimmins of Rinell Wood Systems.
To give the deck a clean look, Allen and his team used Tiger Claw hidden deck fasteners, which can be used with many different decking materials including Fiberon and other grooved edge deck boards. "All guardrail posts were securely fastened through the rim boards to the joists with special Simpson Strong-Ties, which will prevent the railing from peeling off," says Allen.
The joists are covered with Nichigo G-Tape 3040BK, so water will not be able to penetrate the wood. To make the locally sourced borate-treated lumber exterior-friendly, Solid Built Construction Inc. stained and sealed
all of it.
Railings are TimberTech, a high-performance aluminum and composite that's available in many infill options to add the finishing touch to your outdoor space, shares Crimmins.
Overall, the resulting outdoor space is decked out and exactly what the homeowners hoped for. "This deck was constructed to last more than a lifetime," says Allen, and made with products he calls "forever materials."