This Hawaii Kai Kitchen Remodel is Designed in Detail
A couple returns to John Cook Kitchens for an award-winning renovation.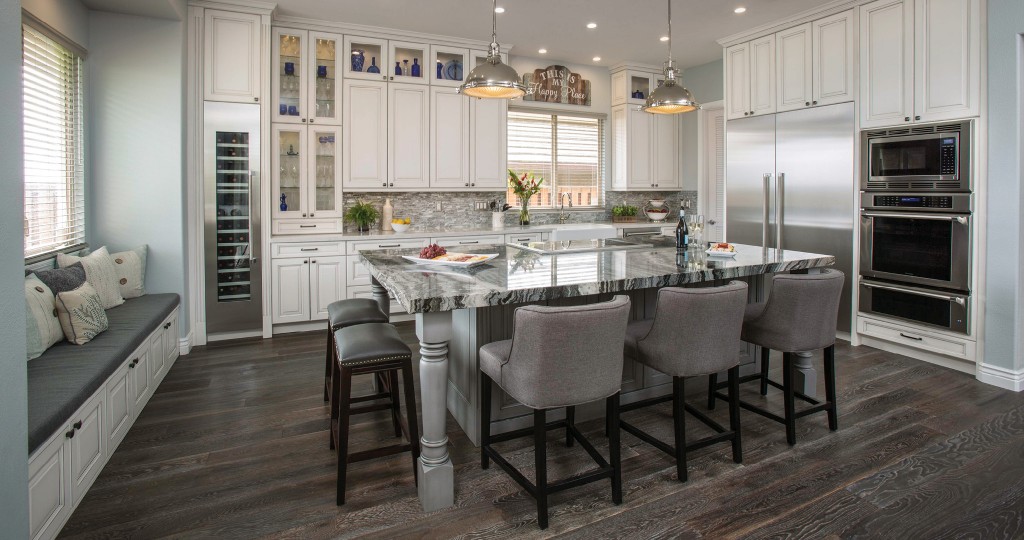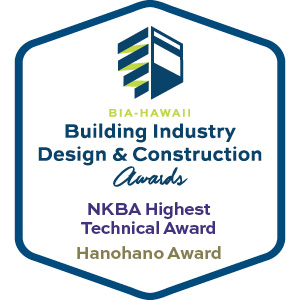 Featuring: John Cook Kitchens
When Darla and Dan Sabry bought this home in Hawaii Kai, they knew they would want the kitchen remodeled. The house was built in 2005 as part of a master-planned residential subdivision. The kitchen, which had never been updated, lacked the function, flow and elegance they desired.
The Sabrys turned to certified kitchen and bath designer Shelley Tanner of John Cook Kitchens. She had designed a kitchen and master bathroom in one of their previous homes, and they trusted her to do another phenomenal job this second time around.
"We admire that she draws the plans out by hand instead of using computer-assisted software. We find her meticulous about her work and is very patient to ensure we are completely satisfied," Darla says.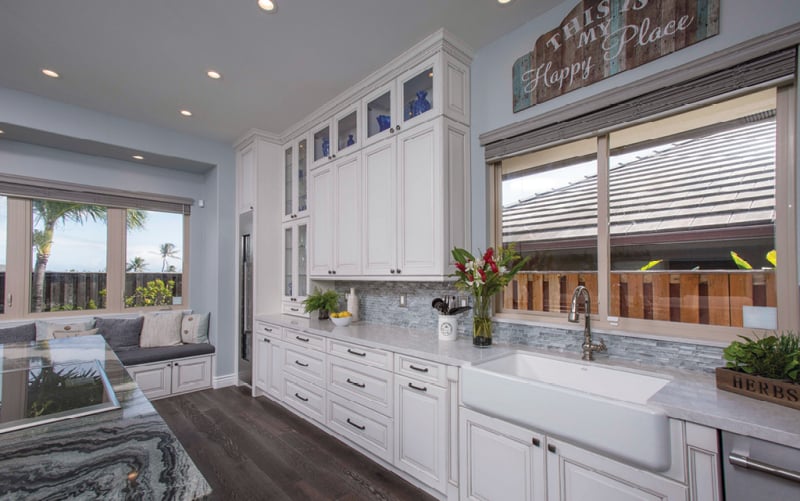 Tanner drew plans to redesign the kitchen, from layout to lighting and everything in between. Her design transformed the cookie-cutter kitchen, taking advantage of every inch of space, adding layers of custom details that enhance the aesthetic.
Having worked with the Sabrys before, Tanner knows they like the "wow factor," and opted for high-end materials and finishes with unique characteristics.
The custom cabinetry reaches the 10-foot ceiling, making a statement on both large and small scales. A closer look reveals detail on every surface and corner. Bellmont Cabinet Co.'s Briarcliff door style is the face of the cabinets on both the perimeter as well as the island. The white perimeter cabinets are painted with a nickel glaze, while the island's cabinets have an heirloom shadow dry brush finish. Fluted filler boxes mimic the detail from the cabinet doors. Undercabinet light valances illuminate the perimeter counter. There is also a valance added to the toe kick space below the sink, adding detail and interest, Tanner explains.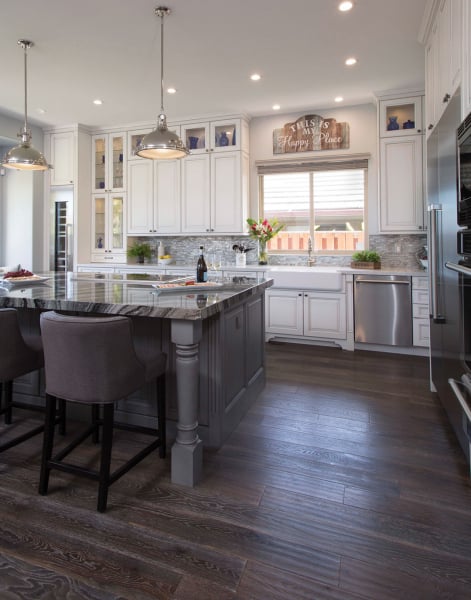 A large island is the centerpiece of the kitchen. Topped with a bold-patterned mercury black marble with 2¼-inch-thick mitered edge, it provides the Sabrys with the additional counter space they desired while serving as a focal point. The perimeter counter is quartz, much lighter in color, so as not to distract from the island. Five-inch turned posts on the seating side bring traditional style and decorative pendants in a nickel finish hang above to illuminate the space.
And Tanner made sure to improve the lighting in the kitchen, spectacularly. "I think lighting is super important," she says. In addition to the pendants and undercabinet lighting, her design called for can lighting throughout the ceiling and lights within the glass cabinets, which shine through the glass shelving to light up the Sabrys' display pieces. Even the light-switch plates are colored to match the cabinetry on the island: Little touches like that make a big difference, Tanner explains.
"The lighting is bright and 'spot on' and dimmable to create the perfect ambiance," Darla says.
"I love this kitchen. I'd probably do this in my own house."
-Shelley Tanner, John Cook Kitchens
Professional stainless steel Thermador appliances give the Sabrys the high-performance they were seeking to cook for themselves and while entertaining guests. "The appliances are awesome, making it a joy to cook again," Dan says. Even cleaning up brings him and Darla joy. "Believe it or not, we get excited about doing dishes because the dishwasher is so incredibly awesome. It is silent, has a countdown timer projecting onto the floor, and even has a built-in water softener, making everything sparkle like we've never seen before."
The kitchen has become the Sabrys' "happy place," and others are fond of it, as well. The kitchen won the NKBA's Highest Technical Award as well as a Hanohano Award in the 2018 Building Industry Design & Construction Awards.
"I love this kitchen. I'd probably do this in my own house," Tanner says. "This kitchen is cozy, it's homey, it makes you want to get in there and cook a bunch of fantastic meals – especially with those great appliances."
Since completing the kitchen renovation, Tanner also designed a renovation for the Sabrys' master bathroom. "We feel that she is good-hearted, generous and truly cares about her clients. This is why we have returned to her over and over again, and will hire her for any future projects," Dan says.
Where to get it:
Appliances: Thermador 18-inch wine column; 30-inch refrigerator column; 24-inch freezer column with internal ice maker; 30-in. Masterpiece triple combo built-in convection microwave, convection oven, warmer and two full exterior racks; 36-inch Freedom induction cooktop; 36-inch Masterpiece downdraft; Star Sapphire six-cycle dishwasher with star mode. Available from Servco Home & Appliance Distribution through John Cook Kitchens.
Cabinetry: Bellmont Cabinet Co. door style Briarcliff; perimeter finish in MDF Core white paint with nickel glaze; island finish in heirloom shadow dry brush; from John Cook Kitchens.
Countertops: Perimeter LG quartz from Viatera collection in quartet; island polished mercury black marble.