This Home's Outdoor Space is Completely Decked Out
A renewed deck is cause for celebration for this Oahu family.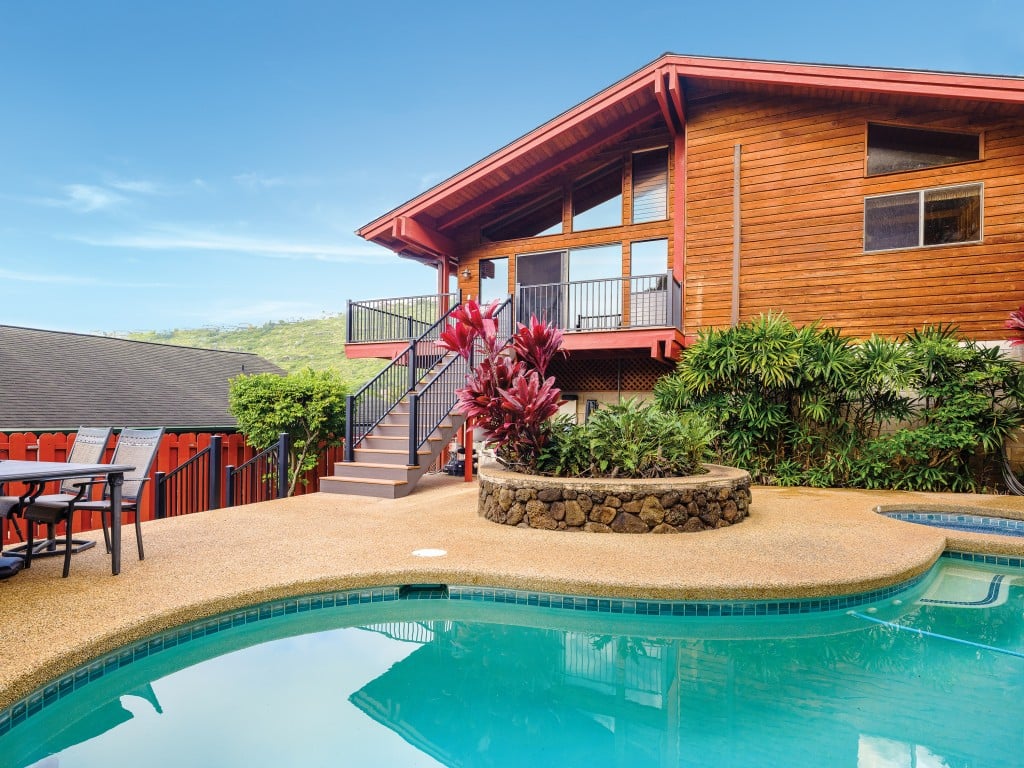 For some, decks are where homeowners spend most of their time. Whether they have a pool, prefer to sip their morning coffee out in the sun or enjoy watching the sunset, decks are an important and lovable home feature to have.
The deck on this Aina Haina home was recently brought back to life. Before that, it had been deemed unsafe, left untouched by the homeowners and their kids. "If you stepped on a deck board, you could possibly fall through," shares Adamm Bird of Marcus Construction Services. "It was in pretty bad shape."
With the deck and stairs hanging by a thread — or rather, zip ties — Bird rallied his team and gathered supplies from Rinell Wood Systems to revive this home's outdoor space.
"The homeowners wanted a safe and operable deck that they could use," says Bird. A lot of the work was updating the existing deck. Bird and the homeowners talked about different colors, patterns and rail material, ultimately deciding to go with black aluminum rails to match the existing aluminum doors and windows.
"There was more work involved to restructure the beams and add additional joist support," explains Bird. "Once we took off the existing decking, we found way more damage done to the existing beams." After adding more blocking for the new decking patterns and handrail layout, Bird added Nichigo G-Tape Acrylic Flashing Tape 3040 Series to all surfaces prior to installing the deck. "This was to ensure the family would not have any more water rot damage in the future," says Bird.
For decking material, Bird went with TimberTech AZEK decking from the Vintage Collection, in mahogany, available at Rinell Wood Systems, to match the existing stained shiplap siding color. "We spent way more time on this project but made sure to really improve the quality and craftsmanship," says Bird.
Because the whole deck wraps around the home, the children, whose bedrooms are next to each other, share a portion of the deck. Bird made sure to complete their side first, including handrails. "I wanted to make sure that their deck was safe and ready for use," he says.
After many rainy days during construction, this deck project is complete and the owners can happily step out and enjoy their home's latest restoration. "The homeowners kept mentioning how they had no idea that the finished product was going to look that nice," says Bird.
Now, the kids can attend their virtual classes on the deck and the family is able to enjoy their afternoons outdoors.
"The owners' dream was to walk out on the deck in the morning to have coffee or breakfast, which they are able to do now," says Bird.