This Island Home has a Hidden Garden Oasis
An enchanting garden courtyard is brought to life.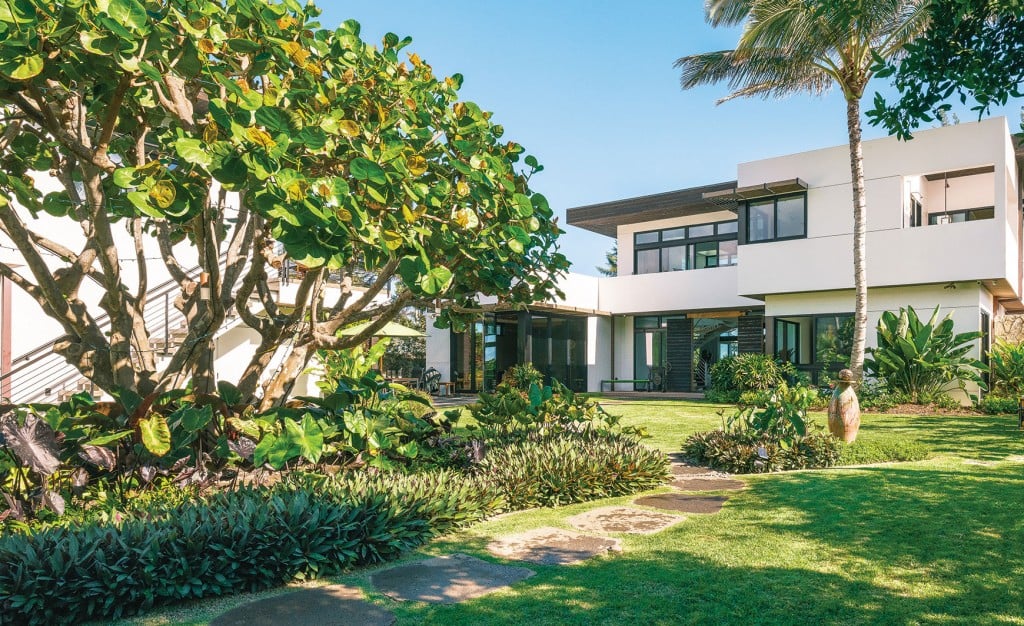 When you step into this lush garden, you are immediately immersed in the sights and soft sounds of nature, from the vibrant greenery to the occasional chirping bird. The roars from the nearby beach and busy streets all but disappear. It's exactly what the owners had intended when they set their sights on creating an outdoor sanctuary at their new home on the Windward Side.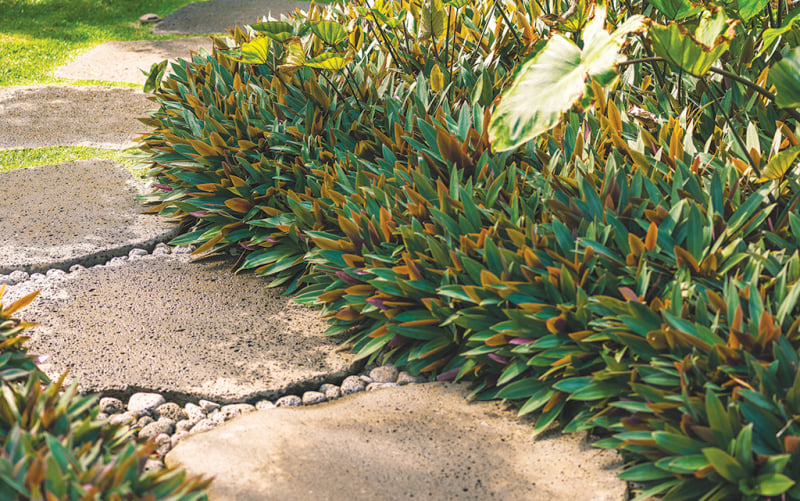 While their home — which was designed and built by Dan O'Sullivan Construction and MASON — was under construction, the owners hired Steve Dewald of Steve's Gardening Service to put together their garden oasis, utilizing designs from landscape architect Loriann Gordon.
"Both Steve and Loriann gave us great help," says the wife. Both her and her husband were involved in the whole process, from start to finish, especially with plant selection.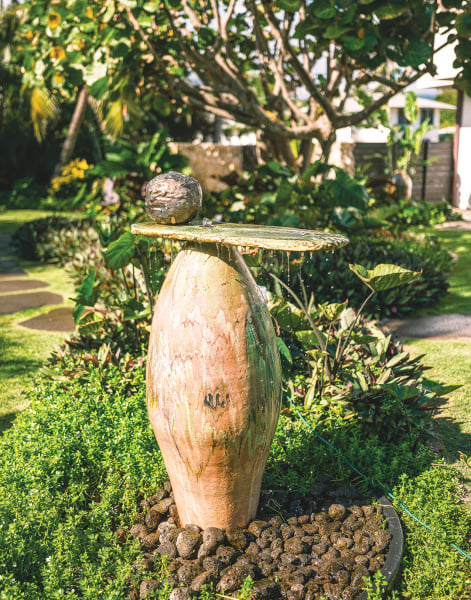 The verdant garden celebrates its location, echoing vibrant green colors and tropical foliage, all picked by the homeowners. "I like things to feel real and a part of nature," says the wife.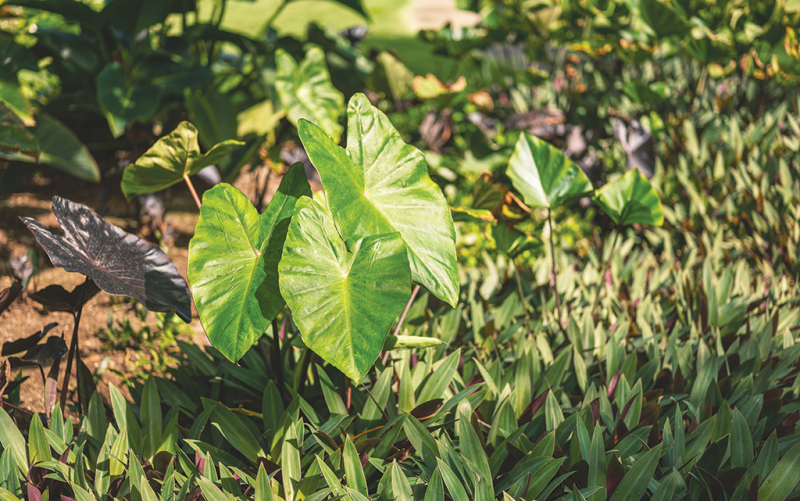 Pavers lead you through the garden that's designed to have separate areas, from the yard and lanai with outdoor seating to the outdoor showers in the back. Custom art pieces made by the wife, a professional ceramic artist and sculptor, are treasures discovered along the way, like the bird bath in the center.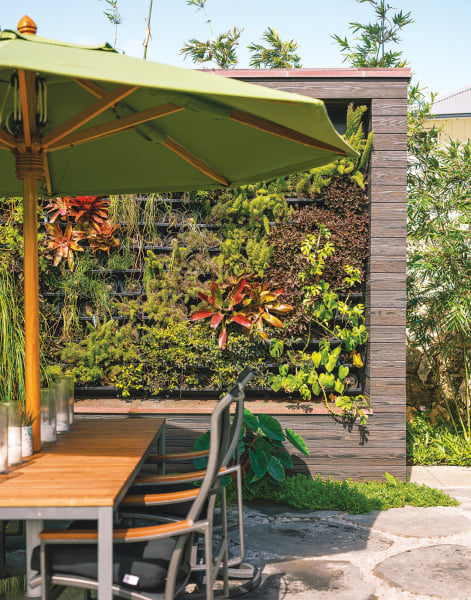 Steve's Gardening Service used a lot of organic materials, along with a drip irrigation system for the property to be more water-conscious and a full set of LED lights from Beachside Lighting. The overall design featured an intricate set of plans and a lot of custom touches, shares Dewald, making it a truly unique project.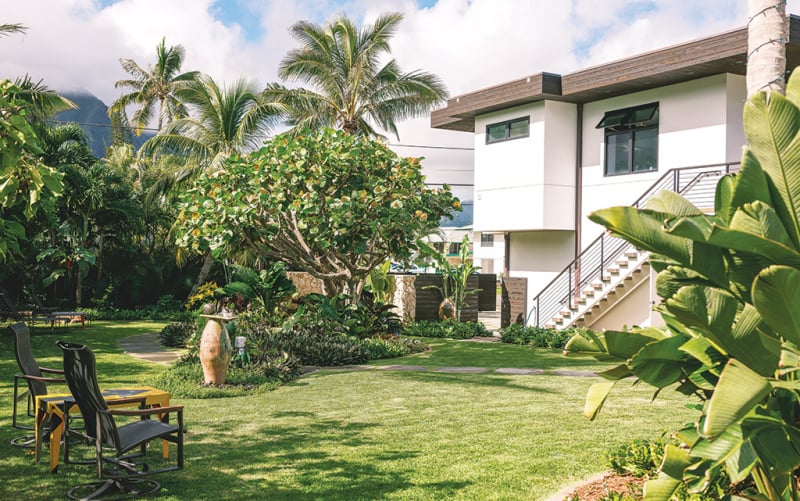 Between the guest house and main house is an outdoor lanai and dining area where the homeowners can enjoy meals together or entertain outside. A living wall — which features plants that the couple and their daughter hand-selected — is there too, for privacy and aesthetics. "It looks gorgeous," says Dewald, who helped set it up with his team.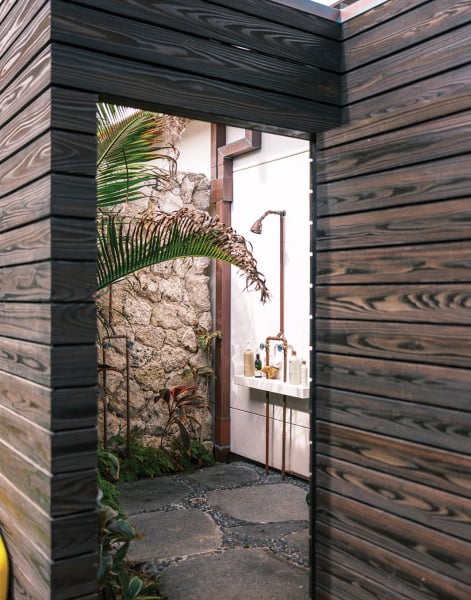 The intimate yet inviting garden allows the couple to really disconnect from the outside world and reconnect with their loved ones. "[I love that] I can feel completely separated from the rest of the world in the garden," says the wife.
Adds the husband: "I love sitting in the outdoor dining room, looking into the yard at dusk, watching it get dark and the landscape lights come on and the last of the birds disappear. It's very peaceful."