This Koolau Kitchen is Designed to Bring Family Together
Homeowners Design Center revisits a redesign after 30 years to update it for entertaining.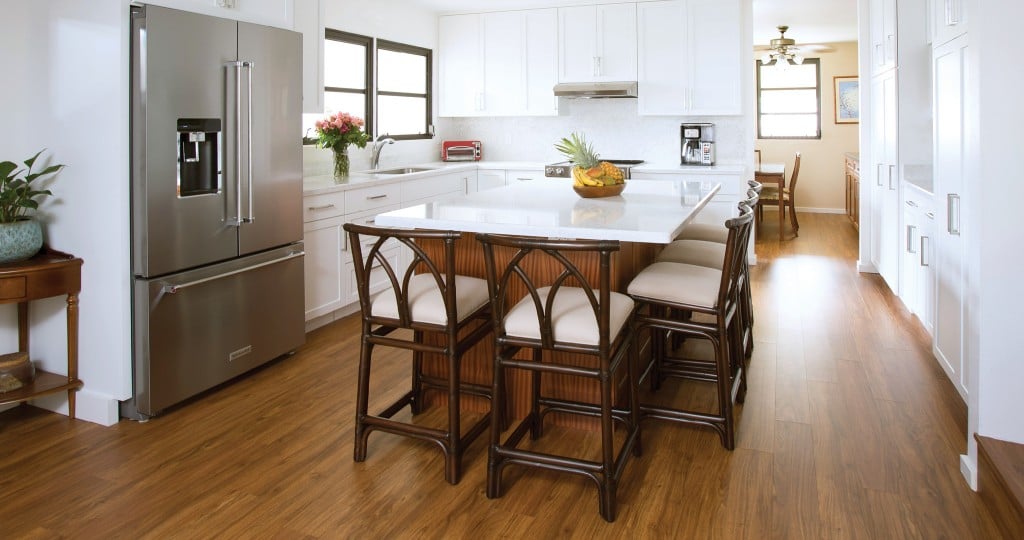 Featuring: Homeowners Design Center
The verdant scene of the Koolau mountain range paints the backdrop for Gwen and Joel Matsunaga's three-story family home. "Where we live, we just have a beautiful view of the Koolaus — and I just love that view," gushes Gwen Matsunaga.
The couple bought their Kaneohe home three decades ago when they were planning to start a family. Although the 1970s-era house had a picture-perfect setting, it needed a renovation. The traditional layout of compartmentalized rooms made it difficult to entertain.
Upon moving in, the Matsunagas gave their kitchen a light update, but always wished they could have done more. "It would have been nice to take down walls and do other things back then, but we had just purchased the home and started our family," shares Matsunaga. "It was a matter of doing what we could handle at the time."
Now retired and with their children all grown, they entertained the idea of renovating their home a second time. "For us, family is very important. It's the priority in our life and we just wanted the house to be really open so that we can always have family over," says Matsunaga.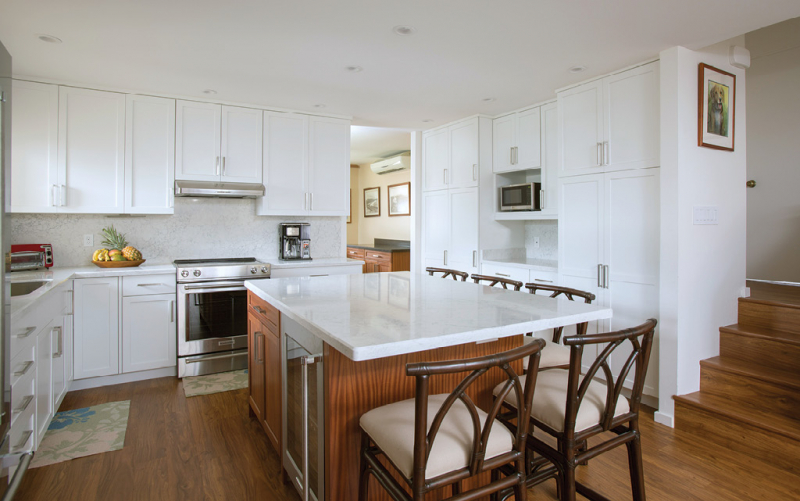 Pleased with their kitchen refresh by Homeowners Design Center, it was only natural for the couple to entrust the Honolulu design firm once again.
"I think they had a better idea of how they wanted to change the space from when they did the first remodel 30 years ago and what they could do now," says Jessica Omoto of Homeowners Design Center.
This time around, the couple was able to get everything they wanted, including an open-concept kitchen to comfortably entertain family and friends.
"The nice thing about open concept is that you are able to have space for entertaining," says Omoto. With an open-concept kitchen, "everybody is able to interact and be a part of the conversation and participate, even if you're cooking and prepping, which a lot of times, that's what we do with our families," adds Omoto. "That's probably one of the great things about it."
An island equipped with a beverage center — both of which are favorite features of the Matsunagas — anchors the design of the kitchen. Paired with the counter-depth refrigerator, the beverage center is a great feature for entertaining, says Omoto.
White floor-to-ceiling cabinets include internal accessories, such as rollout trays, drawers and a concealed microwave. "All these accessories maximize the cabinets," Omoto says.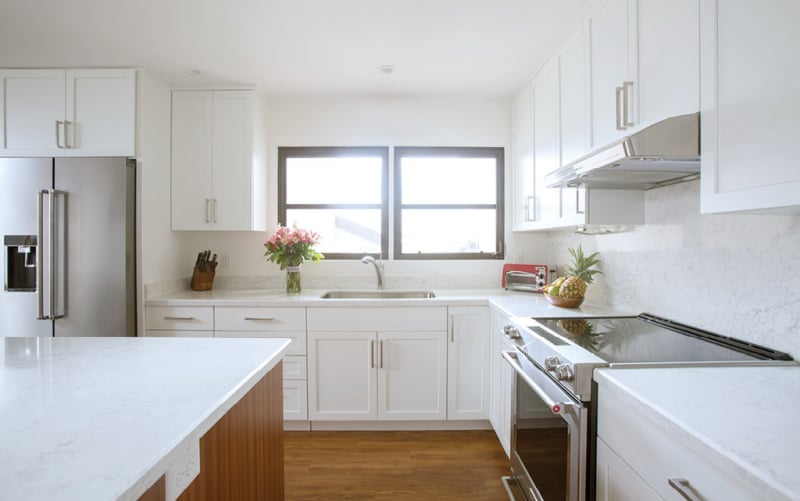 The white cabinetry makes the Matsunagas' kitchen appear larger and cleaner. The look is balanced with darker flooring, a luxury vinyl tile. "We really love it because it's so easy to maintain, and the planks have a bevel on it, so it actually looks like real wood, but it's not," says Matsunaga.
Considering their deep love for natural wood, koa in particular, this was a major plus for the homeowners. Wood elements can be found throughout their home, from the koa coffee table and floating shelves in the living room to the mahogany dining table and custom-made buffet table with woodlike cabinetry in the dining area.
"We felt really blessed with this whole project, with the people we interfaced with," says Matsunaga. "And Jessica was awesome to work with … she's so detail-oriented — she's right on it."
Where To Get It
Appliances: KitchenAid counter-depth refrigerator, stove and beverage center; and Broan stove exhaust, owner furnished
Cabinetry: DuraSupreme in maple wood with white paint for the main kitchen; Canyon Creek Co. Millennia in sapele wood with dune stain for the kitchen island and dining room buffet table cabinets, from Homeowners Design Center
Countertops and backsplash: LG Viatera in karis for the kitchen; Silestone in dreis for the dining room buffet table, from Homeowners Design Center
Counter Stools: Arches III Counter Stool, from C.S. Wo & Sons
Flooring: Armstrong Luxe Plank in tropical oak natural, from Homeowners Design Center