This Mililani Mauka Home is Made to be Accessible and Stylish
A universally designed abode with style to spare.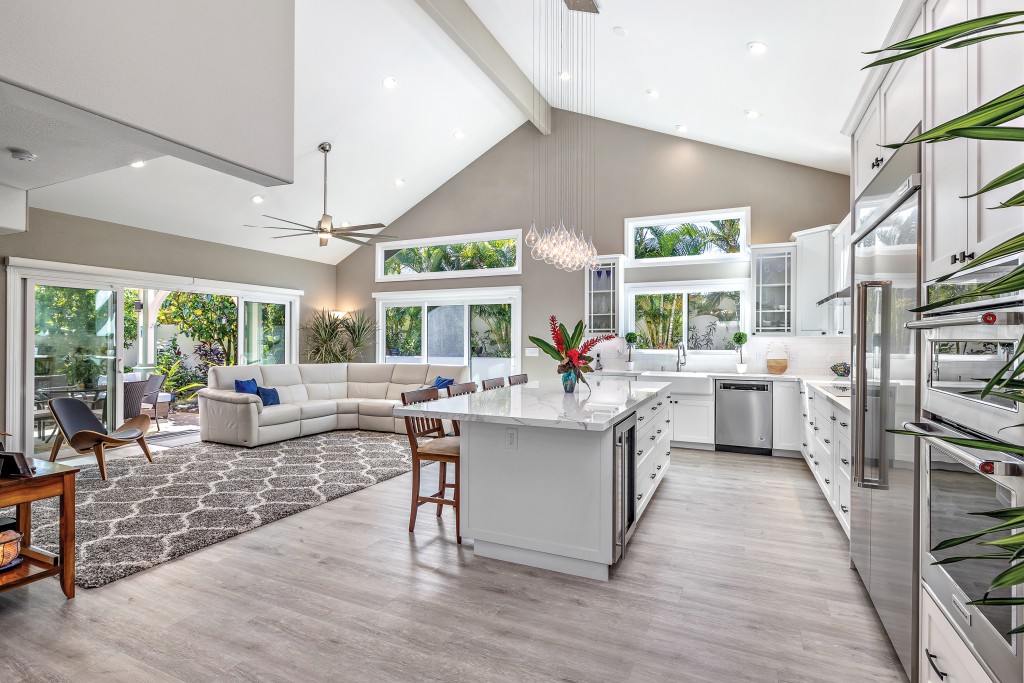 With their son all grown up and moved out, Chris and Karla Voss were eager to change things up at home. Instead of downsizing somewhere else, these empty nesters chose to renovate their Mililani Mauka house to fit their needs as they age and to remain close to friends and family.
Through recommendations and their own research, the couple reached out to David Nadolney of Open Concept Designs. "They wanted to age in place in their home and at the same time the style inside was outdated," says Nadolney.
On their wish-list of items was a master suite on the first floor of the home so they wouldn't have to use the stairs so much.
"Prior to our meeting with David we had discussed in detail our ideas on how we could remodel our home to add a downstairs master bedroom and en suite bath. Our desire was to not do an addition that looked like it didn't belong, but rather to preserve the beauty of the home's design and appearance," shares Chris. "We also wanted our addition to include a vaulted ceiling to match the original ceiling, which was vaulted."
Adds Karla: "Our other main goal was having lots of light and access to our yard, as we enjoy its beautiful landscaping. We wanted the outdoors to be viewed from every room. This meant oversized sliding doors on every single wall, as well as transom windows."
Open Concept Designs redesigned the floor plan to accommodate an almost 1,000-square-foot addition, which extends to the outdoor area and includes vaulted ceilings to blend in. The kitchen and family room were relocated to this space; in the family room's former area is the new master suite. To unify the ground level, the sunken living area was made the same height as the rest of the room. For an even more seamless look, the master bedroom, kitchen and living, dining and family rooms have new COREtec Plus flooring.
A new outdoor living space was included in the design as well. "We love our outdoor space, with a sitting and dining area under the pergola, as well as lush, vibrant landscaping throughout the yard," shares Chris.
The windows were replaced with Milgard Tuscany Series double insulated Energy Star ones and transom windows were put in the family room and kitchen, bringing in more natural light and allowing for a clear view of the backyard.
"David was an integral part of helping us pick out our materials, finishes, and [he] was fundamental in understanding what we wanted and bringing that design to fruition. His vision was beyond the scope of anything we could have imagined," says Karla.
The new open-concept kitchen features a giant center island with cascading teardrop-shaped lights. "It makes the room — it has that wow factor," says Nadolney. Custom white cabinets by Pacific Coast Cabinetry have soft-close drawers and those by the sink have a custom divided lite glass door accent. The countertops are Dekton in olimpo, a white-gray marbled design.
For the backsplash, white thassos marble was used and displayed in a herringbone pattern above the stove for design interest. Nadolney also placed transom windows above the cooktop to let more light into the house.
The master suite includes a bedroom with a wide doorway, two closets — a regular one and a walk-in closet — an en suite bath with a large walk-in shower and double vanity, and sliding doors that lead out to the backyard patio.
"The master bathroom is very large with two sinks, a giant walk-in shower and a separate toilet room," shares Chris. "David also made sure everything is ADA friendly."
The home's new user-friendly design is exactly what the homeowners envisioned — and they didn't have to sacrifice style to achieve it. "I'd describe it as really the perfect multigenerational home," says Karla, with five bedrooms upstairs and a new master bedroom downstairs. Despite its large size, she says, "it still manages to feel perfect for the two of us as empty nesters."
Adds Chris: "I absolutely love that we didn't have to leave our desired location or wonderful neighbors, and yet still got our 'single story' floor plan that we wanted. David's design blew me away, and after living in the remodel for a year, there hasn't been a day that I haven't thought about how much I love this house."