This North Shore Country Home is Long-lasting and Low Maintenance
Atlas Construction transforms an overgrown plot of land in Pupukea into one family's dream home.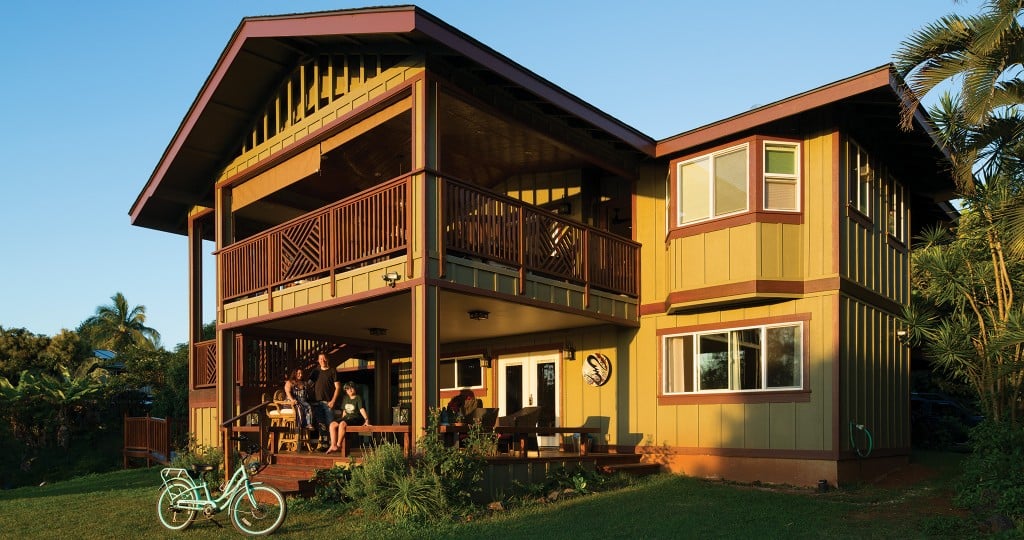 Just five minutes away from the rolling blue waters of the North Shore and the energetic commotion along Kamehameha Highway, a two-story plantation style home sits peacefully secluded on 1.14 acres of verdant land.
Several years ago, Nicole Nestel and her husband, Andrew Cuniberti, had their hearts set on living in Pupukea. It was a letdown when they couldn't find properties in their price range.
Then they came across a plot of land in the neighborhood that had been untouched for years. "It was a jungle," says Nestel, noting it was overgrown with trees. But it had potential.
They bought the lot five years ago with plans to have their home built on it. They even had a design in mind, inspired by a property they had previously seen.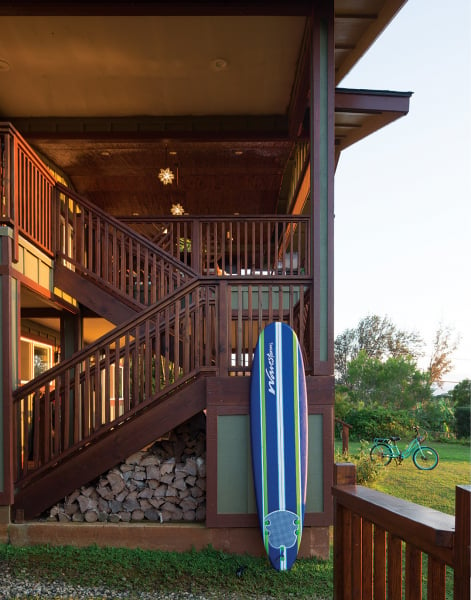 The couple trusted Atlas Construction with building their home, after the company clearly presented a plan of how they'd organize and accomplish the project.
"We consider it an honor that they selected us and gave us the privilege to build their home," says Nathan Park, project coordinator and design consultant. "We're a family company. We treat everybody like family."
"They were very upfront and open from the beginning," says Cuniberti. "They listened to us, too. Some of the companies were like, 'I'll build you a house. Let me tell you what you want.' We were like, 'No, no, no. We have a floor plan. We know what we want.'"
Park worked closely with Nestel and Cuniberti to come up with a plan that fit their needs and budget. After finalizing the designs, Atlas Construction cleared the lot and started to build.
And now, after moving in with their 10-year-old son, Luca, and three cats, the family is completely in love with their home.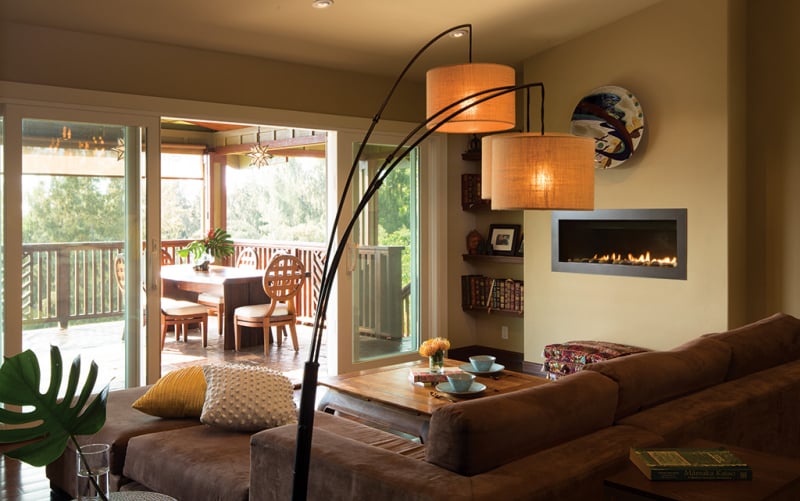 "I'm really proud that we're able to build a home for the family, but also, I'm proud that we're able to put a nice structured home in the community," says Atlas Construction vice president Rodney Kim.
The family mainly lives on the second floor of the home, while the ground floor is guest quarters.
"What I wanted is to have a lot of different nooks and spaces that people could have their own areas but yet still foster a sense of community," says Nestel.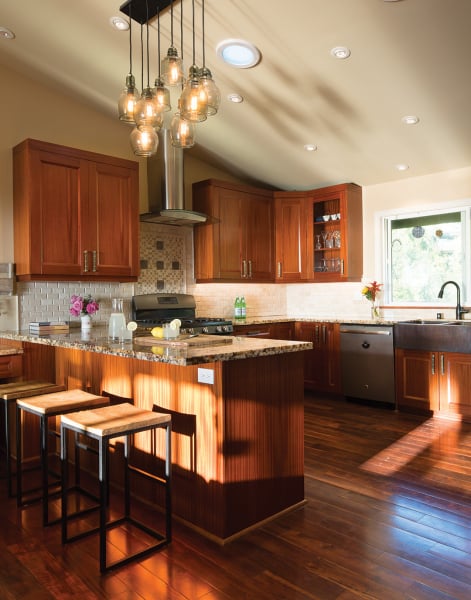 The living room is a multifunctional living area. "We do everything in here," says Nestel. "We often have dinner around the coffee table. At night, we like to read here, hang out or do puzzles."
From the deck—and the kitchen, too, where Cuniberti is king—are gorgeous views of Mount Kaala and the ocean.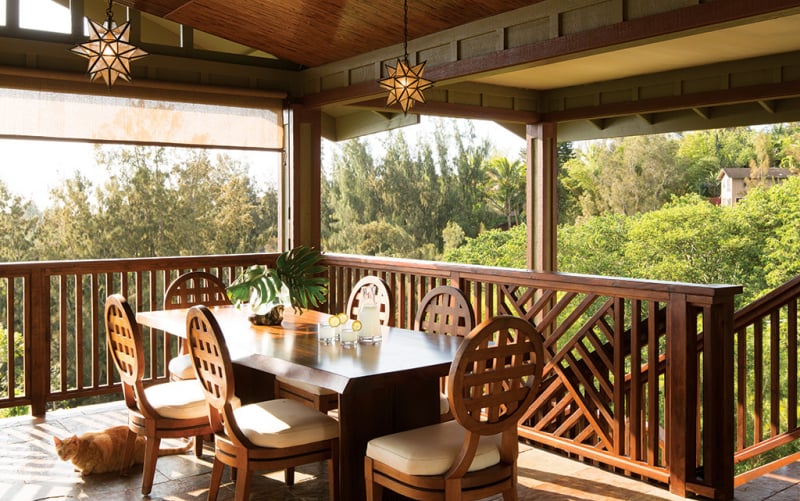 Nestel especially loves the master bathroom, where she can gaze out onto the property from the window above the tub.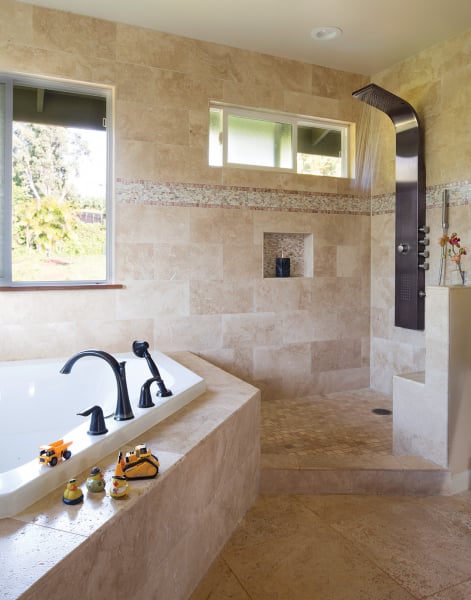 What is now used as an office space was initially built for Nestel's father while he was staying with them. They wanted him to be comfortable, so some features in the home were geared toward aging in place, such as wide doorways and hallways. The bathroom has a built-in bench.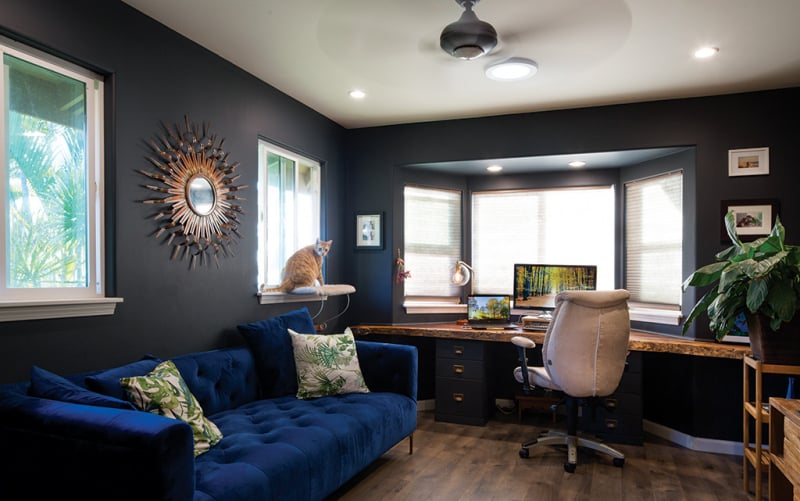 "He passed away but there is a lot of his spirit," Nestel says. "He was here for almost all of the build; he had a ton of input and he really loved it here."
Overall, the family is pleased with their home, which will serve them well for years. "We love how solidly it's built," says Nestel. "It's just very good quality and craftsmanship all-around. We're really happy with it."
"Every time we build a home, we build it to be long-lasting, very low maintenance," says design consultant Joshua Vasconcellos. "We try to go out of our way to really provide for our families with something that, although we build it today, it's really for their future. It's a generational home."