This Open-concept Kahala Kitchen is Designed Around a Unique Island
An architect, designer and homeowner come together to create an airy kitchen where the island takes center stage.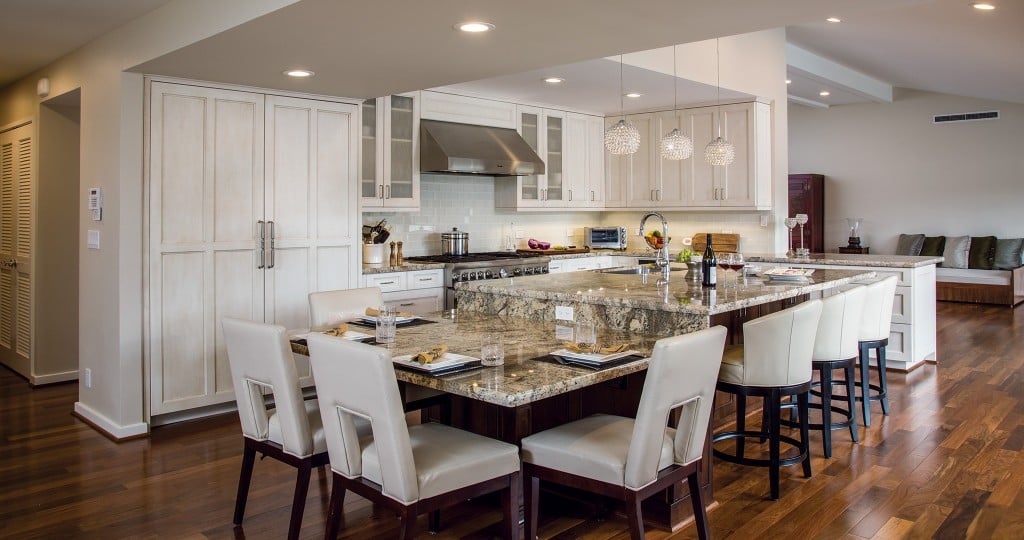 When kitchens are transformed into open-concept spaces, islands take the stage. In this modern Kahala kitchen, a huge island commands the space with a multilevel granite counter that serves as a bar and dining area for the family. A large stainless-steel sink anchors the piece, which is equipped with smart storage solutions below and illuminated by a trio of glittering pendant lights above.
Shelley Tanner, a seasoned designer for John Cook Kitchens, worked closely with architect Kathleen Saito to finalize the kitchen's details once Saito drafted the architectural drawings. "I added my kitchen expertise to fine-tune Kathleen's layout and make recommendations on the color selections," says Tanner. "We collaborated on ideas since Kathleen is always very involved with selecting materials."
The original kitchen was outdated with flat maple-colored veneer cabinet doors and a narrow walkway that created a galley feel, despite the fact that the space opened into the room beyond. Saito completely reimagined the interior floor plan of the home, swapping the placement of the existing family room with the new kitchen and carving a laundry and pantry room out of a former bedroom.
"The previous kitchen had small walkways, less counter space and less storage," notes Tanner. "Overall it lacked pizazz and character." Tanner's technical skills and suggestions enhanced Saito's design and layout, and injected custom details better suited for the homeowner who loves to bake and entertain.
The current kitchen nearly doubled in size with an L-shaped perimeter and features a huge island with a 36-inch-high bartop and attached 30-inch-high table that can seat four diners. Says the homeowner: "The built-in dining room table is where our family congregates. We eat most of our meals here and our guests can relax in the kitchen when I'm cooking and entertaining."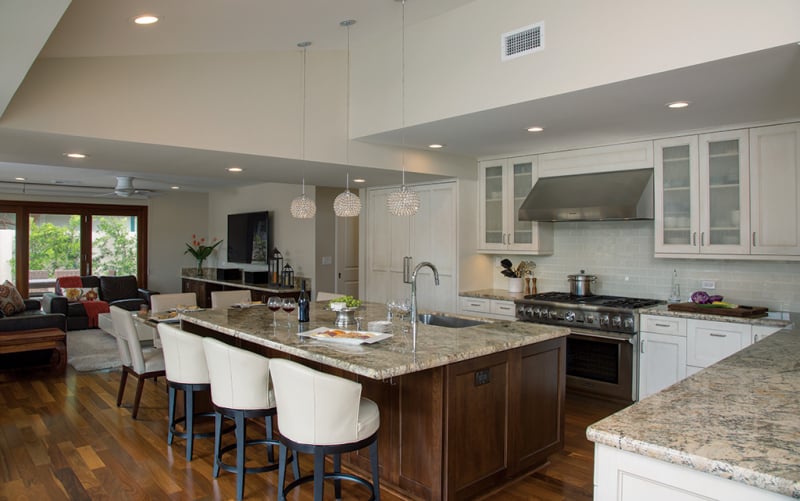 Beneath the kitchen's sleek exterior lies a lot of baking power. The homeowner, an avid baker, loves her new Thermador gas range from Pacific Sales. "Shelley made sure I had a place for all my dishes, baking racks and sheets," notes the homeowner. "I even have a pop-up for my KitchenAid!"
Saito's enlarged kitchen layout added counter space, storage and larger work areas and walkways that allowed Tanner to customize the kitchen with plenty of drawers and rollouts including a super Susan, tiered utensil trays, two-bin trash drawer, a built-in wooden knife block and vertical tray storage. Hidden behind the shaker-style white cabinet doors are a 24-inch dishwasher and 30-inch refrigerator and freezer columns.
Tanner selected cabinets manufactured by the Bellmont Cabinet Company in an Heirloom dry brush paint finish. The Heirloom finish is a tedious process that involves applying a second tint or glaze color wash over the surface of the base paint color to provide a contrasting finely "streaked" antique appearance. For the centerpiece island, Tanner chose a cherry wood with a French Roast stain color. This same door style and wood material were used in the living area's built-in desk and bar, the formal dining room's buffet and the living area's entertainment center.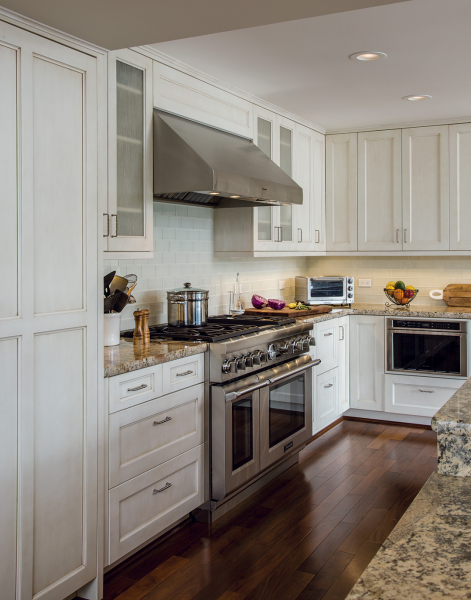 The neighboring laundry and pantry rooms use the same cherry wood and color on a flat-style wood veneer door, maintaining a stylistic consistency throughout the single-story home. "This type of quality woodwork and finish make the cabinetry resemble furniture," says Tanner, noting the wooden legs supporting the island's dining table.
The beauty of this kitchen lies in its architectural details. The transitions of the ceiling, the subtle touches of bling found in the pendant lighting, glass backsplash and oyster-colored Lumicor inserts in some doors tie together the home's total renovation and the homeowners' unique style. "Kathleen and Shelley did an excellent job blending together this second phase of renovations with the work we had done years earlier," says the homeowner. "But our favorite compliments revolve around that island: Everyone is blown away by the size of the island and love the kitchen's open concept."
Where To Get It
Range: Thermador 48" Professional Series Pro Grand Commercial Depth Dual Fuel Steam Range with griddle
Dishwasher: Thermador Sapphire Dishwasher 24"
Cabinets: Bellmont Cabinet Company 1900 series cabinets in a Highland door style; the perimeter has an Heirloom dry brush paint finish in the color "Veil"
Sink: Franke Orca Large Stainless Steel sink, ORX110 series
About the Designer
Shelley Tanner has been working in the design space for nearly 25 years and celebrated 21 years with John Cook Kitchens in June. She loves that her profession allows her to be creative and technical. A self-proclaimed old-school designer, Tanner provides her clients with detailed hand-drafts of her designs, capturing measurements to one-sixteenth of an inch. A master space planner, Tanner's clients rely on her creative guidance from start to finish.