This Outdoor Patio was Transformed into a Versatile, Lively Retreat
Greenery, lighting and creative furnishings elevate this condo's outdoor space.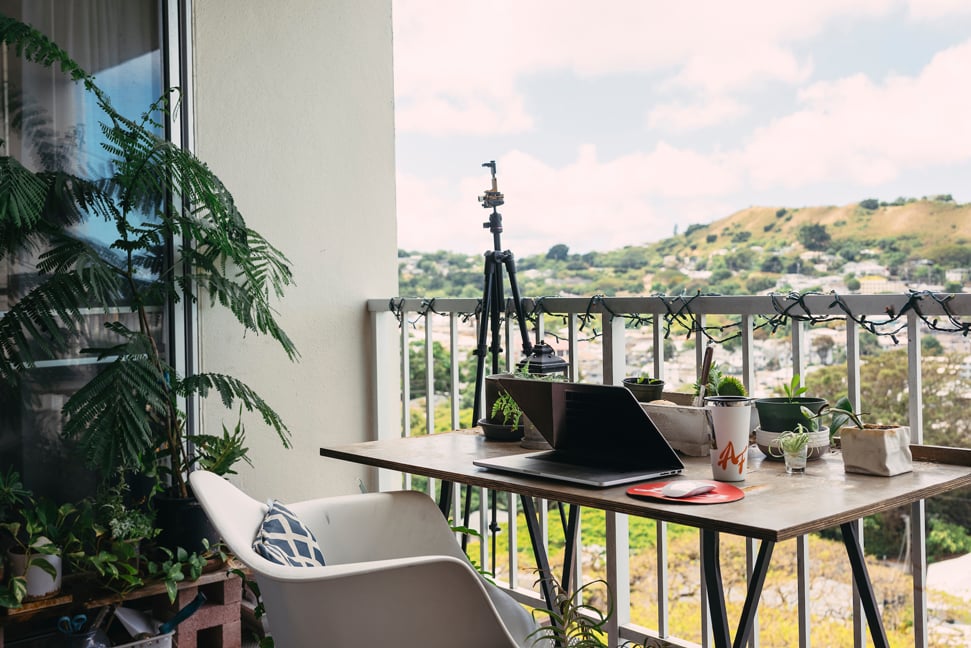 With an impressive view, abundance of greenery and innovative use of lighting and furnishings, this Honolulu condo's outdoor patio has become a lively oasis and flexible space for the homeowners to use day or night.
"Our lanai is a lot of things for us," shares homeowner Aaron K. Yoshino. He and his fiancée use the space to store their bikes, exercise, grow seasonal vegetables and share meals together. The overall design of the condo allows for effective cross ventilation, letting in cool breezes while the homeowners enjoy the view. Since sheltering in place, the outdoor patio's functions have expanded. "It has also become an office, a place to make Zoom calls, and a space to take a break during the day," he shares.
On gorgeous summer nights, an outdoor patio, lanai or balcony can be the perfect escape from the hustle and bustle of daily life. See how the homeowners make the most of this small 9-by-12-foot space, and how you can do the same at your place.
Don't Go Overboard
Remember that when dealing with limited space, it's best to not overwhelm it with oversized purchases. Make sure to mix and match furnishings, plants and décor, and to use your space horizontally and vertically, by adding shelves and hanging items from the ceiling, if possible.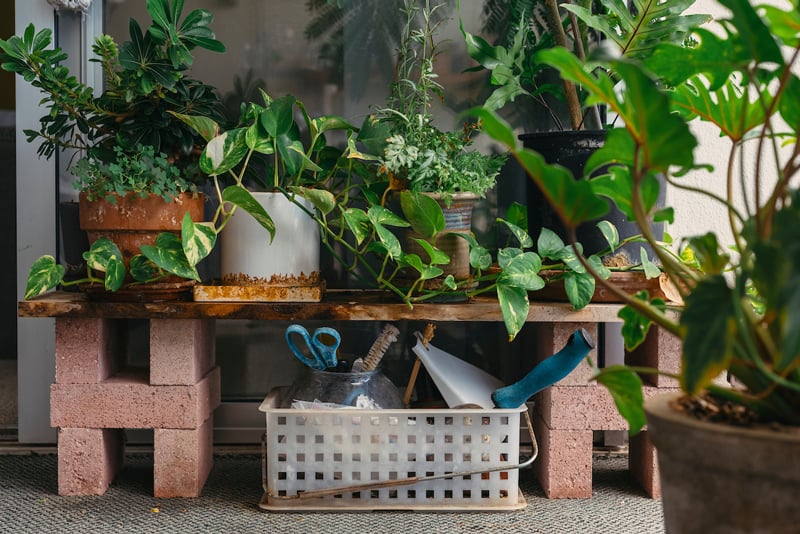 Thrive with Plants
The power of plants can do wonders for both indoor and outdoor spaces. Not only will it boost the overall appeal and look, but it can also help to improve your mood. "Psychological studies have shown that green things in your living space can help to alleviate stress. It certainly works for us," says Yoshino.
The plants on Yoshino's patio range from adorable succulents and air plants, above, to viney pothos and tall fern, below — all of which were purchased locally, including seeds from Fukuda Seed Store. "We keep plants up here because our little green friends make us happy, and there are places to sit on the ground next to the railing and relax under our plants," Yoshino says.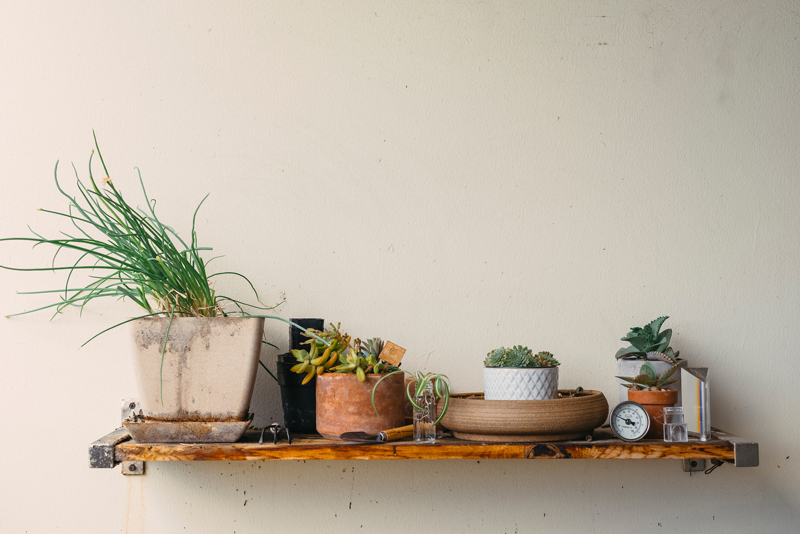 All of these houseplants are easy to maintain and perfect for the weather conditions. "From winter to springtime we get direct sunlight in here (we face southwest), so we can catch a little sun," says Yoshino. "When the trade winds are active, we have a nice breeze. It's basically a space to relax in and enjoy the view."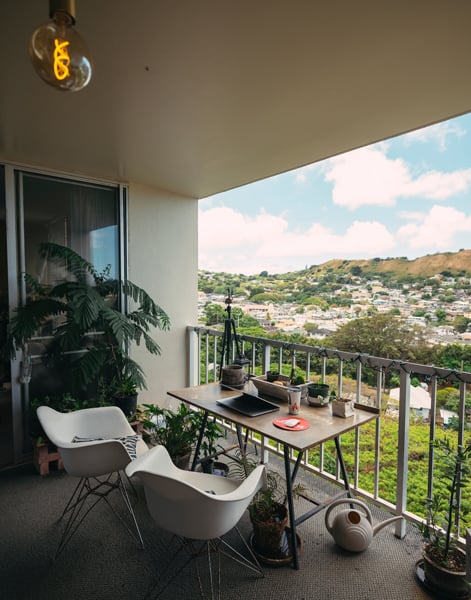 Style with a Mix of New, Repurposed Furnishings
One of the cons of utilizing your outdoor space for dining or working is that furnishings can be destroyed or faded under direct sunlight — that's why it's important to work with what you have or purchase more durable items. "We assume everything up here will eventually succumb to Hawaii's intense sun," shares Yoshino, who was able to repurpose IKEA shelf brackets and take a piece of wood from City Mill to create shelving for his plants. The table — used for cooking, eating and working — was a piece of plywood from City Mill that Yoshino stained gray and attached a set of table legs to. "We like simple midcentury modern furniture, so we added the Eames-style bucket chairs," he adds.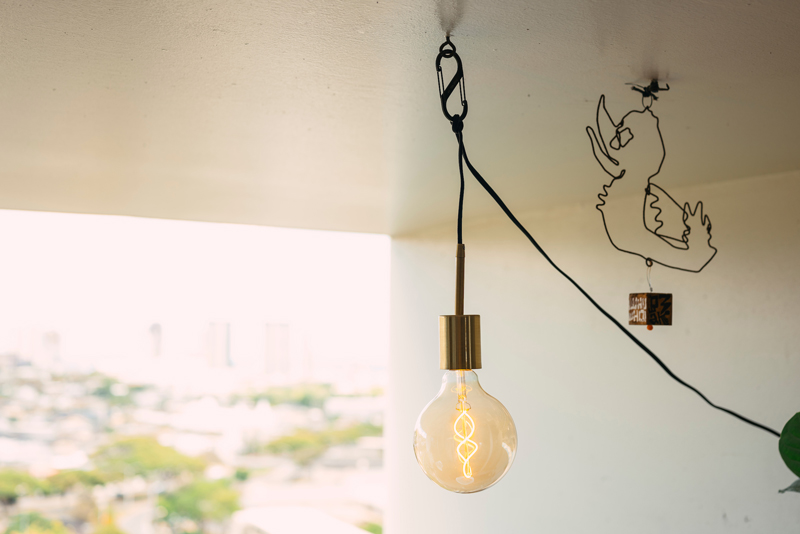 Add Purposeful Lighting
Lighting can be the star of your space — impacting the atmosphere, turning it from a suitable work environment during the day to a cozy, intimate spot at night. "In living spaces like the lanai, we chose a warmer, dimmer light source," shares Yoshino. "It feels cozier to us, and because it is dim, you do not see how small the space really is at night."
Yoshino added an oversized LED filament-based bulb that he says "looks like one of those old-timey Edison bulbs. I just fixed it to an eyelet in our [concrete] ceiling with a carabiner, so it's easily removable if it gets windy."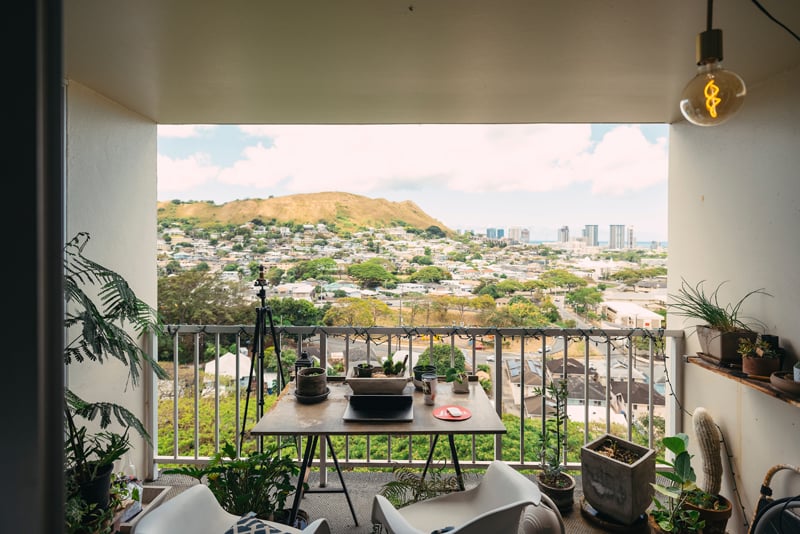 These simple, affordable switches helped create a charming sanctuary for the couple to use whichever way they want — to work separately or enjoy together. "Working from home and sheltering in place is taxing for all of us I think," says Yoshino. "But making small changes to improve your living space feels like 'progress,' and in a time when so much is at a standstill and beyond our control it can be extra rewarding to take the time to improve your own space and effect some changes in a way that is positive. And all of that effort ends up making your space at home even more enjoyable to be in, so it's a win-win."
Lately, Yoshino and his fiancée have enjoyed spending their days outside for work and leisure and nights cooking shabu-shabu and nabe (hot pot), appreciating the breezes and view. "Having a space that helps to keep us happy, healthy and productive is incredibly important to us, especially now," says Yoshino. "It has definitely made our lives much, much better."