This Tiny Home in Hawaii is Cleverly Designed
This accessory dwelling unit is home 'suite' home for two.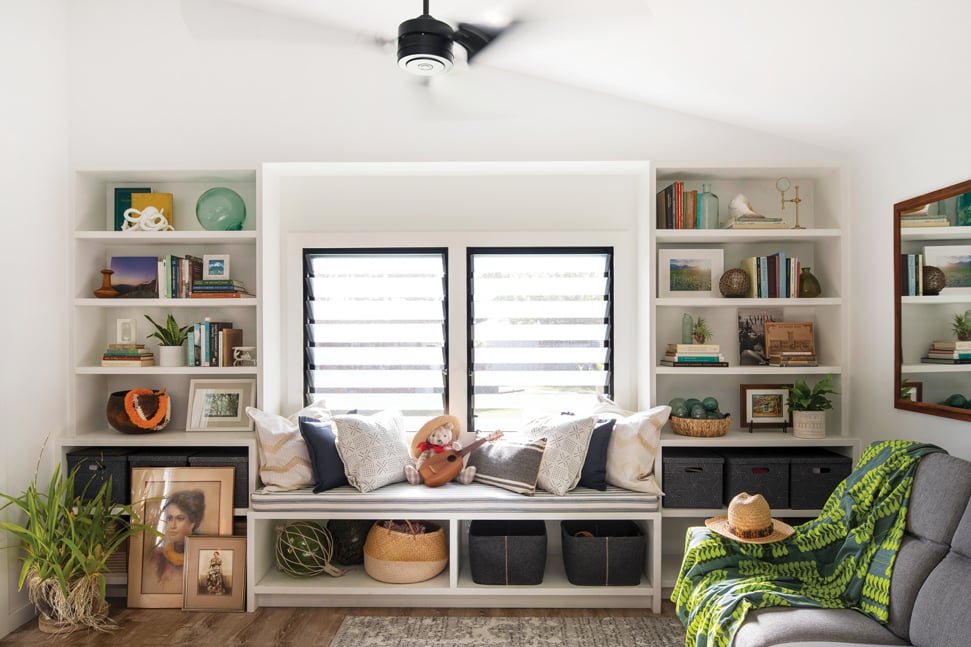 In the backyard of this Kaneohe property is a modest home where a couple find peace and comfort. Everything they need and more can be found in their forever home, and you'd never guess that it only has 800 square feet of space.
Koolau Builders designed this dynamic backyard dwelling to look and feel larger than it actually is. "The goal was to create a space that was just the right size for this couple," says Michelle Agena of Koolau Builders, describing it as a luxury mother-in-law suite or accessory dwelling unit with "enough space to be comfortable, yet compact [enough] to be easily maintained."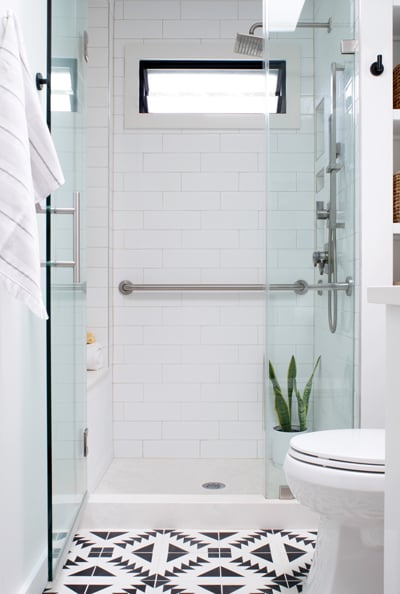 The couple wanted to downsize from their two-story townhouse and focus on aging in place, something they valued after caring for their own aging parents. They decided on a tiny home built on their family's 10,000-square-foot lot that would still have all the bells and whistles of a whole home.
The layout was cleverly designed to have a bedroom, bathroom, a den with a walk-in closet, connected living room and kitchen, plus an extended outdoor patio. Along with universal design elements, the unit had to feel modern and clean. "The goal was to create a modern design that felt fresh and new, but that still worked with the homeowners' beautiful collection of vintage Hawaiian items," says Agena.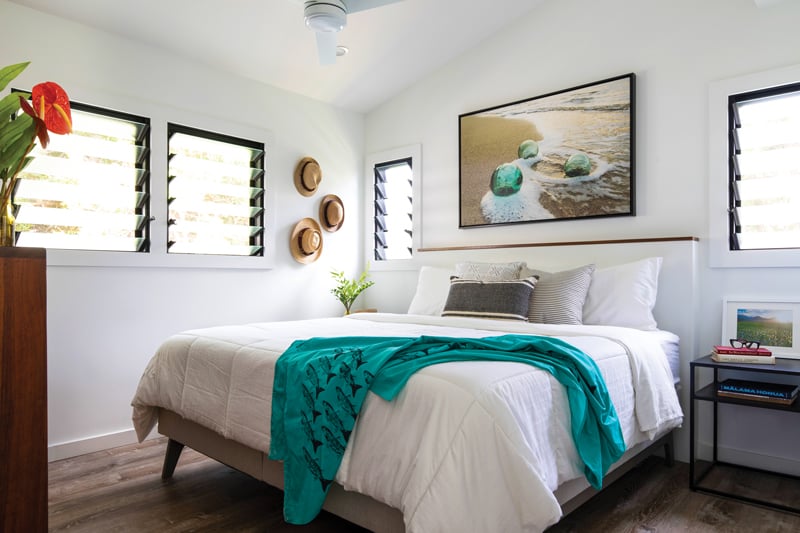 Despite its size, the space is neatly divided and offers numerous storage solutions through custom built-ins and compartments throughout the home. The vaulted ceilings help to open up the small space, shares Agena, while skylights and Breezway louvered windows let in natural light.
In the bedroom and bathroom, the focus was on minimizing the use of valuable floor space. "Finding a balance between lots of windows to let in the natural light, but keeping enough wall space for art and furniture was interesting in such a small space, but deciding on the built-in headboard, and splitting up the windows on that wall, helped us focus the direction of the room," shares Agena of the bedroom. For the bathroom, Koolau Builders kept the space light and airy with a skylight, floating vanity, light material choices and built-in shelving and storage. The standout is the tile selection. "I wanted something funky," says the homeowner.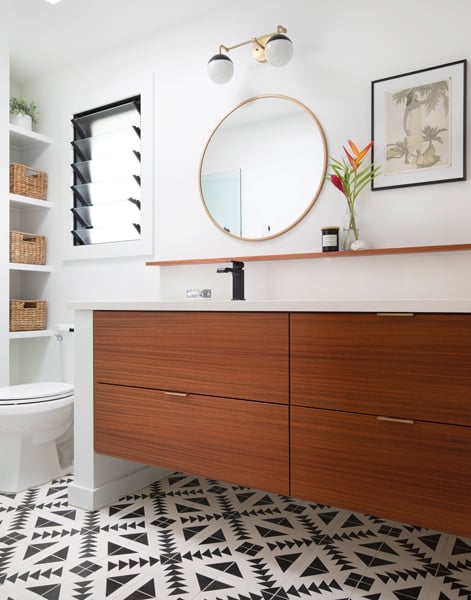 In the kitchen, it was essential to have a gas cooktop, full-sized appliances and counter space as the husband loves to cook. To balance out the white in the room — from the ceilings to the flat panel white cabinets from Plus Interiors — the lower cabinets, also Plus Interiors, were painted soft black. "We knew we wanted to keep the walls and ceiling white, so we definitely didn't want all white cabinets," says Agena. "We had to keep in mind that the homeowners had several koa furniture and koa framed mirrors, and decided that this soft black would be a great color to anchor the kitchen, without clashing with their wood pieces."
A highlight of the home is the walk-in closet/office space for the wife to have as her own. "It was decided early on that the custom closet in the master bedroom would be the 'his' closet and this den/study/closet would be the 'hers,'" shares Agena. "There is ample storage for clothes and linens, and a countertop area to be used as a vanity countertop."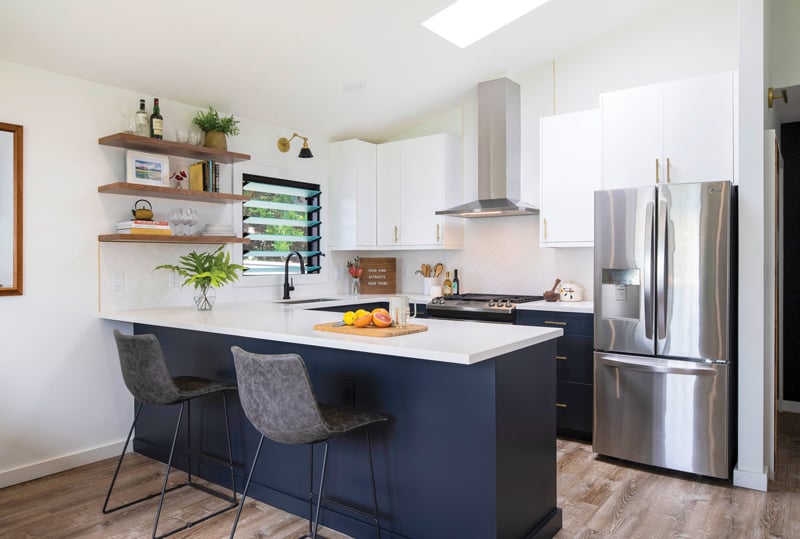 The homeowner worked with Koolau Builders and Plus Interiors to bring her vision to life. "Since our factory is semi-custom, we are able to increase heights, depths and widths of cabinets with no problem," shares Corrine Tadaki Davis of Plus Interiors. "Our shop is built for that."
"We created this beautiful walk-in closet that I just absolutely love," gushes the wife. There's a mix of drawer sizes and shapes for her to store clothing, accessories and more, and a chandelier gives the space "a sparkle, but modern feel."
Outside, the extended patio has a prep station with a large sink, cabinetry and counter space, as well as a washer and dryer unit. "This is a great little outdoor space for people to have pau hana," shares Tadaki Davis. "There's a cabinet specifically for a television."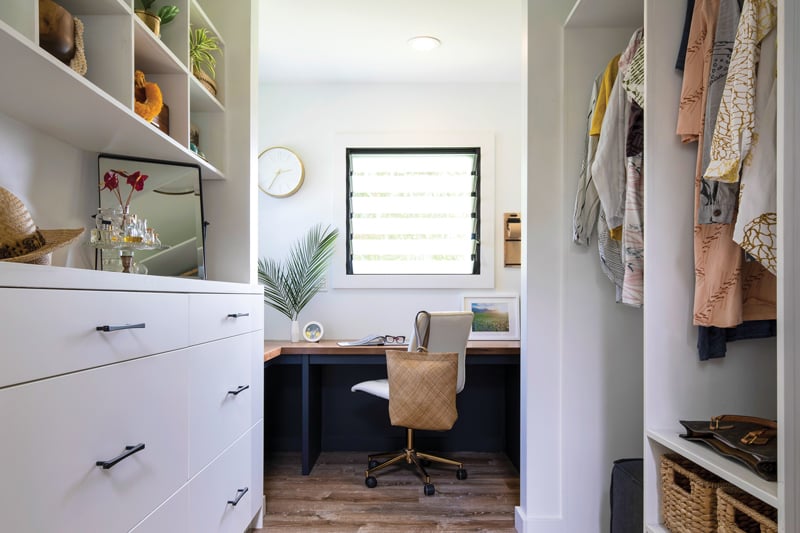 The owners love their home and so do their guests. "People are just blown away," says the wife. On most nights, the couple enjoy nights out on the patio to eat dinner or watch TV under the stars. "I'm thankful that we can grow old in a beautiful home that Koolau Builders built," she adds. "They listened to what [our] needs were, and they incorporated it and gave [us our] dream house."
"I think that along with having a place that has been specifically designed for you and your things — it is more special to also have it be in a place with family," says Agena, "and to know that it was created just for you to enjoy."