A Legacy Home Through the Ages
Third-generation Manoa homeowners renovate their legacy house.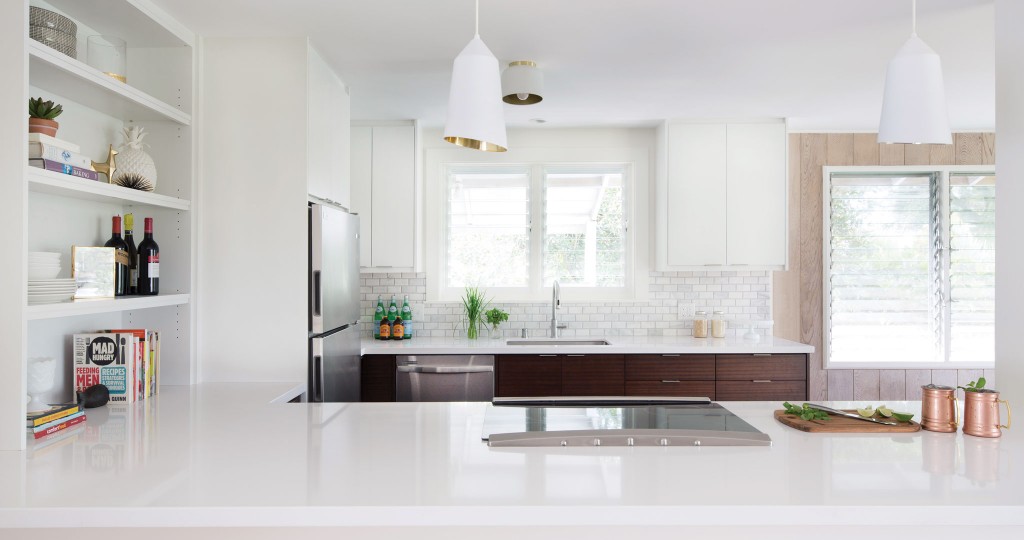 A Manoa family home passed down through three generations is filled with character. Built in the 1950s with no major renovations done to the house, the third-generation homeowners wanted to give it much-needed repairs and modern updates.
"The house desperately needed a complete overhaul," the homeowner says. A friend referred her to Koolau Builders, a design-build company known for its quality residential remodels and new construction. Nick Tang and his team have a knack for restoring older homes, retaining and blending existing characteristics with desirable updates.
These homeowners wanted to modernize the house and streamline its look without compromising the existing mid-century details found throughout.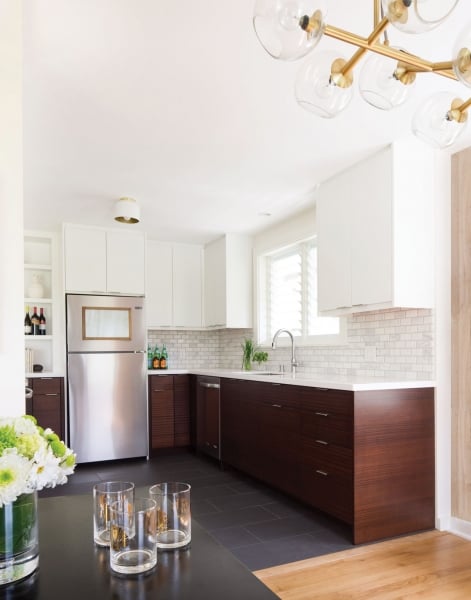 "Nick had a real sense of the fresh and modern look we had in mind, while being conscious of keeping the original character of the house," the homeowner says.
Koolau Builders refinished the house's original Douglas fir wood flooring and retained much of the existing tongue-and-groove redwood walls in a white-wash finish. "The layout, ventilation and natural lighting of the original home were great," Tang says.
The heart of this five-bedroom, two-bath family home is its kitchen, which was in its original, 60-year-old condition.
Koolau Builders removed one wall that separated the kitchen from its adjoining areas, and added a large peninsula with counter space. Two-tone cabinets — sapele lower and white upper — were balanced with white quartz countertops and a subway tile backsplash. Outdated, inefficient white appliances were replaced by energy-efficient, stainless steel appliances.
"The kitchen's open floor plan is more family-friendly, allowing me to cook while keeping an eye on and engaging with the kids," the homeowner says. "It's also brighter and better for entertaining."
The homeowners gave Koolau Builders a white, black and gold color palette to work with. The gold lining of the lighting fixtures is echoed throughout the house. "It's something that not a lot of clients would ask for right now, but a finish that I think is very comfortable and balanced," Tang says. "We were able to create something that, as unique as it is, will still make sense and look great years down the road."
The homeowners were off island throughout the renovation, leaving many on-site decisions up to the Koolau Builders team to make with the homeowners' best interests in mind. Tang communicated with the homeowners throughout the process, by email, text and phone, and they felt confident in his skills. "Some of our best work has come when we were able to add some of our influences on details and adjustments as the job progressed," Tang says.
The homeowners are pleased with the kitchen renovation, and are now working with Koolau Builders to renovate the rest of the house.
Where To Get It
Wood flooring: Original Douglas fir
Tile flooring: Roca Porcelain, from Davis Design Center
Backsplash: Beveled Carrara subway, from Davis Design Center
Cabinets: Sapele and white flat-panel custom, from Fine Woods Hawaii
Countertops: Silestone quartz in white Zeus, from Pacific Source