Hawaii Home + Remodeling Presents the Top Builders of 2019
Whether you're looking to build new or renovate, Hawaii's top builders have you covered.
Hawaii Home + Remodeling asked hundreds of builders across the state who they would recommend a friend or family member to work with if they were unable to take the job themselves.
If you or someone you know wants to build a new home, renovate or create an addition, one of these builders could be just who you're looking for. Read on to learn a little more about Hawaii's Top Builders, and tour a home renovated by one of them.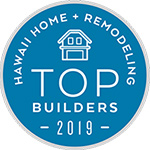 Top Builders is an annual special section in the July issue of Hawaii Home + Remodeling magazine.