Town & Country
A couple finds convenience and serenity in contrasting condos.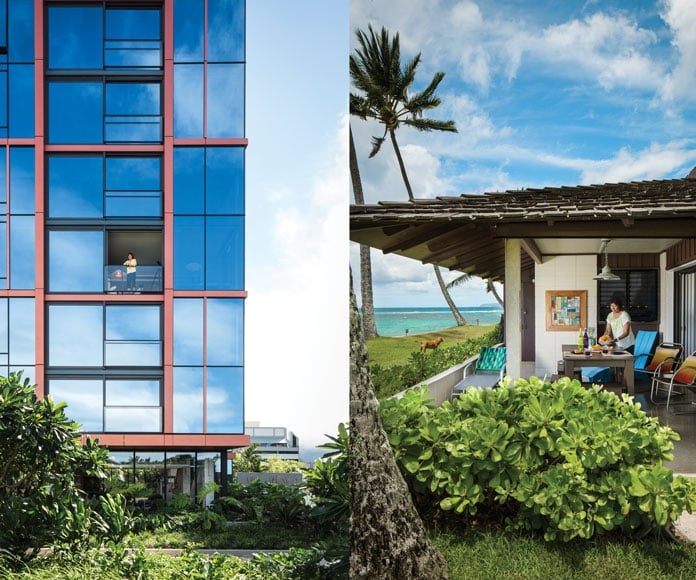 Life at home is a balance for Christy and Gino Gabrio. The hardworking couple — she a librarian at Punahou School, he a real estate lawyer at Cades Schutte — spend their work weeks in town, the convenience of a short commute resulting in more time spent at home in their two-bedroom condo at ONE Ala Moana.
Weekends are another story. The Gabrios pack a small bag and escape to the North Shore for a relaxing, peaceful retreat at their seaside studio at the Mokuleia Beach Colony.
Although the Gabrios have moved 15 times in the last 34 years, the 600-square-foot studio has remained a constant in their seemingly never-ending search for a home. The Mokuleia Beach Colony condo has been in Christy's family for nearly a half-century, and it's unlikely to leave the family any time soon, if ever. While too far from town to make it their primary residence yet, Christy says it's likely where they will spend their retirement.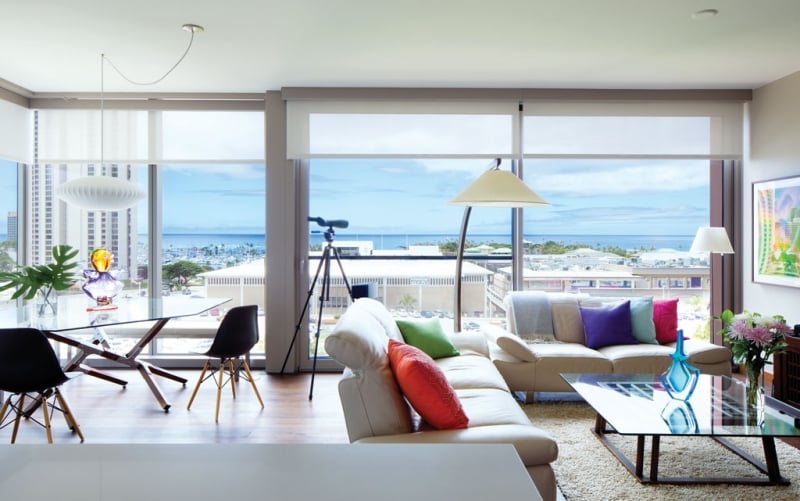 At about 1,200 square feet, their ONE Ala Moana condo is smaller than the 1,600-square-foot, three-bedroom Spinnaker Isle Hawaii Kai townhouse from which they moved. Although the space itself is smaller, the amenities available at their fingertips make it feel much larger. When family visits from off-island, the Gabrios reserve one of three guest suites a few floors down, giving both parties more space and privacy. They've hosted several functions in the cabanas, including an annual New Year's Eve party and their granddaughter's first birthday party.
Best of all is the convenience of living close to work. Christy's rush-hour commute in bumper-to-bumper traffic has dwindled to an easy 5- to 10-minute drive, while Gino hasn't bothered to drive since moving to ONE Ala Moana.
"I walk to work," Gino says. "That's a major lifestyle change, which is unbelievably positive."
At home, the Gabrios enjoy their view of Magic Island and Ala Moana Beach Park through floor-to-ceiling, double-paned windows. A Meopta telescope provides a closer look at the surf and ships passing by.
"I like the kitchen, and being able to look outside while I'm cooking. I can see everything going on — I don't feel like I'm enclosed," Christy says. The kitchen is equipped with a Sub-Zero refrigerator/freezer and wine storage, as well as Wolf and Miele appliances.
The Gabrios added personal touches throughout the condo including a collection of pieces from their travels together and the most modern of their belongings from their previous homes. Punahou School-inspired art painted by Ingrid Manzione hangs on the walls, while a sculpture created by Spanish artist Juan Ripolles brings color to the glass dining table. The table is new to the condo, fabricated by an artist the Gabrios met at an Architectural Digest show in New York City, where they were looking for ideas to remodel their seaside condo.
The Gabrios hadn't remodeled the studio at Mokuleia Beach Colony in about 15 years, giving them plenty of time to consider what they wanted and needed from a beach home.
They selected materials that could withstand the wear and tear of dripping swimsuits and sandy feet and provide a carefree attitude that feels natural at a beach escape. The dark limestone floor and prefabricated quartzite countertops from Selective Stone support the rustic look of the beach condo, while easily hiding sand and spills for as long as it takes for someone to get to cleaning them up. It is designed to look like a beach house, requiring little maintenance.
Having spent so much time in the condo, the Gabrios knew how to use the trade-wind patterns to their advantage. They installed a sliding pocket door from Coastal Windows, connecting the studio to its 250-square-foot lanai, an oceanfront outdoor dining and lounging area steps away from the surf.
"There's nothing but you, the beach and that's it," Christy says about life at Mokuleia Beach Colony.
It's a stark contrast from the environment of ONE Ala Moana, where shopping and work are footsteps away. Yet their home, a few stories above the commotion of town below, also feels like a peaceful oasis.