Transforming Bathroom Arches in Condos
A builder works around a condo's architecture to update two master baths built in 1990.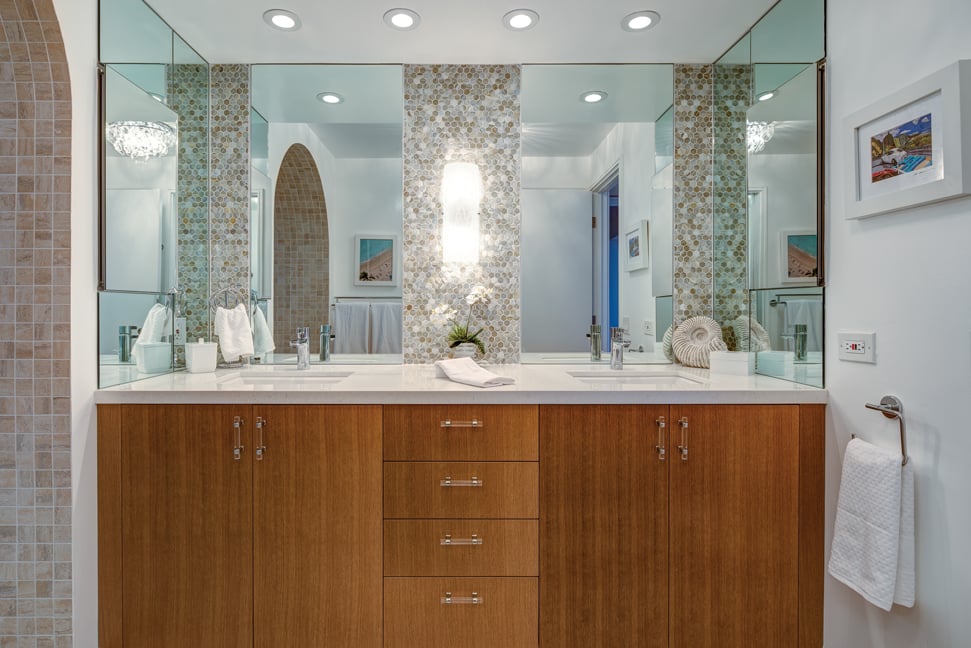 Curves and arches are a signature of One Waterfront Towers in Kakaako. The buildings' curved exteriors are replicated throughout the interiors of the condos, which were completed in 1990. Today, the look isn't for everyone – including the owners of these two different units.
While some of the arches within condo units can be taken out or squared off, one of the double arches leading into the shower and tub in the master bath is structural and cannot be removed.
J.R. Moorhead of Moorhead & Company Inc. was up to the challenge of transforming these 30-year-old pink-tiled master bathrooms into a 2020 level of luxury.
Spalike Glamour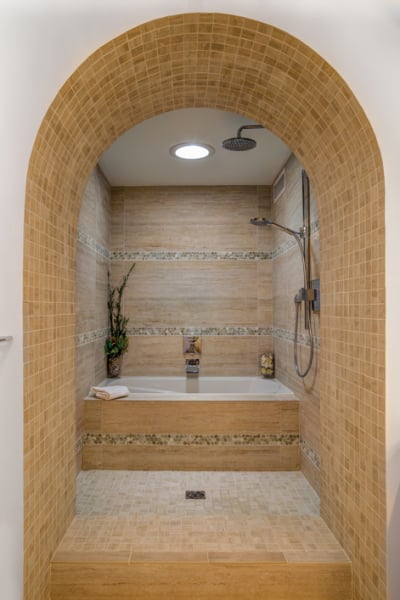 Working with the design direction of Ali G. Designs, Moorhead & Company had a detailed plan for a luxurious transformation of this master bath. The glass door to the shower area was eliminated, along with one of the arches. The structural arch remains and has been re-covered in an Italian porcelain tile with a finished edge. A larger format porcelain tile — 4 feet by 2 feet — is centered on the wall at the back of the tub and wraps around the entire wet area, a look envisioned by Ali G. Designs. The placement of tile was strategically aligned so the shower fixtures would not interrupt the lines. The hexagon tile along the perimeter of the wet area is repeated as a full-height backsplash at the vanity for a cohesive look throughout the master bath.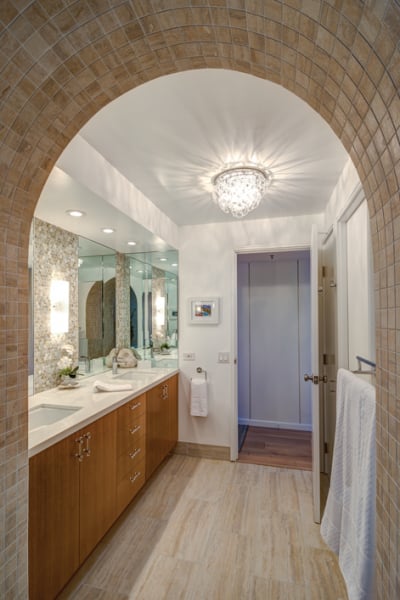 Moorhead & Company rebuilt the soffit above the sinks and updated the lighting. An Italian glass chandelier adds to the bathroom's glamorous, spalike feel.
Crisp and Cool Hues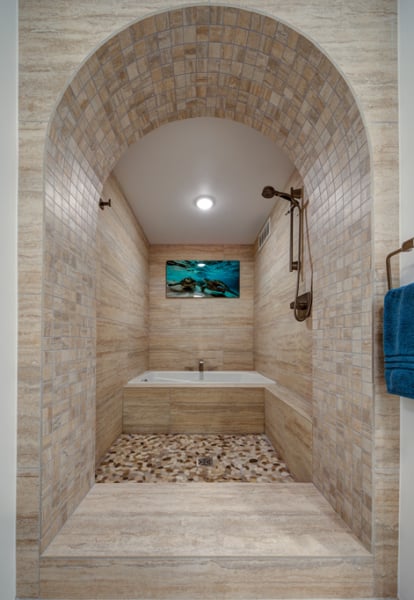 After seeing their neighbor's master bath, another couple from One Waterfront Towers consulted with Ali G. Designs and hired Moorhead & Company to redo their bathroom as well.
This couple opted for a different look for what began as the same original bathroom. The double-arch leading into this shower was also removed, with the single structural arch remaining. The arch's tile is replicated in a larger format on the interior of the shower, as well as the exterior walls leading into the space. A photograph of a turtle, by Chas Beasley, printed on waterproof aluminum hangs above the tub. The vanity's mirror frames, with a sea-glass look, mimic the cool blue sea theme.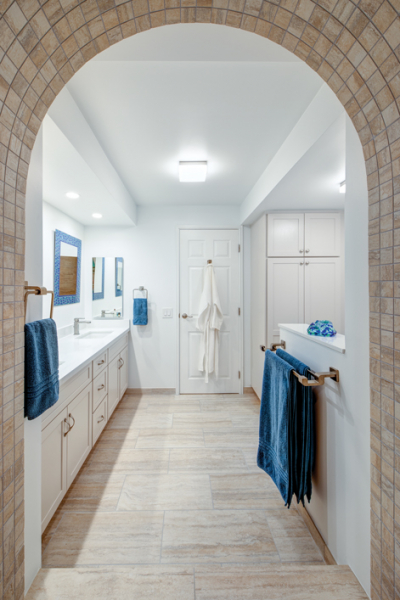 Moorhead & Company reconfigured the floor plan of part of this bathroom, repositioning the linen closet and taking down a wall that separates the toilet – and replacing it with a half-wall to keep the space relatively open.
"We love it," the homeowner says of the renovated bathroom. "It feels more spacious."