Tried it, loved it: Flooring
The Hawaii Home + Remodeling staff tests indoor and outdoor flooring for performance and durability.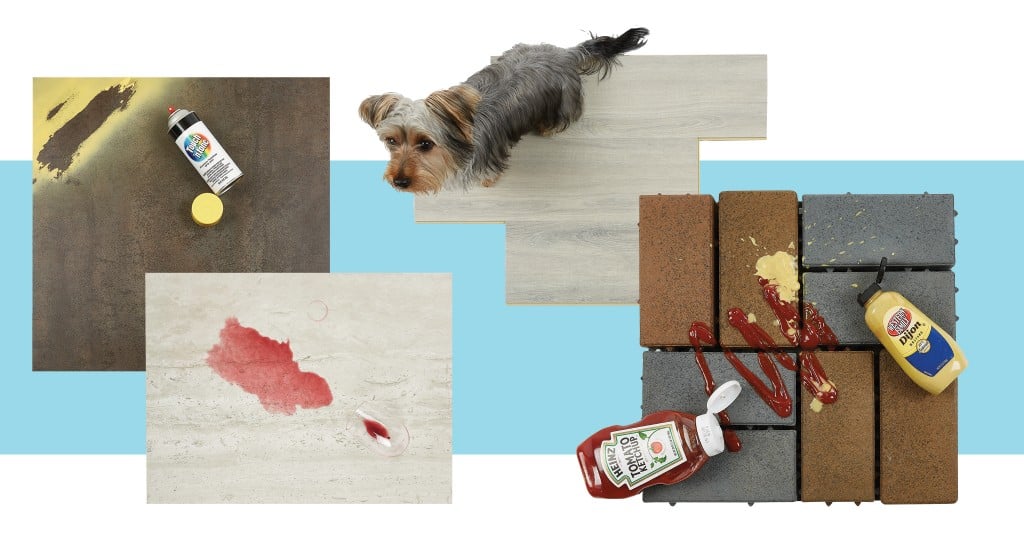 The editorial staff at Hawaii Home + Remodeling tests some of the hottest products in the industry to see if they really perform the way they're supposed to. Check out what they found after trying it themselves!
What it is:
Neolith Sintered Surface material, from Pacific American Lumber.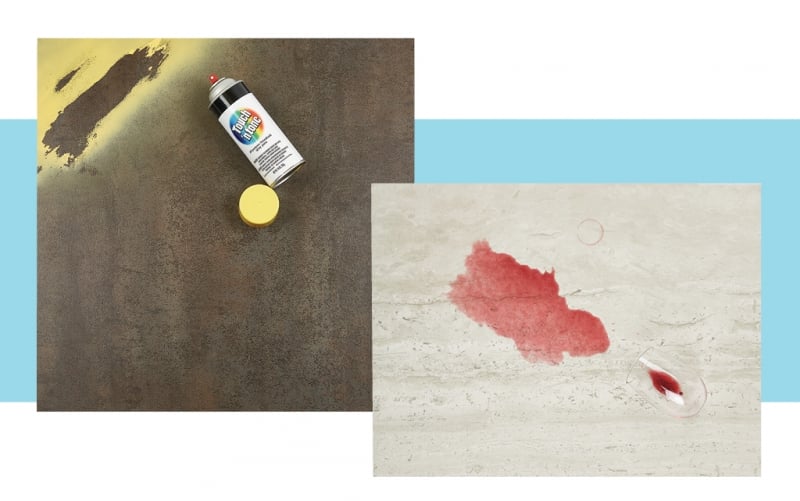 Who tried it:
Tyler Shiroma, associate editor and messy dweller
What it does:
Neolith's sintered surface material is unlike any other. It's produced, quite literally, through trial by fire. Using a kiln-fired process, the material combines various clays, feldspar and other oxide minerals together. Taking the best qualities from each ingredient, it's highly scratch-, stain- and fade-resistant.
What we tried:
"I tested two 24-by-24-inch samples of Neolith at home, over the course of three days. Both felt sturdy and hefty in the hand. I wanted to put Neolith to the test, doing things that would realistically come up in day-to-day life, such as scratching it with keys, spilling wine on it, marking it with pens, and for outdoor applications, putting paint on it.
"First, I took a spare key to the surface and repeatedly scraped the metal point along each sample. It left no mark. It damaged the tip of my key instead.
"Red wine was applied to the sample, sitting for 12 hours. It left no stain at all and easily came off with a damp towel.
"Next, I tried marking it with a permanent pen, only to clean everything off with nothing but rubbing alcohol and a paper towel.
"The final test was applying spray paint. The bronze sample was given two coats of paint. The paint sat for 24 hours before attempting to remove it. I was shocked to find that the paint came off easily with acetone and just a little elbow grease."
Why we love it:
From keys to wine to paint, this surface can handle it all. Neolith is perfect for homeowners with kids, or adults who are just habitually messy. It's best used in high traffic areas or spaces that are exposed to the elements, such as an outdoor patio. We loved how highly resilient this material was, passing each test with ease. There's no limit to where Neolith can be applied: countertops, floors, walls or even outdoors. We can confidently say it'll handle it all.
---
What it is:
Hawaiian Style Luxury Vinyl Tile WPC flooring in Oahu Style from Bamboo Flooring Hawaii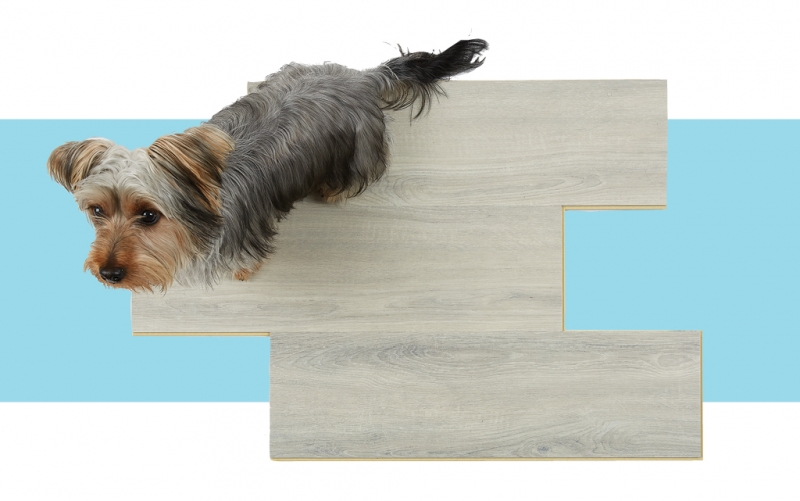 Who tried it:
Stephanie Silverstein, editor; and Liko, puppy
What it does:
Bamboo Flooring Hawaii's new line of Hawaiian Style Luxury Vinyl Tile is ideal flooring for homeowners looking for durability at a great price — under $4 per square foot. It's pet friendly (scratch- and moisture-resistant) and the foam base acts as a sound and thermal insulation barrier. The Uniclic interlocking system allows for easy installation, but hiring a professional installer is recommended.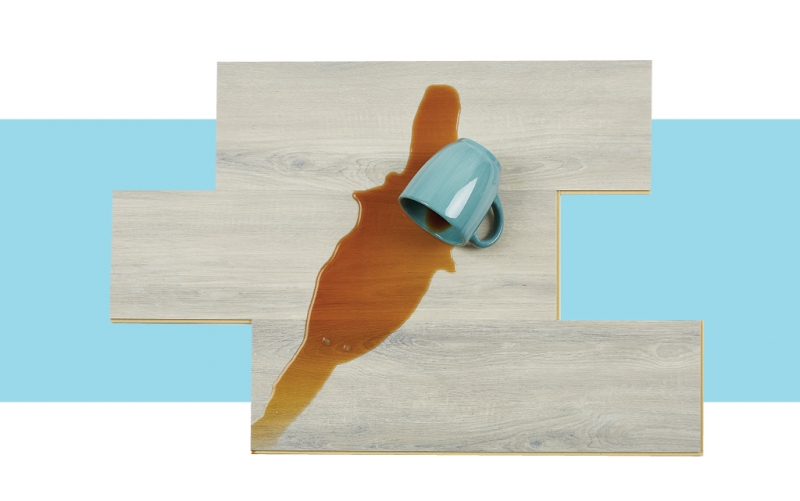 What we tried:
"If you know me, you know I'm all about my puppy, Liko. I bring him everywhere I can, and I bring home only what I think he will enjoy playing with (and won't destroy with his playful puppy behavior and razor-sharp teeth). So, I was excited to bring home Bamboo Flooring Hawaii's Hawaiian Style Luxury Vinyl Tile, which is known to be a great option for homes with pets. I selected the Oahu Style from the WPC LVT island collection. I like its light gray, woodlike look.
"Liko has a tendency to dig from time to time. When we're at the beach, that's great; when we're home, I worry about him scratching the floors. To test the sample flooring's scratch resistance, I placed a couple of treats underneath the planks. Liko scratched at it and his nails didn't leave a mark! He even nibbled on the edges of the planks, and they went unharmed as well.
"The tile is also moisture resistant. The Uniclic interlocking system's installation method ensures a tight seal between tiles that prevents liquids from passing through. I tested this with a cup of coffee, pouring it over the planks. Sure enough, the coffee did not seep through to the foam underlayer. As an added bonus, it was simple to clean with a damp sponge. Bamboo Flooring Hawaii also recommends cleaning with the environmentally-friendly Cal-Flor Eco-Clean Floor Cleaner, which is available at its showroom."
Why we love it:
It's a durable flooring material, ideal for homes with pets, children and even the elderly. It won't be scratched by dog or cat nails, dropped toys or walkers rolling across its surface.
The WPC LVT island collection is available in nine colors, so homeowners can choose the one that works for their home's aesthetic. The vinyl is layered on top of a wood polymer composite core, which creates an enhanced vinyl floor. The foam underlayer provides additional sound reduction and thermal insulation.
The flooring also has a lifetime warranty for residential applications.
---
What it is:
AZEK Pavers, from Rinell Wood Systems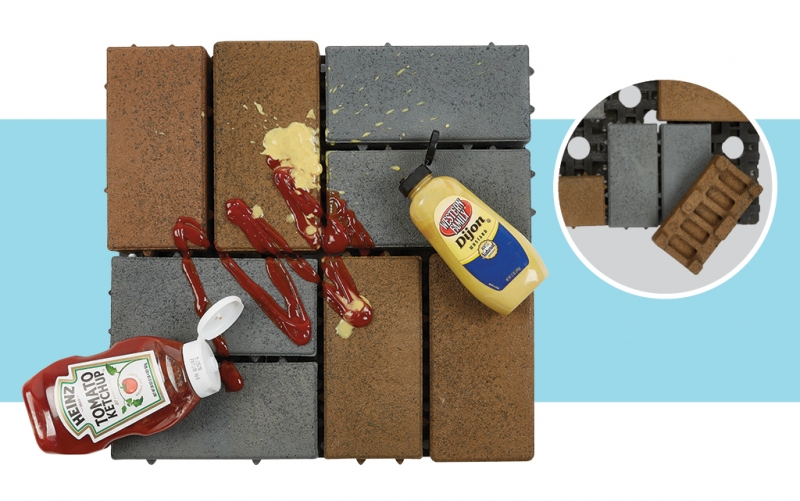 Who tried it:
Bianca Sewake, associate editor and outdoor grilling hostess
What it does:
Using a patented grid system, AZEK Pavers resembles Legos, automatically aligning, spacing and securing blocks of pavers in place.Unlike traditional pavers that are made from heavy materials such as concrete, AZEK Pavers are made from recycled tires and plastics, making it lightweight and high-performing. They are ideal for patios, walkways and driveways.
What we tried:
"When I picked up my 18-by-18-inch sample grid of AZEK Pavers from Rinell Wood Systems I noticed how light but sturdy they are.
"I enjoy entertaining family and friends for backyard grilling, so I used my sample to extend my patio area, easily plopping the pavers in place.
"For a week, the grid was exposed to rain and sunlight. Thankfully, there were no signs of mold or moisture damage.
"I spilled red wine, oil, ketchup and mustard onto the AZEK Pavers—typical occurences during grilling get-togethers—and let each sit for five minutes. Surprisingly, the pavers didn't soak up the spills and rinsed off easily when I used my garden hose. No visual evidence, such as an oil stain or color change, was left behind.
"To test its wear and tear, I dragged outdoor furniture over it, let my dog run on top of it and even dropped outdoor tools on it—all of which left behind no cracks or scratches."
Why we love it:
It's easy to install, making it DIY-friendly, and homeowners can create different designs with five paver colors. Not only does it look great—just like concrete—but it is a much more environmentally friendly product, made of up to 95 percent recycled materials. It performs much better than traditional pavers. Since it can stand up to Hawaii's harsh weather conditions, it is easy to clean and maintain and has a high resistance for day-to-day wear and tear, it's hard not to fall in love with the AZEK Pavers.