Tropical Retreat
From tranquil lagoon to party-time playhouse, this pool has it all.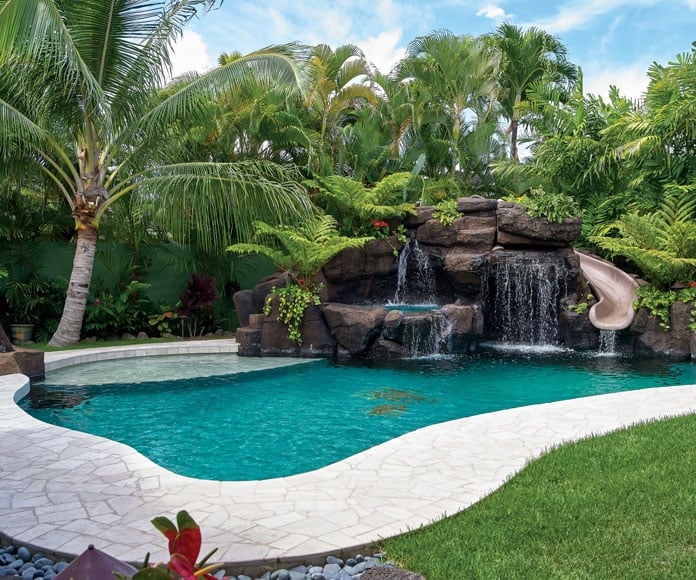 From the time Seth Sutherland began contemplating his dream home, one thing was clear — there simply had to be a pool. "I wanted people to come over to this house and say, 'Wow! Now that is amazing,'" Sutherland says. "It had to be visually impactful."
Sutherland, who owns S. S. Builders Hawaii Inc., planned to build an expansive, two-story home with an open floor plan and a Hawaii feel — all within a few hundred feet of the beach. To complete the look, the general contractor reached out to pool builder Brandon Dias of Poseidon Pools. "Seth was right. It's the kind of house that has to have a pool," says Dias, who has worked with Sutherland for more than a decade. "Now, the trick was to fit what he wanted into a smallish backyard."
Dias says he tried many layouts before they were finally able to find one that fit the space properly. "I told him I thought he was crazy trying to put all that in this itty, bitty yard," Dias laughs. "But Seth was adamant. In the end, we made it work."
The lack of available space wasn't the only challenge. Having built pools for other Sutherland projects, Dias knew the award-winning contractor would have high expectations. "Any general contractor is going to be real particular on what they want," Dias says. "They have a vision. Seth is no different."
Sutherland wanted a lagoon-style, saltwater pool with a Baja shelf and spa. "It had to be both inviting and fun for the kids," says Sutherland, who has two children. "But it also had to be tranquil — a place to relax and enjoy."
To add to that sense of tranquility, the pool also includes multiple waterfalls. "Adding a waterfall is huge, because you're transforming the pool into a water feature," Dias says. "But you have to be careful, your budget can skyrocket in a hurry depending on how complex it is. Waterfalls can cost $2,000 or $15,000, depending on the amount of detail you want."
Dias and his crew got to work — fitting all the pieces together. "It took some time and collaboration to get everything to fit," Dias says. "You really had to lay out the freeform shapes to get a true feel for it. It's a small space, but we managed to work it out."
Sutherland's wife, Natalie, had one more challenge for Dias – the pool had to have a waterslide. "Our boy is young and he's going to have friends over," Natalie says. "I knew we wanted the pool deep and I wanted to put a slide in."
Natalie says all the work was well worth it as the waterslide has, indeed, been a popular feature at parties. "All the kids love the slide and jumping off the rocks," Natalie says. "It turned out perfect."
The pool is the perfect backdrop for this amazing home. "The pool is beautiful whether you're in the house, on the lanai or in the pool itself. You can enjoy it anywhere," Dias says.
---
WHERE TO GET IT
Landscaping – Kevin Tadaki
Rock Features, Waterfalls – Swan Builders
Tile Turtles – Robert Vogland
Tile Pool, Hot Tub – Cool Stone