Vision for a Brighter Tomorrow
The story behind this community.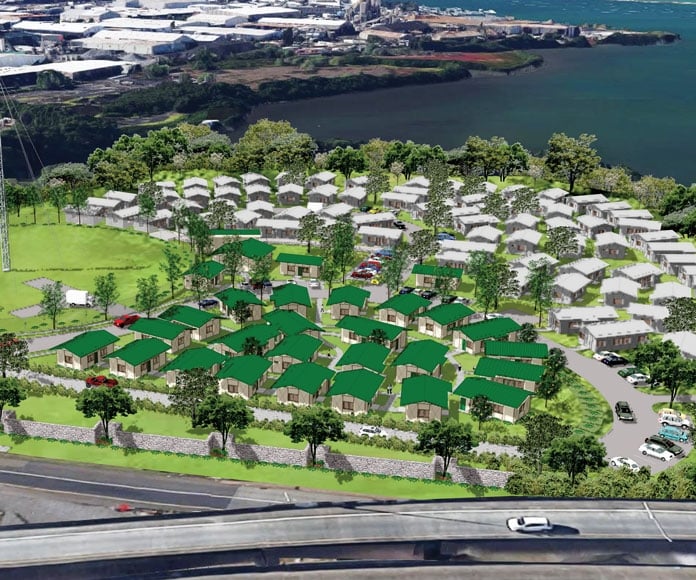 Homelessness is all around us. Many people talk about the issue, but few feel capable of providing a permanent solution. While it is a complicated, multifaceted issue, Kahauiki Village addresses one segment of the homeless population on Oahu that lies near and dear to many hearts: families with children.
Kahauiki Village has grown from a vision into a community project, an opportunity for hundreds of people to help in their respective areas of expertise and professionalism, to transform the lives of homeless families. Kahauiki Village will provide long-term, permanent homes for families now living in temporary, transitional housing. More than housing, Kahauiki Village will be a community with support for its residents to help guide them on a path to better lives.
The vision for Kahauiki Village is one in which children will have hope and support to live a better tomorrow. Their parents will have jobs and pay subsidized rent; their homes will have all the necessities and conveniences of those in any other safe, comfortable neighborhood; and their community will have shared resources of gardens, fruit trees, a sundry store and child care center.
Hawaii Home + Remodeling's owner, Duane Kurisu, and architect Lloyd Sueda are the organizers and visionaries of the project. The longtime friends were returning from the groundbreaking of a manufacturing facility for Punaluu Bake Shop on the Big Island when they flew over the future site of Kahauiki Village. From the air, they saw the potential of the 11.3 acres of land as a home for families that would otherwise be homeless. Located between Nimitz Highway, Keehi Lagoon Beach Park and Sand Island, the land is close to public transportation and businesses, allowing working parents accessibility to jobs.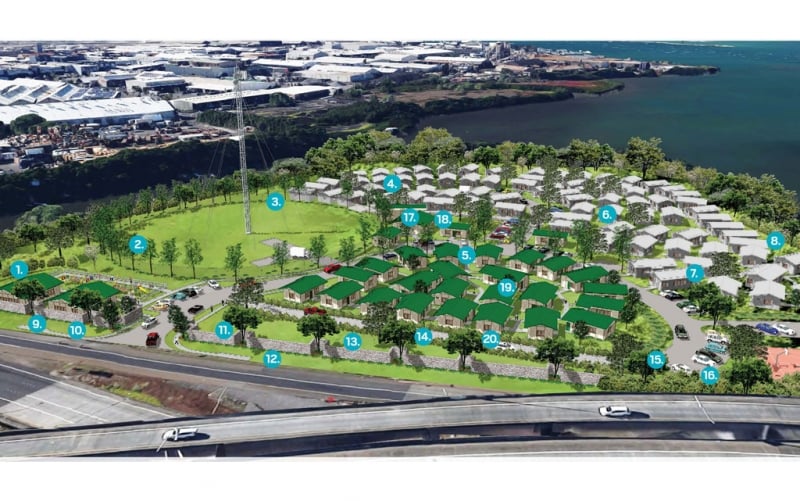 Sueda saw this undeveloped piece of land as an ideal location for what would become Kahauiki Village. While the land would be challenging to build on — it was water, then a landfill, and most recently, the site of a paintball business — building the village's infrastructure and one-story homes there would be possible.
The project team — made up of people of diverse professional backgrounds and with a shared common interest to address family homelessness on Oahu — got to work planning the project, with all of the members donating their time and efforts to the cause.
It has taken a village — a public-private partnership of people in the business community and the city, state and federal government and military — to build Kahauiki Village and begin to turn it into
a community.
"A community means instilling a certain culture in the place and providing a place where children can dream of a life that has no boundaries and no limitations," Kurisu says.
Gordan Furutani, project director, says Kurisu and Sueda both strongly believed that without special help, children living on the streets had little chance of breaking the homeless cycle. "I share the same feeling and wanted to do something tangible" to help, he says. "Building homes for homeless families appeared as tangible as it can get."
A consortium of consultants and contractors volunteered their services early on, including Bowers + Kubota Consulting, InSynergy Engineering, RMY Construction, Commercial Plumbing and Coastal Construction. "They were key to moving the project from an idea to one that is in the process of becoming a reality as a long-term solution for homeless families with children," Kurisu says.
Seemingly all of the businesses and people involved joined the effort because they want to help homeless families on Oahu.
"We see the hardships of the homeless daily and it's especially heartbreaking to see children on the streets near our office," says Ken Sakurai of Coastal Construction, which assembled the prefabricated homes. "Being involved with this project is one way to give back to the community."
As plans progressed, dozens more businesses and individuals offered their materials, services and expertise to help build Kahauiki Village and transform it into a community.
"I always think to myself that we're so lucky to live in Hawaii because Hawaii people have, I think, a world-class empathy and this ingrained, natural sense of giving, and now I'm convinced that Hawaii can face any issue," Kurisu says. "We can work together — and we will work together — to solve issues, as long as there's leadership."
---
Project Team
Duane Kurisu, Organizer
Lloyd Sueda, Architect & organizer
Gordan Furutani, project Director
Mel Kaneshige, project Developer
John Dean, Finance
Scott Kuioka, budget