Welcome Home
A permanent place for families to call home.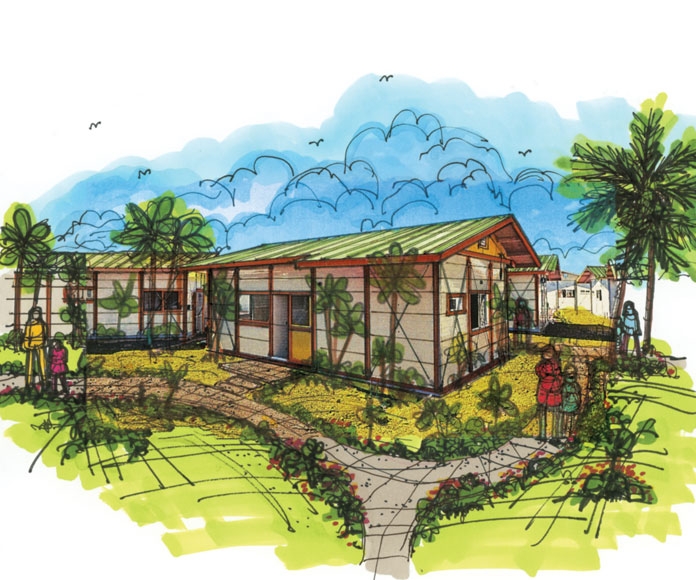 Kahauiki Village will be home to families that had most recently been living in transitional shelters, giving them a permanent place to call home.
The Institute for Human Services managed the application and selection process, reaching out to every homeless shelter serving families on Oahu to inform them of the opportunity. The first phase of the project will house 30 families, in 18 two-bedroom units and 12 one-bedroom units.
The residents are families with children who, despite one or both parents working, cannot afford market rents. Kahauiki Village offers a subsidized rent of $725 per month for a one-bedroom unit and $900 per month for a two-bedroom unit; utilities are included. A family's income for the rent must be from working rather than social entitlements or benefits, with the idea being to help families that are already working to advance their situation.
The below-market rent is intended to help parents provide more for their families, and to make it possible to save money to create a safety net for themselves and eventually, move up the housing ladder.
"I believe that Kahauiki Village is the renewal of a social compact that has been somehow eroded over time," says Connie Mitchell, executive director of the Institute for Human Services.
"Before, you knew if you worked hard, you could have a place to live and you could really hope for a better life for your children as they grew up. Today, so many families are strapped financially, they no longer feel they are getting ahead. … This gives families an opportunity to establish themselves and have hope for the future, for their children to be able to live with a sense of security and to heal."
The Institute for Human Services will also be responsible for the on-site management of rental and tenant services. "Our presence at Kahauiki Village is meant to be supportive," Mitchell says. She wants residents to feel a sense of pride and ownership in their homes. She hopes to offer a series of workshops, such as how to create planter boxes or how to make the houses unique with décor, to make them feel more like the homes they are.